Feature
Vendée Globe: Preparing for the Pacific
Published on December 16th, 2020
(December 16, 2020; Day 39) – Yannick Bestaven, skipper of Maître Coq IV, took the lead of the Vendée Globe early this morning. The 47 year old from La Rochelle, sailing a 2015 VPLP-Verdier design, has had a brilliant Indian Ocean crossing for his first time, and now becomes the 10th different leader on the 20th lead change since the start on November 8.
Bestaven is jousting with Thomas Ruyant as the pair scythe eastwards leaving the Indian Ocean behind and passing into the Pacific tonight, on a fast port gybe running as close to the Ice Exclusion Zone as they dare in the decidedly chilly 'Fifties. The leaders will also pass the midpoint of the 24410 nautical miles course this evening.
While the LinkedOut skipper has proven slippery in his 2019 Verdier-design, Ruyant theorized how Bestaven's older design might prove quicker as the 25 kts breeze moves aft to give more VMG downwind conditions. Meantime, the Maître Coq skipper has continued to show high average speeds on what will be a long port gybe drag race for the next three days at least.
Meanwhile, previous leader Charlie Dalin trails the front by a 160 nm but is back in the game after an exceptionally tough and exacting repair made to the foil bearing and housing on the port side of his APIVIA.

Dalin explained how he worked steadily through a detailed plan including accurate drawings of the replacement carbon composite part he had to cut and replace into the foil housing, while suspending himself from a halyard.
"The hardest part was fitting it," Dalin explained. "I was going back and forwards between the cockpit and the foil exit location on the hull, suspended by a halyard to reach the point where I could fit the chock and I don't know how many times I went back and forth, I don't know 30 or 40 times to adjust the carbon piece to fit in the foil case.
"In the end just before nightfall I managed to fit the piece in and tinker it. It was a big relief as I could see the sun going down. I was saying to myself, 'Charlie you really have to do this, you have to do this before it is dark because after that it is going to be too late.' I worked really hard and managed to do it.
"I have had a few problems. But this one puts the rest in perspective. Before a small problem felt big for me, a big concern, and after this one all my problems before they feel small. I am glad this one is over and I feel I have gained confidence in my ability in fixing the boat and I really hope the repair will hold.
"I now know what the Vendée Globe is about… it is about surviving, managing to carry on with the boat. Boats tend to lose percentages of performance as you go on and the game is to lose fewer percentages than the opposition. So I hope I wont lose any more percent from now.
"Now I have to cross the biggest ocean in the world, the Pacific and in my line of sight is Cape Horn, it seems so far, far away, so many thousands of miles, but believe me I am glad the Indian Ocean is over soon."
Regarding the damage to be repaired, Dalin had lost one foil bearing so the foil was not maintained any more at the exit of the hull, the foil cage was full of water and under pressure, and there was a bit a of a leak inside the boat.
"More importantly the foil was moving a lot and constraining the whole thing against the foil case so I could not go on any longer like this," admitted Dalin. "It was a really difficult moment for me. I immediately thought that the race was over for me and that I could do nothing about it and I would end up somewhere in Australia.
"But I have a wonderful team and they worked really hard, Apollo 13 style, listing everything I had on board, trying to find a solution. They sent me drawings of a new bearing to make. The first thing I thought when I received the list of all that I had to do I felt it was unachievable. There was a mountain of work ahead of me. But I took it step by step and started by withdrawing the bearing and cutting with the jigsaw and doing it.
"This morning I went and did an inspection of the new bearing, everything is fine the foil is not moving much at all any more. I am confident in my repairs so far. I hope it will hold like this until Les Sables d'Olonne. It is not unachievable to come back, so I am there and I am back and I have them in my sights."
Ranking – 21:00 (GMT)*
1. Yannick BESTAVEN, Maître CoQ IV – 12100.9 nm DTF
2. Thomas RUYANT, LinkedOut – 53.78 nm DTL**
3. Charlie DALIN, APIVIA – 161.37 nm DTL
4. Jean LE CAM, Yes We Cam! – 486.54 nm DTL
5. Damien SEGUIN, GROUPE APICIL – 498.27 nm DTL
DTF – Distance to Finish; DTL – Distance to Lead
* Time awards given to Yannick Bestaven, Jean Le Cam, and Boris Herrmann for their participation in the rescue of Kevin Escoffier will be applied when the skipper finishes. – Details
** Damaged port foil on Nov. 24 at 02:00.
Race details – Boat types – Tracker – Ranking – YouTube
The Vendée Globe is the only sailing race round the world that's solo, non-stop, and without assistance, and it was all systems go for the 9th edition on November 8. Beginning in 1989 with 13 entries, and held every four years, the start line in 2020 had 33 skippers taking off from Les Sables d'Olonne, France.
The development of the IMOCA Class toward foiling will see these boats hurl themselves around the world, teetering on carbon skates through inhospitable regions, chasing the record set in 2016-17 by Armel le Cléac'h of 74:03:35:46.
2020-21 Attrition
Nov. 16, 2020 – Nicolas TROUSSEL, CORUM L'EPARGNE – dismasted
Nov. 28, 2020 – Alex THOMSON, HUGO BOSS – rudder damage
Nov. 30, 2020 – Kevin ESCOFFIER, PRB – hull damage (sunk)
Dec. 4, 2020 – Sébastien SIMON, ARKEA PAPREC – foil damage
Dec. 5, 2020 – Sam DAVIES, Initiatives-Cœur – keel damage (collision)
Dec. 11, 2020 – Fabrice AMEDEO, NEWREST – ART & FENÊTRES – computer failure
Participation history:
1989-90: 13 boats at the start
1992-93: 15 boats
1996-97: 15 boats
2000-01: 24 boats
2004-05: 20 boats
2008-2009: 30 boats
2012-2013: 20 boats
2016-2017: 29 boats
2020-2021: 33 boats
2020-21 Entries
Fabrice AMEDEO: NEWREST – ART & FENÊTRES
Romain ATTANASIO: PURE – BEST WESTERN
Alexia BARRIER: TSE – 4MYPLANET
Yannick BESTAVEN: MAÎTRE COQ IV
Jérémie BEYOU: CHARAL
Arnaud BOISSIÈRES: LA MIE CÂLINE – ARTISANS ARTIPÔLE
Louis BURTON: BUREAU VALLÉE 2
Didac COSTA: ONE PLANET ONE OCEAN
Manuel COUSIN: GROUPE SÉTIN
Clarisse CREMER: BANQUE POPULAIRE X
Charlie DALIN: APIVIA
Samantha DAVIES: INITIATIVES-CŒUR
Sébastien DESTREMAU: MERCI
Benjamin DUTREUX: OMIA – WATER FAMILY
Kevin ESCOFFIER: PRB
Clément GIRAUD: COMPAGNIE DU LIT / JILITI
Pip HARE: MEDALLIA
Boris HERRMANN: SEA EXPLORER – YACHT CLUB DE MONACO
Ari HUUSELA: STARK
Isabelle JOSCHKE: MACSF
Jean LE CAM: YES WE CAM !
Stéphane LE DIRAISON: TIME FOR OCEANS
Miranda MERRON: CAMPAGNE DE FRANCE
Giancarlo PEDOTE: PRYSMIAN GROUP
Alan ROURA: LA FABRIQUE
Thomas RUYANT: LINKEDOUT
Damien SEGUIN: GROUPE APICIL
Kojiro SHIRAISHI: DMG MORI
Sébastien SIMON: ARKEA – PAPREC
Maxime SOREL: V AND B – MAYENNE
Alex THOMSON: HUGO BOSS
Armel TRIPON: L'OCCITANE EN PROVENCE
Nicolas TROUSSEL: CORUM L'ÉPARGNE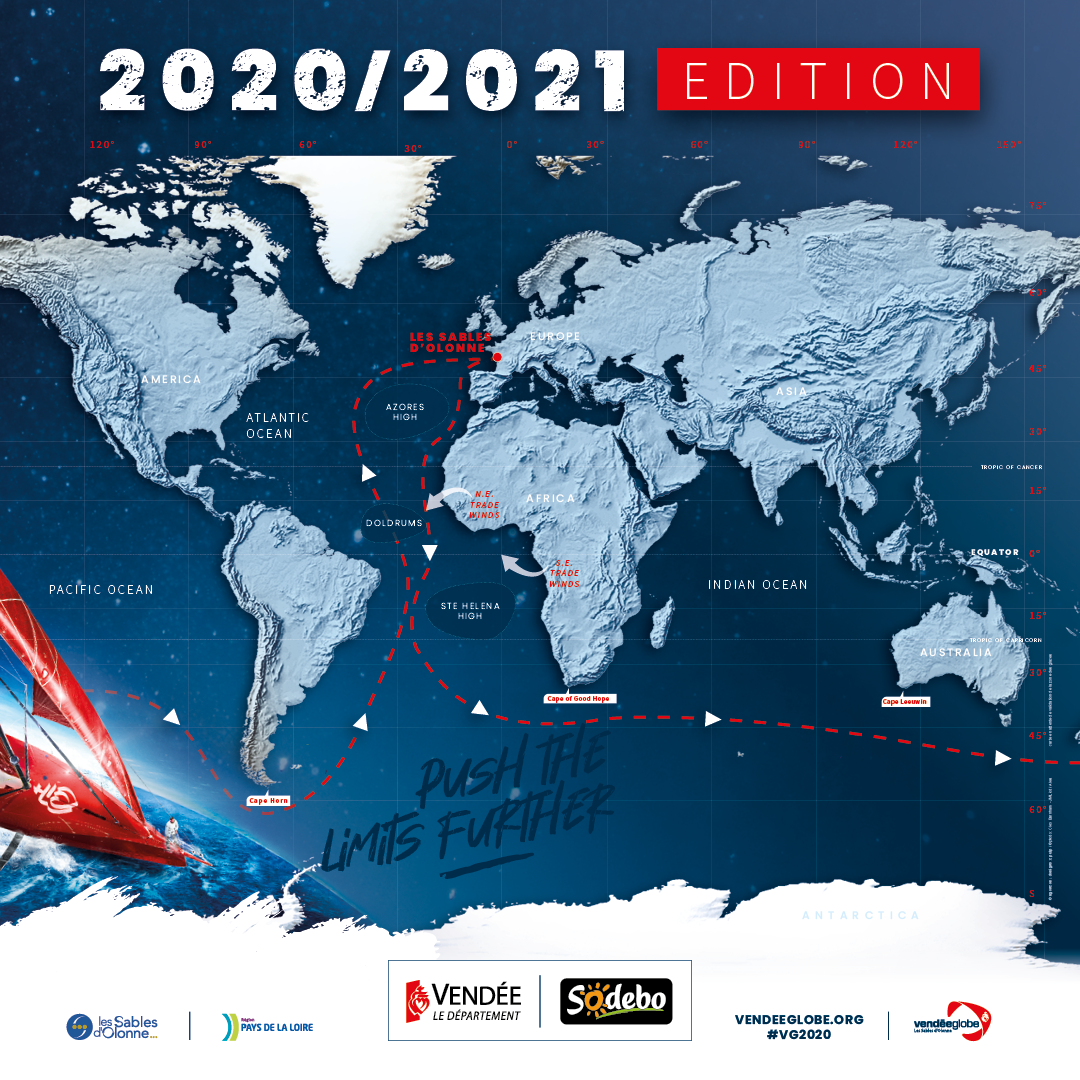 Source: Vendée Globe