News
Vendée Globe: new day, new challenge
Published on December 19th, 2020
(December 19, 2020; Day 42) – Constrained by a high pressure to their north and only moderate winds, the Vendée Globe leaders are still losing miles to the peloton of skippers chasing 250 nautical miles behind. While Yannick Bestaven (Maitre Coq IV) remains just over 50 miles ahead of second positioned Charlie Dalin (APIVIA) Germany's Boris Herrmann (SeaExplorer) has passed Jean Le Cam (Yes We Cam) to hold fourth place, his best position yet.
In eighth Louis Burton's challenge, to stop in the lee of Macquarie Island and repair his mast track and other problems, has become greater as he has had no functioning autopilot for more than 24 hours and so has had to hand steer Bureau Vallée 2 all the time with no rest.
The 35 year old skipper from Saint Malo still had some 90 miles to sail to the remote island this afternoon. As he contemplates the supreme effort that will be required he was sent positive messages on the French Vendee Globe Live show by the godfather of his boat, Swiss-French Formula 1 driver Romain Grosjean, who himself survived a horror crash, stepping from the fireball wreck of his car three weeks ago.
"Each morning I get up and check where he is and follow his race really closely and have been following all the issues he has had to deal with. If I can send you Louis a bit of my autopilot help it is going to you. I do not like electronics, and do not know how to manage that, I know you will repair though, and I hope you will find the electronics solutions you need and that you can climb back the fleet up like you did at the start of the race." Grosjean said today.
"I share something special with Kevin Escoffier in that we have both recently survived very difficult moments. I think everyone was amazed to see me come out of the flames of my burning car after 28 seconds. And so was everyone happy to hear that Jean Le Cam was able to rescue Kevin Escoffier in what was terrible conditions and that he is safe and sound."
In 13th place Romain Attanasio had nine hours of hard work including some precision engineering to fix part of his mainsail track that had meant he could not drop his mainsail into a reef.
The second time on the Vendee Globe is not necessarily better than the first. Indeed great expectations and some deep disappointments have certainly hampered Alan Roura and Stephane Le Diraison during the first half of their respective races this time. The first time is always an adventure and the second inevitably is about a higher level of performance and competitiveness.
Le Diraison most of all is looking forwards to successfully passing Cape Leeuwin under Australia. He dismasted on the last edition and needed two weeks to limp under jury rig to Melbourne. Roura has upgraded his boat to a newer, faster Finot Conq design with foils. Both are now looking forwards to the second half of their races with a better sense of perspective and self-knowledge.
Alain Roura, the Swiss skipper who is the youngest in the fleet at 29 and who is on his second Vendee Globe is much more content in himself now that he is not mentally beating himself up all the time. He has softened a mindset, which was measuring him all the time against other boats, worrying all the time about how fast he should be going. Instead he is now entirely focused on his world inside the guardrails of La Fabrique, looking after his boat and enjoying making it go fast.
"The first time I was here was to realize an adventure, a dream and to take a lot of pleasures. And I think at the beginning of this race I was just too much in racing mode, pushing the boat and too much focused on beating the others. I forgot what the Vendee Globe is about and so I had changed a bit my mind, my way of sailing and now how I am going to do the second half of the race. And I think we never stop learning on the Vendèe Globe.
"That is a good point. I maybe was not me on the first half of the race and now I will try to be the Alan I know, the Alan that can sail fast and be totally crazy and not thinking about the others and just make my course because of the others. I want to do my course and sail well. That is the difference between the first and the second Vendèe Globe. I am learning what kind of sailor I am.
"I am a competitor I am a racer but I am supposed to push as hard as I can for the conditions I have where I am and not think about the others. I am a sailor first and foremost, who needs to take care of himself and his boat. And I love to sail fast and take pleasure from that."
And Le Diraison, in 16th, just over 400 miles behind 14th placed Roura, says the essence of the race is to treat each day as a personal challenge. "It is very different. I thought it would be easier but in fact it is much harder," he said today of the comparison between his two races. "I was so desperate to manage this race and go very fast I ended up disappointed to lose the head of the race so soon thanks to problems on my boat and then because of the weather conditions. I had no wind in the South Atlantic and the beginning of the South Indian.
"It is definitely very different this time. But it will be new after Cape Leeuwin as last time I dismasted and had to stop into Melbourne. I am very excited to discover the second half of the race. On the first part I compared too much and so now I am looking forwards to the second half. I am very happy to be here to reach to Les Sables d'Olonne and to give your best that is what is important of course. But it is about the personal challenge, every day to give your best every day."
Clarisse Cremer, Banque Populaire X
"Yesterday I slept because I was wiped out. I think I'm sensitive to the time changes and to knowing when it's morning. So, I eat when can, but I don't know where I am, it's a bit of a mess. I know that I sleep better at night, but if I have to gybe, like last night, I don't deprive myself. I like to know that I give myself a four-hour window to eat and sleep well. It's hard for me to set a schedule now.
"It's nothing serious, but I hadn't anticipated this too much. The weather is complicated; I'm tying myself up in knots. It's not easy to know if I should slow down, to let the heart of the depression coming from the north pass by, or if I should try to keep ahead. I'm waiting for the latest weather files."
Thomas Ruyant, LinkedOut
"All is going a bit better. It was a tough thing to manage and now it is behind me. I had a bit of trouble yesterday trying to dry out the boat particularly because I was so tired but have managed to sleep a bit and get back on course, the right course this time! The race continues and I see it as yet another obstacle to have managed on the journey to the Sables.
"Having had to stop the boat and head northwards a bit, an option was there that could have been interesting to catch up with the leaders but unfortunately it shut down sooner with an area of calm than I had expected and so, unfortunately, I was not able to make it happen. I gambled maybe more than is normal and was possibly preoccupied with the issues on board and had not spent enough time to really analyze the option.
"I had to catch up and lean a bit on the strategic option to try and limit the damage, but now I am not that far from the leaders. I can't hang about though because conditions are complex with a new area of high pressure developing to the North of us and which should move south-eastwards, so we need to be quick to try and slip under it and not get caught in the light conditions, which is the danger we face in the coming 48 hours."
Ranking – 21:00 (GMT)*
1. Yannick BESTAVEN, Maître CoQ IV – 11138.6 nm DTF
2. Charlie DALIN, APIVIA – 59.3 nm DTL
3. Thomas RUYANT, LinkedOut – 114.1 nm DTL**
4. Boris HERRMANN, SEAEXPLORER – YACHT CLUB DE MONACO – 323. nm DTL
5. Jean LE CAM, Yes We Cam! – 367.1 nm DTL
DTF – Distance to Finish; DTL – Distance to Lead
* Time awards given to Yannick Bestaven, Jean Le Cam, and Boris Herrmann for their participation in the rescue of Kevin Escoffier will be applied when the skipper finishes. – Details
** Damaged port foil on Nov. 24 at 02:00.
Race details – Boat types – Tracker – Ranking – YouTube
The Vendée Globe is the only sailing race round the world that's solo, non-stop, and without assistance, and it was all systems go for the 9th edition on November 8. Beginning in 1989 with 13 entries, and held every four years, the start line in 2020 had 33 skippers taking off from Les Sables d'Olonne, France.
The development of the IMOCA Class toward foiling will see these boats hurl themselves around the world, teetering on carbon skates through inhospitable regions, chasing the record set in 2016-17 by Armel le Cléac'h of 74:03:35:46.
2020-21 Attrition
Nov. 16, 2020 – Nicolas TROUSSEL, CORUM L'EPARGNE – dismasted
Nov. 28, 2020 – Alex THOMSON, HUGO BOSS – rudder damage
Nov. 30, 2020 – Kevin ESCOFFIER, PRB – hull damage (sunk)
Dec. 4, 2020 – Sébastien SIMON, ARKEA PAPREC – foil damage
Dec. 5, 2020 – Sam DAVIES, Initiatives-Cœur – keel damage (collision)
Dec. 11, 2020 – Fabrice AMEDEO, NEWREST – ART & FENÊTRES – computer failure
Participation history:
1989-90: 13 boats at the start
1992-93: 15 boats
1996-97: 15 boats
2000-01: 24 boats
2004-05: 20 boats
2008-2009: 30 boats
2012-2013: 20 boats
2016-2017: 29 boats
2020-2021: 33 boats
2020-21 Entries
Fabrice AMEDEO: NEWREST – ART & FENÊTRES
Romain ATTANASIO: PURE – BEST WESTERN
Alexia BARRIER: TSE – 4MYPLANET
Yannick BESTAVEN: MAÎTRE COQ IV
Jérémie BEYOU: CHARAL
Arnaud BOISSIÈRES: LA MIE CÂLINE – ARTISANS ARTIPÔLE
Louis BURTON: BUREAU VALLÉE 2
Didac COSTA: ONE PLANET ONE OCEAN
Manuel COUSIN: GROUPE SÉTIN
Clarisse CREMER: BANQUE POPULAIRE X
Charlie DALIN: APIVIA
Samantha DAVIES: INITIATIVES-CŒUR
Sébastien DESTREMAU: MERCI
Benjamin DUTREUX: OMIA – WATER FAMILY
Kevin ESCOFFIER: PRB
Clément GIRAUD: COMPAGNIE DU LIT / JILITI
Pip HARE: MEDALLIA
Boris HERRMANN: SEA EXPLORER – YACHT CLUB DE MONACO
Ari HUUSELA: STARK
Isabelle JOSCHKE: MACSF
Jean LE CAM: YES WE CAM !
Stéphane LE DIRAISON: TIME FOR OCEANS
Miranda MERRON: CAMPAGNE DE FRANCE
Giancarlo PEDOTE: PRYSMIAN GROUP
Alan ROURA: LA FABRIQUE
Thomas RUYANT: LINKEDOUT
Damien SEGUIN: GROUPE APICIL
Kojiro SHIRAISHI: DMG MORI
Sébastien SIMON: ARKEA – PAPREC
Maxime SOREL: V AND B – MAYENNE
Alex THOMSON: HUGO BOSS
Armel TRIPON: L'OCCITANE EN PROVENCE
Nicolas TROUSSEL: CORUM L'ÉPARGNE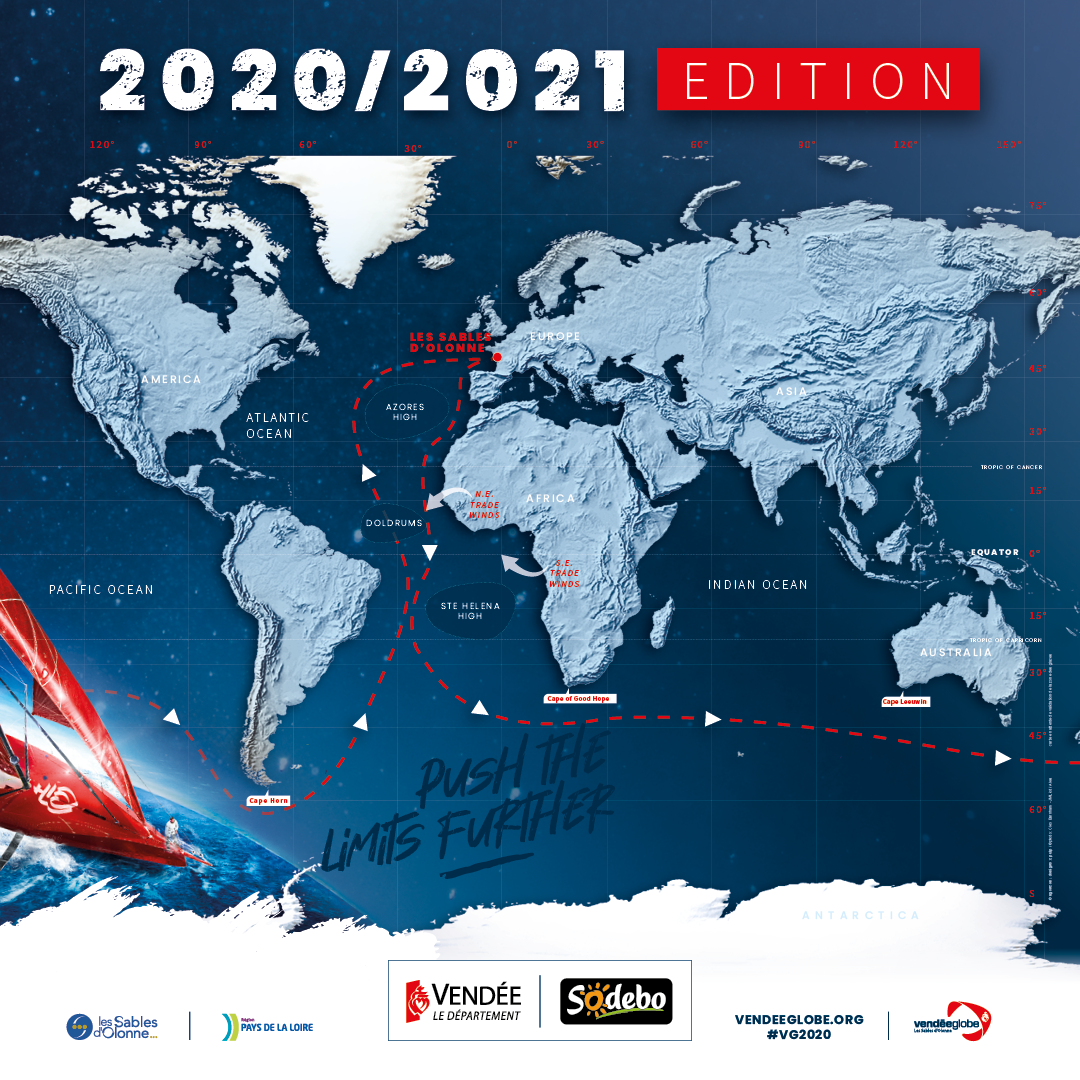 Source: Vendée Globe