Feature
Vendée Globe: Antimeridian crossing
Published on December 20th, 2020
(December 20, 2020; Day 43) – Yannick Bestaven, who has been at the front of the fleet for four days, passed the Antimeridian at 1337hrs UTC this Sunday afternoon with his lead now extended to just over 120 nautical miles over second placed Charlie Dalin.
Of the mental milestones that the Vendée Globe skippers tick off along the 24,410 nautical miles solo race round the world, the Antimeridian – or 180th Meridian – is a significant boost to morale.
It is there that they see their longitude start to drop from 180 and emotionally each degree feels closer to home and to the Les Sables d'Olonne finish line at 1.799 West.
Bestaven has had the advantage of staying in the better breeze than Dalin and third placed Thomas Ruyant but this looks set to be a complicated week ahead for the leaders as a high pressure will block their path midweek which could require something of a detour north to find better wind and in fact they might find themselves sailing upwind for a period just before Christmas.
The second part of this ninth edition of the Vendée Globe looks set to offer even more tension and excitement with the prospect of the top 11 skippers being within 800 nautical miles of each other at Cape Horn around the 31st December or the first day of 2021.
Consider that the last two editions have seen either the leader or pair of leaders more than that distance ahead of the third placed boat and the climb up the Atlantic in January promises to be a sporting spectacular.
And on his new scow bowed Manuard design Armel Tripon, presently 14th on the standings is on the hunt, seemingly always in a beneficial wind regime which is allowing him to consistently pull back miles on those immediately in front of him, "It's a different phase (for the leaders) now until Cape Horn, the cards can still be redistributed but of course there will be opportunities until the end."
After arriving in the lee of the remote mist shrouded Macquarie Island, 840 miles south east of Tasmania, this morning (European time) Louis Burton climbed the 28 metre mast of Bureau Vallée 2 as it drifted gently offshore. He went up at 11.18hrs UTC and returned to the deck after two very hard, chilly hours during which he accomplished a partial repair to the mast track damage, which had been preventing him from using his mainsail to its full hoist since early in the Indian Ocean.
He reported to his team that as he drifted offshore the seas had become too rough to continue his work to finish the repair and deal with the electronics problem he had there too. And so the skipper from Saint Malo was considering anchoring in Lusitania Bay, which is much more protected but always involves more risk anchoring and retrieving an anchor unassisted.
With less than 100 miles to go the young Swiss skipper Alan Roura will be the next to pass Cape Leeuwin in 15th place. Britain's Pip Hare is having a fantastic race right now, profiting in the stronger winds on her first time ever in the Southern Ocean.
She has closed miles on Les Sables d'Olonne's Arnaud Boissières who is on a newer boat and is on his fourth consecutive Vendée Globe and she has also moved more than 60 miles clear of Didac Costa who is on his second consecutive Vendée Globe and third round the world race in five years – as is Jean Le Cam who has been a mentor to the Catalan skipper as he has also to Damien Seguin and Benjamin Dutreux.
While Hare may be a newcomer to the south her Medallia a 20 year old Pierre Rolland design knows its own way as this is its fifth racing circumnavigation, the last time in the hands of Roura who is only 453 nautical miles ahead.
Isabelle Autissier, the first woman to complete a solo round the world race, was the guest on the French Live show today, Isabelle Autissier, on the French LIVE. The legendary pioneer has sailed around the world four times, including once in the Vendée Globe, in the terrifying 1996-1997 race, when out of the fifteen boats that set off, only six finished the race.
That was the race that saw Gerry Roufs lost at sea. Autissier spent a long time looking for him in hellish seas in the Pacific. Out of the official race after a pit stop in Cape Town to repair a damaged rudder, she went back to complete the course – as Sam Davies is inspired to do now – arriving 'hors course' back in Les Sables d'Olonne after 105 days with a lot of memories. "I knew I would only do that race once. The Vendée Globe is something that has to be earned."
Today Autissier remarked, "This is a pretty incredible race. I do not recall having ever seen one likes this, and I have followed them all, with so many different battles going on and such a big bunch together in the lead. The speeds are just amazing. I did the Vendée Globe a long time ago now and then I thought we were going fast, but today it is just incredible, there is no comparison.
"I am happy to see that there have not been too many breakages, some of course, but I see that the sailors are all very capable and able to fix things, which is pretty impressive because it shows the boats are strong and safe."
A staunch advocate for ocean health, she commented, "In my role as president of WWF France, we work hard to protect the remote areas the fleet goes through like the Kergeulen Islands. Earth is the only planet with an Ocean, and it is the ocean that gives life to Earth. We depend on the Ocean for the health of our planet and we must protect her.
"It is of the utmost importance to us; it provides 50% our oxygen through the plankton and it regulates the temperature of our planet. If ultimately, we do not respect it, it will be us who suffer in the long term. We need to look at it from the climate change perspective, the fishing, plastic pollution and there is just a lot to do."
Talking of Davies she said, "I did send a message to Sam when she was in Cape Town saying that it was a real opportunity to complete her journey and that she would enjoy doing the full trip, like I did when it happened to me.
"For me it was a real pleasure to be able to finish it, and I did not have the pressure to race, which at the time was quite tough as I was among the favorites in third place when it happened, but after I set off again full pelt and complete at one with the boat and the sea. I got the welcome in the Sables d'Olonne, when I finished 24 hours after the first, as if I were second overall. I am watching Sam and she will finish her race around the world."
Alexia Barrier, TSE for my planet, said, "My boat is the oldest in the fleet at 22 years, but it is also the most experienced having been here before. I have the birds flying around and it is just beautiful and huge. The wind and the waves and the strength of the elements.
"I dropped a special ARGO buoy on behalf of a program that is led by UNESCO. This will give data on the ocean in this remote area. The information will then be made available to researchers the world over to study our oceans.
"It is lovely to have so many birds play with the breeze, and particularly with the turbulence of the rig. We are visitors in this great Southern Ocean and the only animal I have seen right down in the 40s was a seal. I was so touched to see a living animal after 30 days of not seeing anything. We must all do all we can to protect this ocean."
Stephane la Diraison, Time for Oceans, "I am so happy to finally be sailing in the southern seas. It is not quite what I had expected, and I worked really hard to reach a competitive group of sailors and so we have proper racing. The boats are technical and need a lot of managing. Above all we must remember that the Vendée Globe is a massive human challenge and that to be here all alone on our boats on the other side of the world is just nuts.
"Last night I got another leak in my foil case and so filled my sail locker and had to stop, furl up the gennaker, empty the locker and re-stick a board, let it dry… well there is just everything to always do. It is a Vendée Globe full of action, technical repairs and with a toolbox permanently on hand and open.
"It's a human challenge and so I have fallen behind with a different group and we have very complicated weather systems. Frankly we have not been spared back here. It is pretty mad what we have had in the Southern Atlantic and then near the Kerguelen, where it was warm, and we could shower in the cockpit.
"In a few days' time, we will get to the point where I dismasted four years ago, so I am really happy to get past this and have the chance to experience the second half of the race and get into the Pacific and start getting closer to the Sables d'Olonne as opposed to further away."
Ranking – 21:00 (GMT)*
1. Yannick BESTAVEN, Maître CoQ IV – 10756.5 nm DTF
2. Charlie DALIN, APIVIA – 122.67 nm DTL
3. Thomas RUYANT, LinkedOut – 171.46 nm DTL**
4. Boris HERRMANN, SEAEXPLORER – YACHT CLUB DE MONACO – 416.22 nm DTL
5. Jean LE CAM, Yes We Cam! – 451.05 nm DTL
DTF – Distance to Finish; DTL – Distance to Lead
* Time awards given to Yannick Bestaven, Jean Le Cam, and Boris Herrmann for their participation in the rescue of Kevin Escoffier will be applied when the skipper finishes. – Details
** Damaged port foil on Nov. 24 at 02:00.
Race details – Boat types – Tracker – Ranking – YouTube
The Vendée Globe is the only sailing race round the world that's solo, non-stop, and without assistance, and it was all systems go for the 9th edition on November 8. Beginning in 1989 with 13 entries, and held every four years, the start line in 2020 had 33 skippers taking off from Les Sables d'Olonne, France.
The development of the IMOCA Class toward foiling will see these boats hurl themselves around the world, teetering on carbon skates through inhospitable regions, chasing the record set in 2016-17 by Armel le Cléac'h of 74:03:35:46.
2020-21 Attrition
Nov. 16, 2020 – Nicolas TROUSSEL, CORUM L'EPARGNE – dismasted
Nov. 28, 2020 – Alex THOMSON, HUGO BOSS – rudder damage
Nov. 30, 2020 – Kevin ESCOFFIER, PRB – hull damage (sunk)
Dec. 4, 2020 – Sébastien SIMON, ARKEA PAPREC – foil damage
Dec. 5, 2020 – Sam DAVIES, Initiatives-Cœur – keel damage (collision)
Dec. 11, 2020 – Fabrice AMEDEO, NEWREST – ART & FENÊTRES – computer failure
Participation history:
1989-90: 13 boats at the start
1992-93: 15 boats
1996-97: 15 boats
2000-01: 24 boats
2004-05: 20 boats
2008-2009: 30 boats
2012-2013: 20 boats
2016-2017: 29 boats
2020-2021: 33 boats
2020-21 Entries
Fabrice AMEDEO: NEWREST – ART & FENÊTRES
Romain ATTANASIO: PURE – BEST WESTERN
Alexia BARRIER: TSE – 4MYPLANET
Yannick BESTAVEN: MAÎTRE COQ IV
Jérémie BEYOU: CHARAL
Arnaud BOISSIÈRES: LA MIE CÂLINE – ARTISANS ARTIPÔLE
Louis BURTON: BUREAU VALLÉE 2
Didac COSTA: ONE PLANET ONE OCEAN
Manuel COUSIN: GROUPE SÉTIN
Clarisse CREMER: BANQUE POPULAIRE X
Charlie DALIN: APIVIA
Samantha DAVIES: INITIATIVES-CŒUR
Sébastien DESTREMAU: MERCI
Benjamin DUTREUX: OMIA – WATER FAMILY
Kevin ESCOFFIER: PRB
Clément GIRAUD: COMPAGNIE DU LIT / JILITI
Pip HARE: MEDALLIA
Boris HERRMANN: SEA EXPLORER – YACHT CLUB DE MONACO
Ari HUUSELA: STARK
Isabelle JOSCHKE: MACSF
Jean LE CAM: YES WE CAM !
Stéphane LE DIRAISON: TIME FOR OCEANS
Miranda MERRON: CAMPAGNE DE FRANCE
Giancarlo PEDOTE: PRYSMIAN GROUP
Alan ROURA: LA FABRIQUE
Thomas RUYANT: LINKEDOUT
Damien SEGUIN: GROUPE APICIL
Kojiro SHIRAISHI: DMG MORI
Sébastien SIMON: ARKEA – PAPREC
Maxime SOREL: V AND B – MAYENNE
Alex THOMSON: HUGO BOSS
Armel TRIPON: L'OCCITANE EN PROVENCE
Nicolas TROUSSEL: CORUM L'ÉPARGNE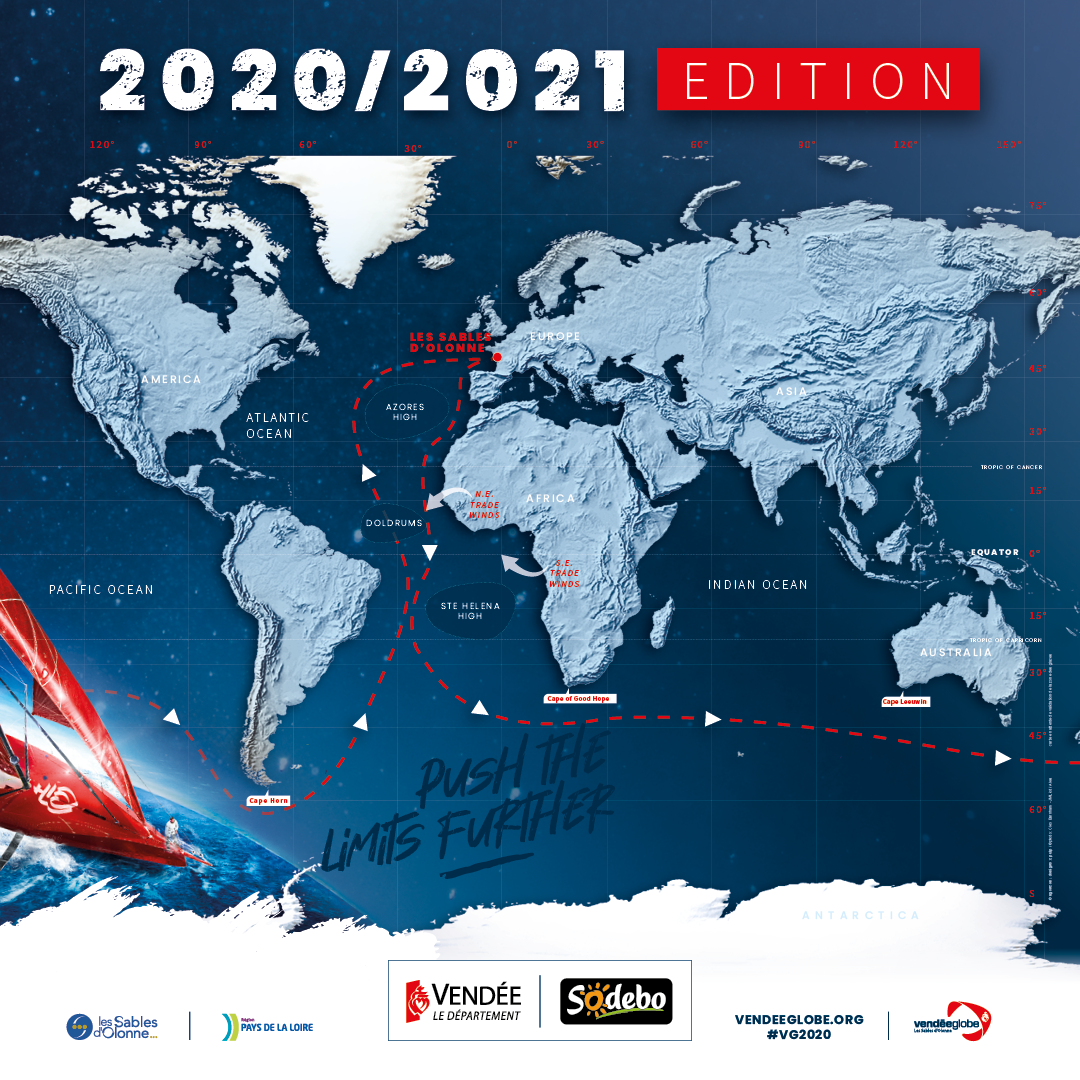 Source: Vendée Globe