Feature
Vendée Globe: Delivering a cliffhanger
Published on December 21st, 2020
(December 21, 2020; Day 44) – The Vendée Globe seems set to deliver a South Pacific Ocean cliffhanger worthy of Christmas Holiday week fireside viewing as the front running group try to negotiate a large, tricky high pressure system which is blocking their route east.
If the plot line were written only by leader Yannick Bestaven (Maître Coq IV) he would be allowed to escape from the evil clutches of the anticyclone and to ride off to a much more substantial distance on the two that are chasing him, Charlie Dalin (APIVIA) at 115 miles behind and Thomas Ruyant (LinkedOut) chasing at 175 miles.
Behind them Boris Herrmann in fourth is three to four knots quicker at 333 miles behind Bestaven, at the head of the second wave stretching 346 miles back from Herrmann to Maxime Sorel in 10th.
So complex is the modeling, tracking and timing of the sticky system which is moving south east across their path, that Ruyant today admitted he is half prepared to bide his time and watch Bestaven open the course.
But weather ace Christian Dumard, meteo adviser to the race, says there is a slender chance the skipper of Maître Coq might be able to extend his break, sailing close to the ice exclusion, while his chasers are forced north-eastwards to find a different, more roundabout route to hook into the next low pressure system.
"It is not clear if I manage to escape. It is hard to say. Rationally I am the first into the real high pressure areas and then should also be the first to get out, normally!", xplained Bestaven earlier today. Ruyant responds, "We still have some pressure for a little while but further we go in a straight line the lighter it will be. So I hope Yannick doesn't escape."
"The weather files are only seemingly reliable for two or three days with any real degree of confidence," explains the skipper of LinkedOut. "So the forecasts are not very reliable looking forwards towards Cape Horn. We don't know that much and so I am going to stay a bit conservative. I'm lucky to be a hunter, in this not very precise weather, not the hunted – not having to lead the way. I can benchmark myself against others, and I watch hour by hour day by day. "
The one thing that does seem sure about this whole scenario is that the anticyclone is crossing their path, cutting off their supplies of breeze. And all the time they are slowed to positively pedestrian paces scuppering the dream sequence of the latest high tech foilers scything east on long Pacific surfs.
Between two low-pressure systems, a new low pressure is very much on the minds of three competitors. The red stripe on their weather files that comes down from New Zealand is a fairly deep low-pressure system generating gusts in excess of 40 knots. Romain Attanasio and Clarisse Cremer now joined by Louis Burton, after he lost 400 miles with his pit stop off Macquairie Island (he climbed his mast three times to carry out repairs), are going to have to weather the storm between over the next couple of days with strong NE'ly winds forecast forcing them to sail upwind in very nasty seas.
"We have to avoid going too quickly as we would end up in the worst of the low," explained Romain Attanasio in a video he sent back. "It does not matter if it catches me coming from behind me, but I am going to slow down. It's not very logical and I find it hard to do that," explained Clarisse Cremer the day before yesterday. As for Louis Burton, his problem is the reverse. He needs to accelerate now ahead of the low so that it does not pass right across his route.
Destremau suffering from steering problems as everyone is speeding along towards Cape Leeuwin in excellent weather conditions allowing them to lap up the miles. Everyone that is except for Sébastien Destremau, who continues to suffer from problems with his steering and autopilot, causing his boat to broach without warning and stepping up the stress levels for the skipper from Toulon.
"You could say that the end is nigh and I don't have many other options than to sail Merci to the nearest port. But having said that, you never know when you're in for a pleasant surprise," explained Sébastien this morning. The skipper is not clear about whether he wants to continue or not or whether he could carry out repairs under shelter in Australia. His route northwards should protect him in any case from the worst of the Southern Ocean with a new low expected to offer stormy conditions around the Kerguelens on Thursday.
Sébastien Destremau / Merci said, "The boat is swerving and I have to find a way to improve its course holding, otherwise I won't be able to continue on without stopping in a port to pick up equipment and make repairs. The situation is clear. Between my keel hydraulic problem, that has plagued me since the Doldrums, my steering system that is no longer operational and the emergency steering system that I have set up, all of this will not hold up in the long term and my autopilot is working very badly.
"You could say it's starting to not look too good and I quite honestly don't have many options left but stop at the nearest port. But having said that, there are always surprises! We will therefore get closer to Australia by staying very North to avoid depressions while we carry on looking for a new solution to make it more reliable. Once the boat is close to Perth, I'm going to have to undo what I did the other day in a hurry and reassemble everything differently. I need to make a support to install the rudder angle sensor.
"I will have to reposition it completely and this will eliminate what is causing the error in the angle measurements. If the sensor is correctly positioned and working properly, it must send the right measurements to the computer that in turn sends the correct commands to the autopilot to operate. This is how the command chain must work.
So, the basis is the quality of the rudder angle measurement and at the moment we must admit that it is not very good. This does mean that in the meantime we are falling behind the rest of the fleet."
Ranking – 21:00 (GMT)*
1. Yannick BESTAVEN, Maître CoQ IV – 10493.6 nm DTF
2. Charlie DALIN, APIVIA – 115.75 nm DTL
3. Thomas RUYANT, LinkedOut – 175.79 nm DTL**
4. Boris HERRMANN, SEAEXPLORER – YACHT CLUB DE MONACO – 333.19 nm DTL
5. Jean LE CAM, Yes We Cam! – 377.07 nm DTL
DTF – Distance to Finish; DTL – Distance to Lead
* Time awards given to Yannick Bestaven, Jean Le Cam, and Boris Herrmann for their participation in the rescue of Kevin Escoffier will be applied when the skipper finishes. – Details
** Damaged port foil on Nov. 24 at 02:00.
Race details – Boat types – Tracker – Ranking – YouTube
The Vendée Globe is the only sailing race round the world that's solo, non-stop, and without assistance, and it was all systems go for the 9th edition on November 8. Beginning in 1989 with 13 entries, and held every four years, the start line in 2020 had 33 skippers taking off from Les Sables d'Olonne, France.
The development of the IMOCA Class toward foiling will see these boats hurl themselves around the world, teetering on carbon skates through inhospitable regions, chasing the record set in 2016-17 by Armel le Cléac'h of 74:03:35:46.
2020-21 Attrition
Nov. 16, 2020 – Nicolas TROUSSEL, CORUM L'EPARGNE – dismasted
Nov. 28, 2020 – Alex THOMSON, HUGO BOSS – rudder damage
Nov. 30, 2020 – Kevin ESCOFFIER, PRB – hull damage (sunk)
Dec. 4, 2020 – Sébastien SIMON, ARKEA PAPREC – foil damage
Dec. 5, 2020 – Sam DAVIES, Initiatives-Cœur – keel damage (collision)
Dec. 11, 2020 – Fabrice AMEDEO, NEWREST – ART & FENÊTRES – computer failure
Participation history:
1989-90: 13 boats at the start
1992-93: 15 boats
1996-97: 15 boats
2000-01: 24 boats
2004-05: 20 boats
2008-2009: 30 boats
2012-2013: 20 boats
2016-2017: 29 boats
2020-2021: 33 boats
2020-21 Entries
Fabrice AMEDEO: NEWREST – ART & FENÊTRES
Romain ATTANASIO: PURE – BEST WESTERN
Alexia BARRIER: TSE – 4MYPLANET
Yannick BESTAVEN: MAÎTRE COQ IV
Jérémie BEYOU: CHARAL
Arnaud BOISSIÈRES: LA MIE CÂLINE – ARTISANS ARTIPÔLE
Louis BURTON: BUREAU VALLÉE 2
Didac COSTA: ONE PLANET ONE OCEAN
Manuel COUSIN: GROUPE SÉTIN
Clarisse CREMER: BANQUE POPULAIRE X
Charlie DALIN: APIVIA
Samantha DAVIES: INITIATIVES-CŒUR
Sébastien DESTREMAU: MERCI
Benjamin DUTREUX: OMIA – WATER FAMILY
Kevin ESCOFFIER: PRB
Clément GIRAUD: COMPAGNIE DU LIT / JILITI
Pip HARE: MEDALLIA
Boris HERRMANN: SEA EXPLORER – YACHT CLUB DE MONACO
Ari HUUSELA: STARK
Isabelle JOSCHKE: MACSF
Jean LE CAM: YES WE CAM !
Stéphane LE DIRAISON: TIME FOR OCEANS
Miranda MERRON: CAMPAGNE DE FRANCE
Giancarlo PEDOTE: PRYSMIAN GROUP
Alan ROURA: LA FABRIQUE
Thomas RUYANT: LINKEDOUT
Damien SEGUIN: GROUPE APICIL
Kojiro SHIRAISHI: DMG MORI
Sébastien SIMON: ARKEA – PAPREC
Maxime SOREL: V AND B – MAYENNE
Alex THOMSON: HUGO BOSS
Armel TRIPON: L'OCCITANE EN PROVENCE
Nicolas TROUSSEL: CORUM L'ÉPARGNE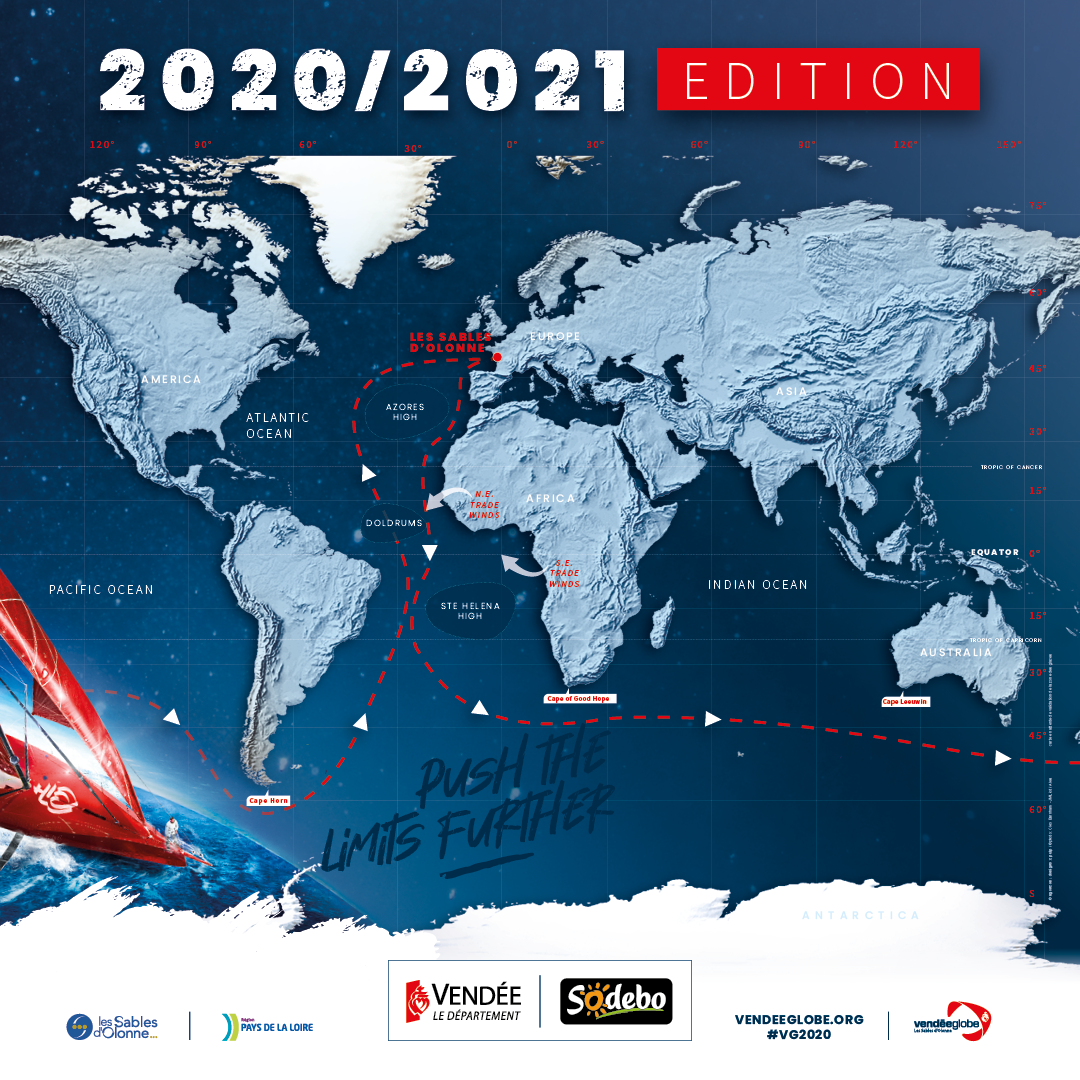 Source: Vendée Globe