News
Vendée Globe: Back at the top
Published on December 26th, 2020
(December 26, 2020; Day 49) – Like a sci-fi monster which constantly evolves and won't lie down and die, the high pressure system which has blocked the path of the Vendée Globe leaders since they were south of New Zealand, is not giving up the top ten solo skippers and releasing them to accelerate east towards Point Nemo and onwards to Cape Horn.
Speeds remain modest, no more than 12 knots for any of the top third of the fleet. And in particular the second group of seven skippers is still only making six to eight knots because the anticyclone has ridged to the north east and south west, drawing an even more impenetrable barrier of calm.
While Yannick Bestaven (Maître CoQ IV) has a lead just over 30 miles on second placed Charlie Dalin (APIVIA) the vanguard of the second group is formed by Jean Le Cam (Yes We Cam!) and Boris Herrmann (SeaExplorer-Yacht Club de Monaco) who are about one mile apart.
The enforced slowdown means that Maxime Sorel (V and B 0Mayenne) has not only been able to reconnect but, having made up more than 250 miles since just before Christmas, he is up to seventh and could be very much in the match for the final ascent up the Atlantic from early January.
Louis Burton (Bureau Vallée 2) who restarted from Macquarie Island with a deficit of 890 miles on the leader is now 427 miles behind Bestaven and 72 miles from Thomas Ruyant (LinkedOut) who is in seventh.
Second placed Dalin looked – predictably – slightly jaded today as he responded to questions in the middle of the southern hemisphere night, on the midday French show today. "After a few days of taking advantage of smooth seas and sailing downwind in VMG mode, now I'm upwind on rather choppy seas.
"I am getting used to the boat slamming again. I am heading once again for the Ice Zone that I should reach in around 24 hours. I'm pushing the boat as best I can, but the wind is fairly unstable in strength and direction. That has been quite normal in the Southern Ocean recently, so I'm getting used to that."
Talking of his precise strategy Dalin explained, "I had the option of letting the high pass by or taking a route via the north. The day I took the decision to gybe to head back down to the Ice Zone, there was still a slight chance that I would escape from it, and if things didn't work out, I would only lose thirty miles or so. That was the logical solution.
"A matter of hoping rather than giving up, I realized that there was always more wind than shown on the charts and knew that would apply to my option. That enabled me to sail fairly fast ahead of the high pressure system. Of course, it was a bit stressful when the wind eased off, as I kept thinking the high had caught me. But there were times when the breeze was fairly strong and that allowed me to make good progress.
"It didn't matter what Yannick (Bestaven) or the others did. I was racing against the weather system. Yannick has now moved off to an interesting position to get by the Antarctic Exclusion Zone that I don't have. In terms of positioning, he has a slight advantage, but his wind direction is slightly more unfavorable. In the end, he will do better."
Hydraulic ram issues, such as he had before, are threating the race of Alan Roura. The youngest skipper in the race, Roura, 27, lost all his hydraulic oil when a valve failed on November 28th. This afternoon his team report he is facing a new issue and one of the rams has failed. He has blocked the keel but cannot cant it to any useful effect.
He is said to be discussing solutions and possibilities with his team from his position 550 miles SW of South Island, New Zealand. Roura now has Pip Hare and Arnaud Boissières just 160 miles behind. That the British solo racer is so close to him on the boat he sailed last time will not be adding to Roura's morale on a race which has so far been mostly frustrating for him.
Charlie Dalin, Apivia, says, "Following a few days of good sailing with good VMG sailing downwind on flat seas, now it's upwind on a slightly choppy sea… I'm getting used to the boat pounding again. I'm heading back to the ice exclusion zone, which I should reach in about 24 hours. The wind is quite unstable in strength and direction, but it's been the norm in the South for some time now.
"I'm getting used to it. I had the option of letting the high-pressure pass or taking the northern route. The day I made the decision to gybe back down to the ice exclusion zone there was still a slim chance I could escape and if it didn't pass, I would only lose about thirty miles or so. It was the logical solution, that of hope rather than resignation.
"I realized that there was systematically more wind than on the files, I knew that would apply to my option. It allowed me to progress quite quickly ahead of this anticyclonic bubble. It was obviously a bit stressful, as soon as the wind eased; I imagined the area of high pressure would be coming back. But I had some moments with fairly strong winds, which allowed me to make good progress.
Apivia is a versatile boat capable of progressing in all conditions. It's a fairly 'easy' boat in light airs. It has good acceleration. But I was on my bad side, I couldn't lean on my foil. The story would have been different if it wasn't for this foil. No matter what Yannick (Bestaven) or the others were doing, I was racing with the weather system.
"Now Yannick has an interesting gap to reach the IEZ that I don't have. In terms of positioning, he has a small advantage, but he has a slightly more unfavorable wind direction. In the end, he will be better off."
Isabelle Joschke, MACSF, relayed, "The time difference is so quick from day to day that nothing is really set in stone at the moment! I'm pretty out of synch. As I'm cold, I don't wait until I'm hungry to eat. And it's really a matter of how I feel because there's no real notion of breakfast or dinner.
"I do it all by how I feel and I try to give my stomach a little break at night. There's no risk of getting fat, given how cold I am: I think I'm losing calories instead! And then there's physical activity on the boat, even in light airs, there are maneuvers, there's always tuning and moving about on board.
"I'm still behind the blasted high-pressure bubble which is starting to get annoying. The closer I get to the center, the more irregular the winds are. Right now, I don't even have 6 knots. It's fills in suddenly and you just have to be really very reactive and ready to jump on deck.
"It's not conducive to rest and, as the nights are short, you have to really try to get some sleep when it's dark. It is getting on my nerves a bit and we are going at all fast!"
Ranking – 21:00 (GMT)*
1. Yannick BESTAVEN, Maître CoQ IV – 9457.03 nm DTF
2. Charlie DALIN, APIVIA – 31.16 nm DTL
3. Jean LE CAM, Yes We Cam! – 298.21 nm DTL
4. Boris HERRMANN, SEAEXPLORER – YACHT CLUB DE MONACO – 299.33 nm DTL
5. Damien SEGUIN, GROUPE APICIL – 323.07 nm DTL
DTF – Distance to Finish; DTL – Distance to Lead
* Time awards given to Yannick Bestaven, Jean Le Cam, and Boris Herrmann for their participation in the rescue of Kevin Escoffier will be applied when the skipper finishes. – Details
** Damaged port foil on Nov. 24 at 02:00.
Race details – Boat types – Tracker – Ranking – YouTube
The Vendée Globe is the only sailing race round the world that's solo, non-stop, and without assistance, and it was all systems go for the 9th edition on November 8. Beginning in 1989 with 13 entries, and held every four years, the start line in 2020 had 33 skippers taking off from Les Sables d'Olonne, France.
The development of the IMOCA Class toward foiling will see these boats hurl themselves around the world, teetering on carbon skates through inhospitable regions, chasing the record set in 2016-17 by Armel le Cléac'h of 74:03:35:46.
2020-21 Attrition
Nov. 16, 2020 – Nicolas TROUSSEL, CORUM L'EPARGNE – dismasted
Nov. 28, 2020 – Alex THOMSON, HUGO BOSS – rudder damage
Nov. 30, 2020 – Kevin ESCOFFIER, PRB – hull damage (sunk)
Dec. 4, 2020 – Sébastien SIMON, ARKEA PAPREC – foil damage
Dec. 5, 2020 – Sam DAVIES, Initiatives-Cœur – keel damage (collision)
Dec. 11, 2020 – Fabrice AMEDEO, NEWREST – ART & FENÊTRES – computer failure
Participation history:
1989-90: 13 boats at the start
1992-93: 15 boats
1996-97: 15 boats
2000-01: 24 boats
2004-05: 20 boats
2008-2009: 30 boats
2012-2013: 20 boats
2016-2017: 29 boats
2020-2021: 33 boats
2020-21 Entries
Fabrice AMEDEO: NEWREST – ART & FENÊTRES
Romain ATTANASIO: PURE – BEST WESTERN
Alexia BARRIER: TSE – 4MYPLANET
Yannick BESTAVEN: MAÎTRE COQ IV
Jérémie BEYOU: CHARAL
Arnaud BOISSIÈRES: LA MIE CÂLINE – ARTISANS ARTIPÔLE
Louis BURTON: BUREAU VALLÉE 2
Didac COSTA: ONE PLANET ONE OCEAN
Manuel COUSIN: GROUPE SÉTIN
Clarisse CREMER: BANQUE POPULAIRE X
Charlie DALIN: APIVIA
Samantha DAVIES: INITIATIVES-CŒUR
Sébastien DESTREMAU: MERCI
Benjamin DUTREUX: OMIA – WATER FAMILY
Kevin ESCOFFIER: PRB
Clément GIRAUD: COMPAGNIE DU LIT / JILITI
Pip HARE: MEDALLIA
Boris HERRMANN: SEA EXPLORER – YACHT CLUB DE MONACO
Ari HUUSELA: STARK
Isabelle JOSCHKE: MACSF
Jean LE CAM: YES WE CAM !
Stéphane LE DIRAISON: TIME FOR OCEANS
Miranda MERRON: CAMPAGNE DE FRANCE
Giancarlo PEDOTE: PRYSMIAN GROUP
Alan ROURA: LA FABRIQUE
Thomas RUYANT: LINKEDOUT
Damien SEGUIN: GROUPE APICIL
Kojiro SHIRAISHI: DMG MORI
Sébastien SIMON: ARKEA – PAPREC
Maxime SOREL: V AND B – MAYENNE
Alex THOMSON: HUGO BOSS
Armel TRIPON: L'OCCITANE EN PROVENCE
Nicolas TROUSSEL: CORUM L'ÉPARGNE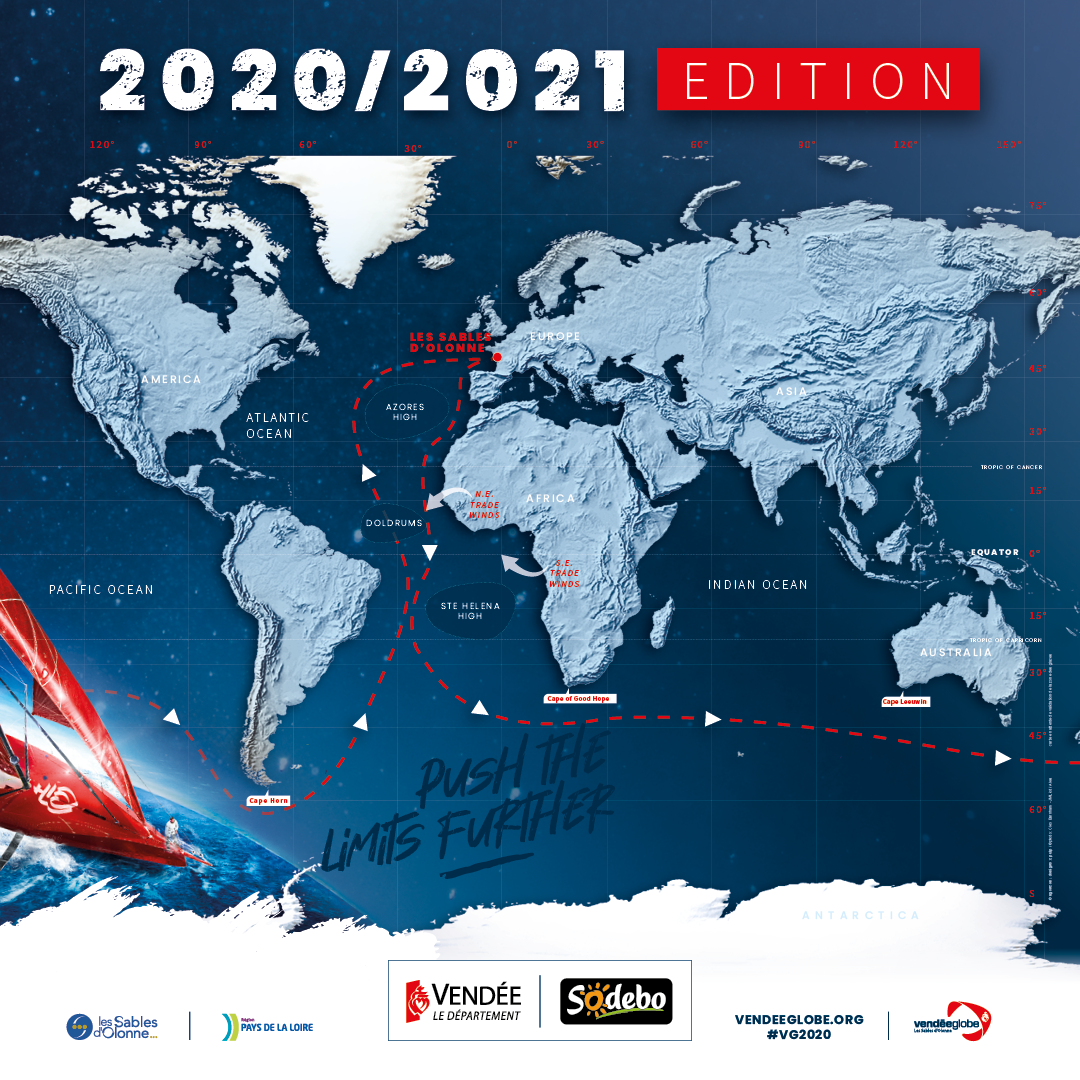 Source: Vendée Globe