News
Vendée Globe: Leader extending
Published on December 27th, 2020
(December 27, 2020; Day 50) – Yannick Bestaven (Maître CoQ IV) shows again today why he is the leader of the Vendée Globe as he has positions himself well to take the best advantage of a long awaited low pressure system which will finally break up the southern Pacific Ocean stalemate. Slow, tactical sailing has largely prevailed for nearly 1,500 nautical miles and some five days of racing.
Bestaven's optimal upwind course sees him clip the corner flag of the Antarctic Exclusion Zone as the new weather system breathes life back into his attack, allowing him to slant slightly more to the south, passing some 300 miles south of Point Nemo tomorrow.
The solo racer from La Rochelle has today opened another handful of miles on second placed Charlie Dalin (APIVIA) not least because Dalin's unfortunate timing, as they are still upwind, on the new weather system has required him to tack back to the north in order to make the corner of the ice barrier.
Bestaven should celebrate his 48th birthday tomorrow with the perfect gift, seeing his lead increase still further, as he crosses the low into fast reaching conditions. Adorned with relatively flat seas in front of the system he might press the accelerator hard on Maître CoQ IV or simply enjoy the fast birthday ride on his VPLP-Verdier design which was launched as Safran for the last Vendée Globe.
The leader has more than 22 years of ocean racing under his belt, his first major success being winning the Mini Transat in 2001. When Bestaven won the Mini Transat in 2001 the runner up was the amateur British skipper Simon Curwen who drove a wedge between the victor and his third placed pal Arnaud Boissières.
Friends Boissières and Bestaven, who grew up together in Arcachon, had identical twin Nivelt designs which proved extremely potent. The current Vendée Globe leader won both legs of that Mini Transat, actually the first sailor ever to do so after Arcachonnais mentor Yves Parlier did, but Parlier was penalized 16 hours on the first leg. He was a major influence on the early sailing career of Bestaven.
"Building your own boat and crossing the Atlantic alone is unforgettable," Bestaven told the Vendée Globe website before the start, "My career happened little by little, but in particular thanks to the influence of Yves Parlier who took me on board with him. But the Mini-Transat was a real eye-opener. Winning the Mini Transat was transformative, winning both stages and therefore the race on a boat that I built myself. You can hardly do more at that stage of your career."
Brit Brian Thompson actually led the second stage to Salvador de Bahia but chose to stay offshore overnight to stay with the breeze whilst Bestaven went along the shore to win. Thompson finished sixth and Sam Davies 11th.
A typically virulent low pressure system is forecast to converge from the north west, coinciding with the leaders projected rounding of Cape Horn on January 2nd. Presently the weather files predict 45kts averages that would surely require the two leaders, at least, to throttle back and time their passage of the notorious rocky islet better.
"I was sold a Pacific experience of fast surfing and smooth downwind sailing. But is has been like climbing a mountain. So now the idea is to continue down towards the Ice Zone to get closer to the center of the low. We then cross it and pick up the wind shift on the other side, with fairly strong winds, 40-knot gusts.
"We'll be the first to take advantage of that, so that should, if the charts and forecasts are right, propel me as the leader eastwards, towards Cape Horn. So if everything works out as forecast, we should be at the Horn in 6-7 days around January 2. For the moment, we have to be patient. Here it's cold and wet. If that appeals to you, come and join us aboard Maître CoQ in the South Pacific," Bestaven said today.
The chasing pack of ten is, to all intents and purposes, now eleven. Louis Burton (Bureau Vallée 2) is in contact with the peloton, 123 miles behind tenth placed Benjamin Dutreux (OMIA-Water Family) who struggled yesterday with a problem with his J2 headsail, which as yet remains unresolved and will require a mast climb at some point. There is a question whether Burton will be able to hold on to the back of the same low pressure as the peloton.
Nonetheless the shape of January's race up the Atlantic is taking shape this week. It seems unlikely that it will be restricted to a Bestaven versus Dalin match race such as has decided the 2012 and 2016 races. If the second pack can, as predicted, be within striking distance at the Cape then this is still anyone's race to win.
Thomas Ruyant, LinkedOut, said today, "Things are better than they were 2 / 3 days ago when I had was trying to get out and not knowing which way to go. Now I have made a decision and the course is a little clearer. I am not tying myself up in so many knots about it anymore. I am going through a bit of a light zone with less wind, but otherwise the pressure is good for the descent from up here on me perch. The strategy was pretty clear over the past few days.
"It is hard in the anticyclonic conditions to have a very, very clear view of things, but there was just no choice but to go through it considering my position, to go up there. Now the decision was how far to go and where to start coming down. It was hard to see the number of miles growing between myself and the head of the fleet and there will be a big gap when we get to Cape Horn.
"It is not all over, there still will be a series of weather systems to negotiate between now and Cape Horn, but there will be a gap and those behind have also caught up. But for now, things are a little clearer for me. This year those behind often get back. That is just part of the game and it makes it a great race with close contact, even if you would like to have a clearer idea of what the course will be. Here we really have a match.
"The weather can change, and it is hard to look too far ahead with regards the next depressions. Now I know what there is to do and the gap will decrease a bit but there is still a long way to go. There will be other opportunities to catch up I hope. Morale is improving."
Ranking – 21:00 (GMT)*
1. Yannick BESTAVEN, Maître CoQ IV – 9241.44 nm DTF
2. Charlie DALIN, APIVIA – 85.82 nm DTL
3. Thomas RUYANT, LinkedOut – 282.07 nm DTL**
4. Damien SEGUIN, GROUPE APICIL – 331.79 nm DTL
5. Isabelle JOSCHKE, MACSF – 337.29 nm DTL
DTF – Distance to Finish; DTL – Distance to Lead
* Time awards given to Yannick Bestaven, Jean Le Cam, and Boris Herrmann for their participation in the rescue of Kevin Escoffier will be applied when the skipper finishes. – Details
** Damaged port foil on Nov. 24 at 02:00.
Race details – Boat types – Tracker – Ranking – YouTube
The Vendée Globe is the only sailing race round the world that's solo, non-stop, and without assistance, and it was all systems go for the 9th edition on November 8. Beginning in 1989 with 13 entries, and held every four years, the start line in 2020 had 33 skippers taking off from Les Sables d'Olonne, France.
The development of the IMOCA Class toward foiling will see these boats hurl themselves around the world, teetering on carbon skates through inhospitable regions, chasing the record set in 2016-17 by Armel le Cléac'h of 74:03:35:46.
2020-21 Attrition
Nov. 16, 2020 – Nicolas TROUSSEL, CORUM L'EPARGNE – dismasted
Nov. 28, 2020 – Alex THOMSON, HUGO BOSS – rudder damage
Nov. 30, 2020 – Kevin ESCOFFIER, PRB – hull damage (sunk)
Dec. 4, 2020 – Sébastien SIMON, ARKEA PAPREC – foil damage
Dec. 5, 2020 – Sam DAVIES, Initiatives-Cœur – keel damage (collision)
Dec. 11, 2020 – Fabrice AMEDEO, NEWREST – ART & FENÊTRES – computer failure
Participation history:
1989-90: 13 boats at the start
1992-93: 15 boats
1996-97: 15 boats
2000-01: 24 boats
2004-05: 20 boats
2008-2009: 30 boats
2012-2013: 20 boats
2016-2017: 29 boats
2020-2021: 33 boats
2020-21 Entries
Fabrice AMEDEO: NEWREST – ART & FENÊTRES
Romain ATTANASIO: PURE – BEST WESTERN
Alexia BARRIER: TSE – 4MYPLANET
Yannick BESTAVEN: MAÎTRE COQ IV
Jérémie BEYOU: CHARAL
Arnaud BOISSIÈRES: LA MIE CÂLINE – ARTISANS ARTIPÔLE
Louis BURTON: BUREAU VALLÉE 2
Didac COSTA: ONE PLANET ONE OCEAN
Manuel COUSIN: GROUPE SÉTIN
Clarisse CREMER: BANQUE POPULAIRE X
Charlie DALIN: APIVIA
Samantha DAVIES: INITIATIVES-CŒUR
Sébastien DESTREMAU: MERCI
Benjamin DUTREUX: OMIA – WATER FAMILY
Kevin ESCOFFIER: PRB
Clément GIRAUD: COMPAGNIE DU LIT / JILITI
Pip HARE: MEDALLIA
Boris HERRMANN: SEA EXPLORER – YACHT CLUB DE MONACO
Ari HUUSELA: STARK
Isabelle JOSCHKE: MACSF
Jean LE CAM: YES WE CAM !
Stéphane LE DIRAISON: TIME FOR OCEANS
Miranda MERRON: CAMPAGNE DE FRANCE
Giancarlo PEDOTE: PRYSMIAN GROUP
Alan ROURA: LA FABRIQUE
Thomas RUYANT: LINKEDOUT
Damien SEGUIN: GROUPE APICIL
Kojiro SHIRAISHI: DMG MORI
Sébastien SIMON: ARKEA – PAPREC
Maxime SOREL: V AND B – MAYENNE
Alex THOMSON: HUGO BOSS
Armel TRIPON: L'OCCITANE EN PROVENCE
Nicolas TROUSSEL: CORUM L'ÉPARGNE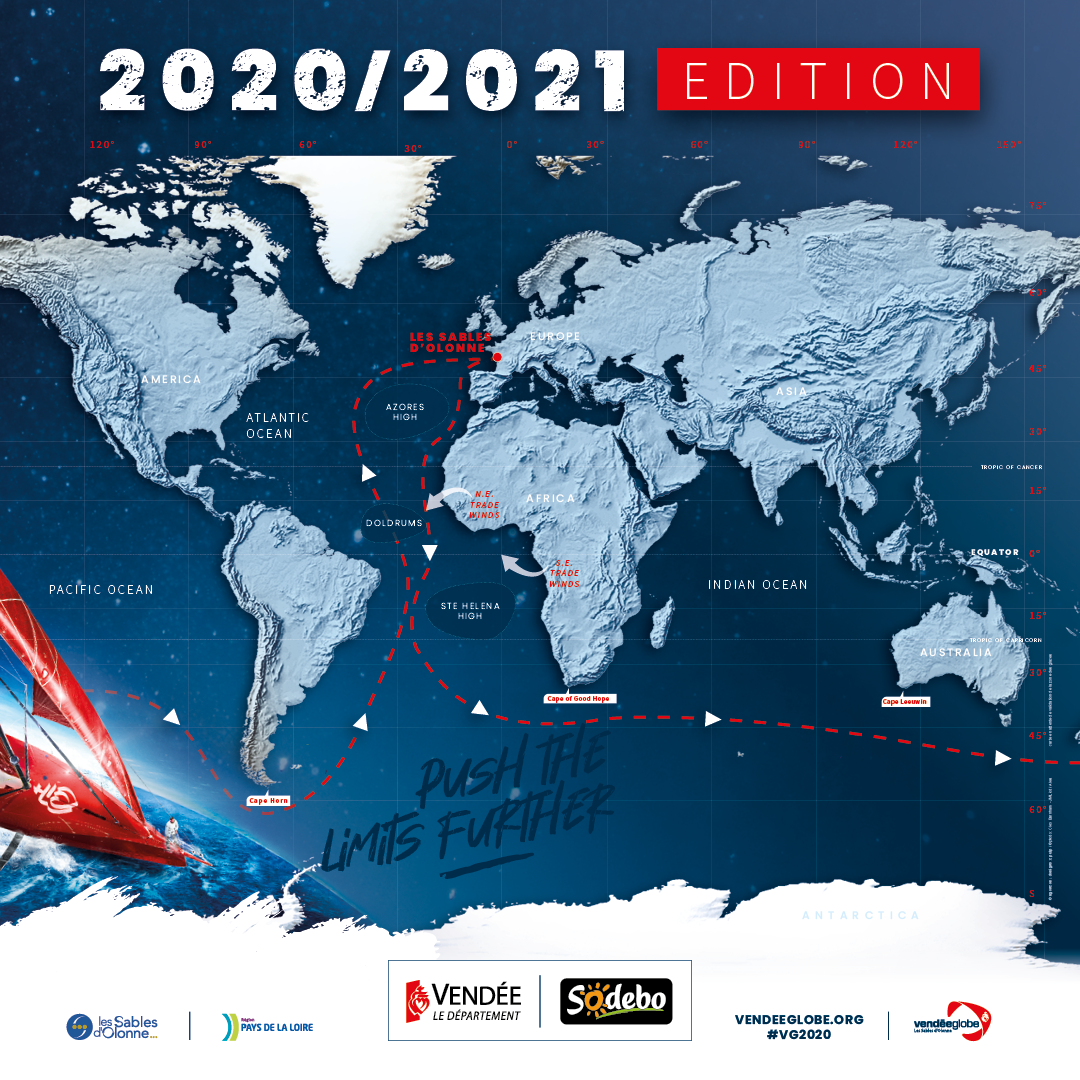 Source: Vendée Globe