News
Vendée Globe: A time to press
Published on December 31st, 2020
(December 31, 2020; Day 54) – After more than one month in the Southern latitudes, Vendée Globe leader Yannick Bestaven (Maître Coq) has less than 800 nm to Cape Horn and is expected to round the mythical rock, along with Charlie Dalin (Apivia) in chase, within hours of each other between Saturday night and Sunday (January 2-3).
Equal credit is due to both Vendée Globe skippers who have pressed hard and fast over the last 24 hours to stay ahead of a fast-moving low pressure system. While their nearest rivals – a chasing pack of nine – are now on the other side of the depression and so the pair are banking some big gains as they continue to profit from the fast ride towards Cape Horn.
Both Dalin and Bestaven have been on the edge for some hours, averaging over 20 knots at times and made 24 hour runs close to 500 miles. Behind them the pack have been engulfed by the center of the low or a cell of high pressure which has left them with much lighter winds.
It would be a dream situation for the duo for the first days of 2021 were it not that they will have a very tough rounding of the Cape – the first for both of them – with winds of 40-45kts and seas expected to be up to seven meters.
And in this case the best form of defense is attack. Going fast with the system opens more options for both as they monitor the evolution and the passage of the low pressure system arriving from the north west, set to brush the west coast of Chile and impact on the leaders just at Cape Horn.
With torrential rain squalls and big seas expected, there is unlikely to be any time or opportunities for the first time Cape Horners to enjoy the moment.
"I have been surfing at 30 knots," said Dalin, sporting a black eye after slamming his head into the companionway when his IMOCA ploughed into a wave and slowed suddenly. "We have had to push not to get caught up. It would be good to be have just the one tack pass Cape Horn as the routing suggests and I think I am due to go past at night.
"Hopefully I do not have to slow down too much because the winds forecast around the Horn are due to be really strong. We will have to see when the timings are a bit clearer. I would love to see the famous rock but am certainly not going to do a detour to catch a glimpse if I can't see it!
"I am trying to not go too fast, but yesterday I had to speed it up, it was important because Thomas, Damien, and everyone have been caught up by a front and I am chasing on one so needed to keep up the pace and put my foot down on the pedal to keep ahead.
"The front should not catch me up if all goes to plan; the lighter breeze is behind me, but thankfully my foiling IMOCA allows me to go fast in certain conditions. You tend to nosedive a bit because you have the swell from behind. By having been able to keep ahead of the font I have managed to stay with a more north, north-westerly and stronger breeze than Thomas (Ruyant) for example)."
Damien Seguin is back up to third on Groupe Apicil and ahead of Ruyant who has continued to stay north. The LinkedOut skipper has been enjoying good conditions to accelerate on the edge of the large secondary depression which will soon overtake him and leave him scrapping with the second group.
Ranking – 17:00 (GMT)*
1. Yannick BESTAVEN, Maître CoQ IV – 7851.34 nm DTF
2. Charlie DALIN, APIVIA – 147.79 nm DTL
3. Damien SEGUIN, GROUPE APICIL – 398.39 DTL
4. Thomas RUYANT, LinkedOut – 413.6 nm DTL**
5. Boris HERRMANN, SEAEXPLORER – YACHT CLUB DE MONACO – 522.12 nm DTL
DTF – Distance to Finish; DTL – Distance to Lead
* Time awards given to Yannick Bestaven, Jean Le Cam, and Boris Herrmann for their participation in the rescue of Kevin Escoffier will be applied when the skippers finish. – Details
** Damaged port foil on Nov. 24 at 02:00.
Race details – Boat types – Tracker – Ranking – YouTube
The Vendée Globe is the only sailing race round the world that's solo, non-stop, and without assistance, and it was all systems go for the 9th edition on November 8. Beginning in 1989 with 13 entries, and held every four years, the start line in 2020 had 33 skippers taking off from Les Sables d'Olonne, France.
The development of the IMOCA Class toward foiling will see these boats hurl themselves around the world, teetering on carbon skates through inhospitable regions, chasing the record set in 2016-17 by Armel le Cléac'h of 74:03:35:46.
2020-21 Attrition
Nov. 16, 2020 – Nicolas TROUSSEL, CORUM L'EPARGNE – dismasted
Nov. 28, 2020 – Alex THOMSON, HUGO BOSS – rudder damage
Nov. 30, 2020 – Kevin ESCOFFIER, PRB – hull damage (sunk)
Dec. 4, 2020 – Sébastien SIMON, ARKEA PAPREC – foil damage
Dec. 5, 2020 – Sam DAVIES, Initiatives-Cœur – keel damage (collision)
Dec. 11, 2020 – Fabrice AMEDEO, NEWREST – ART & FENÊTRES – computer failure
Participation history:
1989-90: 13 boats at the start
1992-93: 15 boats
1996-97: 15 boats
2000-01: 24 boats
2004-05: 20 boats
2008-2009: 30 boats
2012-2013: 20 boats
2016-2017: 29 boats
2020-2021: 33 boats
2020-21 Entries
Fabrice AMEDEO: NEWREST – ART & FENÊTRES
Romain ATTANASIO: PURE – BEST WESTERN
Alexia BARRIER: TSE – 4MYPLANET
Yannick BESTAVEN: MAÎTRE COQ IV
Jérémie BEYOU: CHARAL
Arnaud BOISSIÈRES: LA MIE CÂLINE – ARTISANS ARTIPÔLE
Louis BURTON: BUREAU VALLÉE 2
Didac COSTA: ONE PLANET ONE OCEAN
Manuel COUSIN: GROUPE SÉTIN
Clarisse CREMER: BANQUE POPULAIRE X
Charlie DALIN: APIVIA
Samantha DAVIES: INITIATIVES-CŒUR
Sébastien DESTREMAU: MERCI
Benjamin DUTREUX: OMIA – WATER FAMILY
Kevin ESCOFFIER: PRB
Clément GIRAUD: COMPAGNIE DU LIT / JILITI
Pip HARE: MEDALLIA
Boris HERRMANN: SEA EXPLORER – YACHT CLUB DE MONACO
Ari HUUSELA: STARK
Isabelle JOSCHKE: MACSF
Jean LE CAM: YES WE CAM !
Stéphane LE DIRAISON: TIME FOR OCEANS
Miranda MERRON: CAMPAGNE DE FRANCE
Giancarlo PEDOTE: PRYSMIAN GROUP
Alan ROURA: LA FABRIQUE
Thomas RUYANT: LINKEDOUT
Damien SEGUIN: GROUPE APICIL
Kojiro SHIRAISHI: DMG MORI
Sébastien SIMON: ARKEA – PAPREC
Maxime SOREL: V AND B – MAYENNE
Alex THOMSON: HUGO BOSS
Armel TRIPON: L'OCCITANE EN PROVENCE
Nicolas TROUSSEL: CORUM L'ÉPARGNE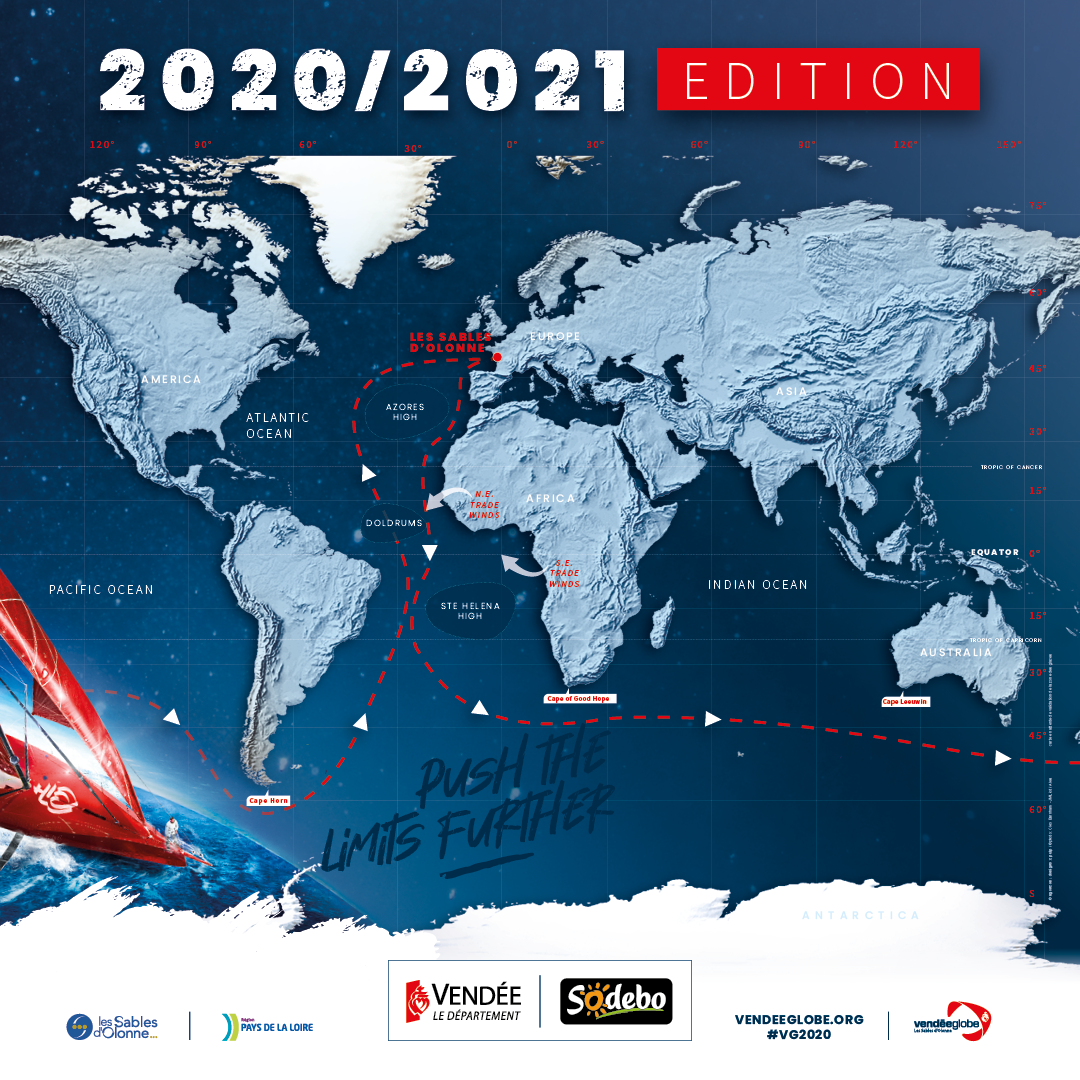 Source: Vendée Globe