News
Yannick Bestaven leads at Cape Horn
Published on January 2nd, 2021
(January 2, 2021; Day 56) – Alone, surfing north eastwards in the grip of stormy winds and seas, passing 85 miles south of the famous solitary rocky islet, the huge whoop of delight from 48 year old Vendée Globe leader Yannick Bestaven when he passed Cape Horn this afternoon marked in an instant his victorious end to the relentless southern latitudes and the start of the 7000 nm climb homewards to Les Sables d'Olonne, France.
Bestaven marked the achievement at 1342hrs UTC after 55 days and 22 minutes from the Vendée Globe start on November 8, concluding a remarkably successful first time through this section of the Indian and Pacific Oceans.
A past winner of the Mini Transat and twice victorious in the two handed Transat Jacques Vabre in Class40, Bestaven – who had never raced south of southern Brazil before – has been in the top three of the fleet since the Kerguelen Islands and took the lead just before the longitude of Tasmania.
He has consistently sailed fast on his well prepared and reliable 2015 VPLP Verdier design which he has preserved to ensure he starts the Atlantic climb with his boat and set up at 100% of potential or close to it. As he rounded, he was more than 160 nm ahead of second placed Charlie Dalin (Apivia) with third placed Thomas Ruyant about 458 nm, or one day, behind Bestaven.
The passage across the Pacific was punctuated by four days around Christmas in very light winds when there seemed to be a chance Bestaven and Dalin might be caught, but Bestaven – who grew up in Arcachon to the south of the French Atlantic coast – sailed impeccably, always pushing hard on fast, direct courses along the Antarctic Exclusion Zone.
And doubtless Bestaven's huge holler at the third of the course's three Great Capes further exorcised the ghost of his one and only previous Vendée Globe attempt, when he was disamsted in a brutal Biscay storm only 24 or so hours into the epic 2008 race.
The solo racer is also one of three skippers who remain on course who helped in the search for Kevin Escoffier when he had to abandon PRB on November 30. And so while his lead over Dalin is 160 nm right now, Bestaven also has another 10 hours and 15 minutes to the good because of the allocation by the International Jury to compensate for his time taken to help in the search.
Bestaven's passage time since the Les Sables d'Olonne start is more than eight days slower than the 47 day record pace set by Armel Le Cléac'h in 2016 and three days slower than 2012's 52 days mark by François Gabart and one day and 15 hours faster than Michel Desjoyeaux in 2008.
"I'm stubborn, that's one of my big faults but also one of my qualities," revealed the marine engineer on the pontoons of Les Sables d'Olonne a few days before the start. "I also am very resilient. And I have a strong mind in difficult conditions."
"I had to believe in my options and in my route without worrying too much about what my competitors could do,"noted Bestaven today. "I had to be stubborn, especially when I stayed along the ice barrier. But I didn't think you could go so far into the human body to physically and mentally overcome all the stress, the cold, the damp, the loneliness. There were some magical moments and some very hard ones like when the boat broached and I was on the deck in the middle of the night wondering what the hell I was doing there."
Dalin – also a first timer – should round Cape Horn in the small hours of tomorrow morning. He appears to have slowed more in the big seas and strong winds, making around 15 knots this afternoon when Bestaven seems to have pushed on at 17-19 knots at times.
Ranking – 21:00 (GMT)*
1. Yannick BESTAVEN, Maître CoQ IV – 6967.99 nm DTF
2. Charlie DALIN, APIVIA – 164.02 nm DTL
3. Thomas RUYANT, LinkedOut – 475.94 nm DTL**
4. Damien SEGUIN, GROUPE APICIL – 527.02 DTL
5. Benjamin DUTREUX, OMIA – WATER FAMILY – 659.01 nm DTL
DTF – Distance to Finish; DTL – Distance to Lead
* Time awards given to Yannick Bestaven, Jean Le Cam, and Boris Herrmann for their participation in the rescue of Kevin Escoffier will be applied when the skippers finish. – Details
** Damaged port foil on Nov. 24 at 02:00.
Race details – Boat types – Tracker – Ranking – YouTube
The Vendée Globe is the only sailing race round the world that's solo, non-stop, and without assistance, and it was all systems go for the 9th edition on November 8. Beginning in 1989 with 13 entries, and held every four years, the start line in 2020 had 33 skippers taking off from Les Sables d'Olonne, France.
The development of the IMOCA Class toward foiling will see these boats hurl themselves around the world, teetering on carbon skates through inhospitable regions, chasing the record set in 2016-17 by Armel le Cléac'h of 74:03:35:46.
2020-21 Attrition
Nov. 16, 2020 – Nicolas TROUSSEL, CORUM L'EPARGNE – dismasted
Nov. 28, 2020 – Alex THOMSON, HUGO BOSS – rudder damage
Nov. 30, 2020 – Kevin ESCOFFIER, PRB – hull damage (sunk)
Dec. 4, 2020 – Sébastien SIMON, ARKEA PAPREC – foil damage
Dec. 5, 2020 – Sam DAVIES, Initiatives-Cœur – keel damage (collision)
Dec. 11, 2020 – Fabrice AMEDEO, NEWREST – ART & FENÊTRES – computer failure
Participation history:
1989-90: 13 boats at the start
1992-93: 15 boats
1996-97: 15 boats
2000-01: 24 boats
2004-05: 20 boats
2008-2009: 30 boats
2012-2013: 20 boats
2016-2017: 29 boats
2020-2021: 33 boats
2020-21 Entries
Fabrice AMEDEO: NEWREST – ART & FENÊTRES
Romain ATTANASIO: PURE – BEST WESTERN
Alexia BARRIER: TSE – 4MYPLANET
Yannick BESTAVEN: MAÎTRE COQ IV
Jérémie BEYOU: CHARAL
Arnaud BOISSIÈRES: LA MIE CÂLINE – ARTISANS ARTIPÔLE
Louis BURTON: BUREAU VALLÉE 2
Didac COSTA: ONE PLANET ONE OCEAN
Manuel COUSIN: GROUPE SÉTIN
Clarisse CREMER: BANQUE POPULAIRE X
Charlie DALIN: APIVIA
Samantha DAVIES: INITIATIVES-CŒUR
Sébastien DESTREMAU: MERCI
Benjamin DUTREUX: OMIA – WATER FAMILY
Kevin ESCOFFIER: PRB
Clément GIRAUD: COMPAGNIE DU LIT / JILITI
Pip HARE: MEDALLIA
Boris HERRMANN: SEA EXPLORER – YACHT CLUB DE MONACO
Ari HUUSELA: STARK
Isabelle JOSCHKE: MACSF
Jean LE CAM: YES WE CAM !
Stéphane LE DIRAISON: TIME FOR OCEANS
Miranda MERRON: CAMPAGNE DE FRANCE
Giancarlo PEDOTE: PRYSMIAN GROUP
Alan ROURA: LA FABRIQUE
Thomas RUYANT: LINKEDOUT
Damien SEGUIN: GROUPE APICIL
Kojiro SHIRAISHI: DMG MORI
Sébastien SIMON: ARKEA – PAPREC
Maxime SOREL: V AND B – MAYENNE
Alex THOMSON: HUGO BOSS
Armel TRIPON: L'OCCITANE EN PROVENCE
Nicolas TROUSSEL: CORUM L'ÉPARGNE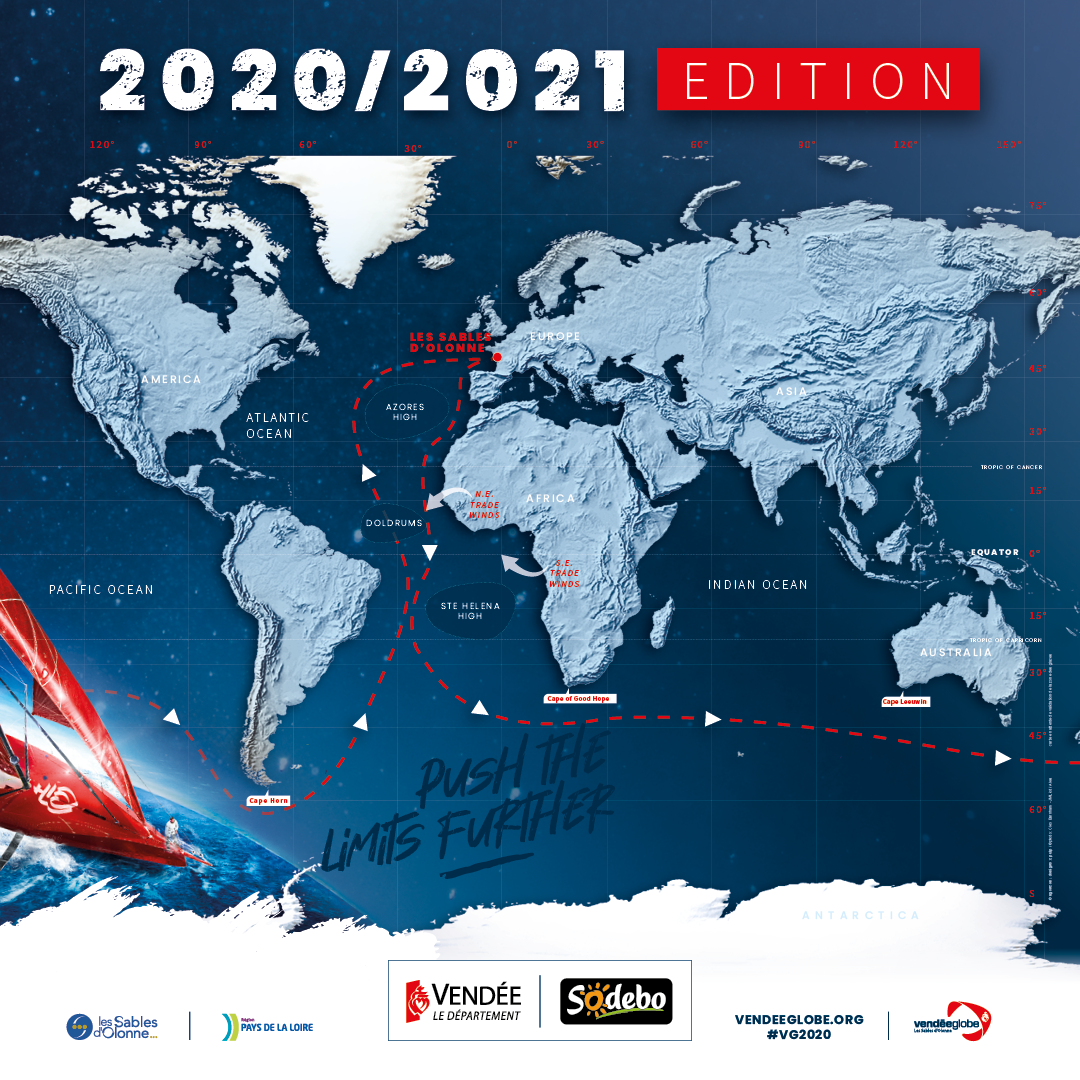 Source: Vendée Globe