Feature
Vendée Globe leader ahead of drama
Published on January 7th, 2021
(January 7, 2021; Day 61) – Escaping first out of a high pressure which had slowed the leading four boats, Vendée Globe leader Yannick Bestaven (Maître Coq) has gained over 200 miles on the solo skippers immediately behind him.
The 48 year old from La Rochelle has the biggest lead of the race yet at 425 nautical as Charlie Dalin (Apivia) and Thomas Ruyant (LinkedOut) returned to the podium, continuing their match race along the Argentinian coastline.
Further back in 16th place, Britain's Pip Hare is looking for a benevolent small weather window in the depths of the South Pacific Ocean to allow her to replace the port rudder of her IMOCA Medallia after she discovered a crack in the rudder stock.
It is complicated operation which the 45 year old solo Vendée Globe skipper practiced at the dock in Les Sables d'Olonne, France before the solo non-stop race around the world started, but which will be made much more difficult in one of the most hostile and loneliest areas of the southern oceans.

"The crack is in the stock between the deck and the hull, just underneath where the quadrant attaches and every time the pilot was going to move the rudder the crack was getting a little bit worse," said Hare. "I have no choice but to change the port rudder.
"If I continue sailing hard the stock will fail under load in a matter of hours. Naturally I am completely devastated about this failure and what it means to my race but the only thing to do right now is to put the racing on hold and focus on solving this problem to keep both me and Medallia safe.
Her team say that Hare needs a break in the weather for the operation to be possible.
"The problem really is in getting the old rudder off because it is buoyant and so sinking it to get it out it is not easy to get a lot of leverage from the bottom," explains Medallia's boat captain Joff Brown. "But it is something we had practiced in Les Sables d'Olonne before the start and so I think that gives Pip a bit of confidence in what she has to do.
"But the problem is the sea state has to be reasonably flat because when the rudder is angled and heels then there is more strain on the bearings. At the dock this whole process might take an hour or so but in seas like this it can take much more. But Pip is very focused and determined. She is resigned to the situation and I am sure will deal with it and get on with what she has to do."
Medallia had a new spare rudder built by Jason Carrington Boats just before the boat was delivered to Les Sables d'Olonne. According to Brown, this a standard procedure which he has practiced pre-start by previous skippers Dee Caffari and Rich Wilson previously using a method devised by Conrad Humphreys in 2004-05 where 50-60kgs of anchor chain is lowered below the rudder to help drop it out (see video).
Ranking – 21:00 (GMT)*
1. Yannick BESTAVEN, Maître CoQ IV – 5497.21 nm DTF
2. Charlie DALIN, APIVIA – 425.02 nm DTL
3. Thomas RUYANT, LinkedOut – 441.17 nm DTL**
4. Damien SEGUIN, GROUPE APICIL – 485.27 DTL
5. Louis BURTON, BUREAU VALLEE 2 – 559.25 nm DTL
DTF – Distance to Finish; DTL – Distance to Lead
* Time awards given to Yannick Bestaven, Jean Le Cam, and Boris Herrmann for their participation in the rescue of Kevin Escoffier will be applied when the skippers finish. – Details
** Damaged port foil on Nov. 24 at 02:00.
Race details – Boat types – Tracker – Ranking – YouTube
The Vendée Globe is the only sailing race round the world that's solo, non-stop, and without assistance, and it was all systems go for the 9th edition on November 8. Beginning in 1989 with 13 entries, and held every four years, the start line in 2020 had 33 skippers taking off from Les Sables d'Olonne, France.
The development of the IMOCA Class toward foiling will see these boats hurl themselves around the world, teetering on carbon skates through inhospitable regions, chasing the record set in 2016-17 by Armel le Cléac'h of 74:03:35:46.
2020-21 Attrition
Nov. 16, 2020 – Nicolas TROUSSEL, CORUM L'EPARGNE – dismasted
Nov. 28, 2020 – Alex THOMSON, HUGO BOSS – rudder damage
Nov. 30, 2020 – Kevin ESCOFFIER, PRB – hull damage (sunk)
Dec. 4, 2020 – Sébastien SIMON, ARKEA PAPREC – foil damage
Dec. 5, 2020 – Sam DAVIES, Initiatives-Cœur – keel damage (collision)
Dec. 11, 2020 – Fabrice AMEDEO, NEWREST – ART & FENÊTRES – computer failure
Participation history:
1989-90: 13 boats at the start
1992-93: 15 boats
1996-97: 15 boats
2000-01: 24 boats
2004-05: 20 boats
2008-2009: 30 boats
2012-2013: 20 boats
2016-2017: 29 boats
2020-2021: 33 boats
2020-21 Entries
Fabrice AMEDEO: NEWREST – ART & FENÊTRES
Romain ATTANASIO: PURE – BEST WESTERN
Alexia BARRIER: TSE – 4MYPLANET
Yannick BESTAVEN: MAÎTRE COQ IV
Jérémie BEYOU: CHARAL
Arnaud BOISSIÈRES: LA MIE CÂLINE – ARTISANS ARTIPÔLE
Louis BURTON: BUREAU VALLÉE 2
Didac COSTA: ONE PLANET ONE OCEAN
Manuel COUSIN: GROUPE SÉTIN
Clarisse CREMER: BANQUE POPULAIRE X
Charlie DALIN: APIVIA
Samantha DAVIES: INITIATIVES-CŒUR
Sébastien DESTREMAU: MERCI
Benjamin DUTREUX: OMIA – WATER FAMILY
Kevin ESCOFFIER: PRB
Clément GIRAUD: COMPAGNIE DU LIT / JILITI
Pip HARE: MEDALLIA
Boris HERRMANN: SEA EXPLORER – YACHT CLUB DE MONACO
Ari HUUSELA: STARK
Isabelle JOSCHKE: MACSF
Jean LE CAM: YES WE CAM !
Stéphane LE DIRAISON: TIME FOR OCEANS
Miranda MERRON: CAMPAGNE DE FRANCE
Giancarlo PEDOTE: PRYSMIAN GROUP
Alan ROURA: LA FABRIQUE
Thomas RUYANT: LINKEDOUT
Damien SEGUIN: GROUPE APICIL
Kojiro SHIRAISHI: DMG MORI
Sébastien SIMON: ARKEA – PAPREC
Maxime SOREL: V AND B – MAYENNE
Alex THOMSON: HUGO BOSS
Armel TRIPON: L'OCCITANE EN PROVENCE
Nicolas TROUSSEL: CORUM L'ÉPARGNE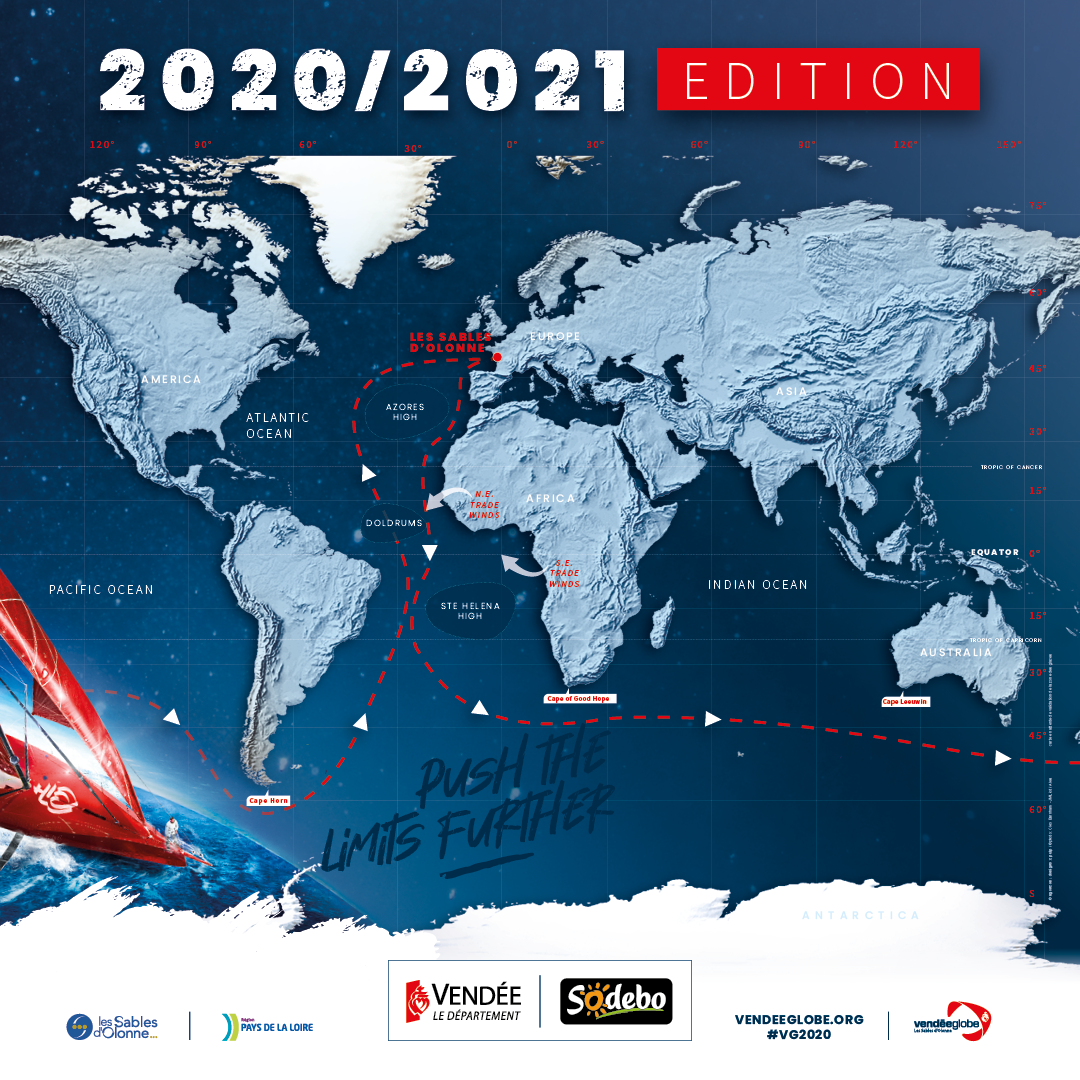 Source: Vendée Globe