Feature
Vendée Globe: Restart off Rio de Janeiro
Published on January 12th, 2021
(January 12, 2021; Day 66) – After over 23,000 nautical miles sailed on the course, the Vendée Globe in effect restarted off Rio de Janeiro today with the five top boats regrouping within 30 nm of each other in terms of the distance to the finish line in Les Sables d'Olonne, France.
Charlie Dalin (Apivia) has retained his lead since taking it yesterday from Yannick Betaven, the French skipper of Maître Coq IV, who lost the biggest leading margin of the race, over 435 nautical miles. But Betaven has leverage on the pack, and being closer to the Brazilian shore, may prove to be the better lane north to the equator.
But with the pack so close, and the route north so unclear, the lead is far from secure as Dalin, Bestaven, double Parlympic gold medallist Damien Seguin (Groupe APICIL), Thomas Ruyant (LinkedOut), and Louis Burton (Bureau Vallée) seek advantage.
"The route is anything but clear," observed Sébastien Josse, weather consultant for the Vendée Globe. "Until Recife, the northeast trade winds are unstable, there are bubbles with less wind, and variations in strength and direction. On the water, there must be pressure differences and therefore speed differences between the boats. It is not at all easy."

And from now to the finish, it seems certain the final 4600 miles will be contested with the intensity of an inshore coastal race where every mile counts. And the tiny gaps – there are just 106 nm back to ninth placed Jean Le Cam (Yes We Cam!) – suggest this epic ninth edition of the Vendée Globe may see places decided on a photo finish.
"Nothing is settled yet, the wind is not at all established in this area where I am sailing," said Dalin. "I still see 24 hours of winds which remain unstable in terms of strength and direction. As we are not yet into the more constant wind, there are still lots of things going on. I don't think it will be until tomorrow morning on the early rankings that we will really see things settle a bit."
He added, "I'm glad I got back into this. Four days ago, I was 450 miles behind. If I had been told then that I would take the lead four days hence I would not have believed it. It is great to have had this opportunity."
Dalin casts his eye over his title rivals and remarks, "The condition of the boats will matter. I suspect that not everyone is at 100%, no one really is, but who has what? I know what I have; I am handicapped by my port foil. We'll really see what that means when the wind sets in, so don't let's jump to any conclusions right now. We will see if the real performance against these guys is affected. I touch wood, I have no sail problems. I hope it lasts!"
Bestaven concur how it has been a complicated day both in the East and in the West. "I thought at the beginning that by being more West, I might be the first one to get out, but I can't say, from one weather file to the other, because it changes in all directions.
"I'm here because it's where I could go with the wind there was in the soft zone. I'm making 'small gains' trying to get closer to the direct route. I'll get back in the race when I have more established winds. The sea is fairly crossed, which shakes up the whole boat and reduces the speed a lot as soon as you fly forwards. Even if I launch off at 5.7 knots, the speed is reduced to 4.3 knots. It's very hot, already 35°C this morning, yesterday I had up to 38°C."
Ranking – 21:00 (GMT)*
1. Charlie DALIN, APIVIA – 4573.82 nm DTF
2. Yannick BESTAVEN, Maître CoQ IV – 4.51 nm DTL
3. Louis BURTON, BUREAU VALLEE 2 – 20.83 nm DTL
4. Thomas RUYANT, LinkedOut – 21.26 nm DTL**
5. Damien SEGUIN, GROUPE APICIL – 28.83 nm DTL
DTF – Distance to Finish; DTL – Distance to Lead
* Time awards given to Yannick Bestaven, Jean Le Cam, and Boris Herrmann for their participation in the rescue of Kevin Escoffier will be applied when the skippers finish. – Details
** Damaged port foil on Nov. 24 at 02:00.
Race details – Boat types – Tracker – Ranking – YouTube
The Vendée Globe is the only sailing race round the world that's solo, non-stop, and without assistance, and it was all systems go for the 9th edition on November 8. Beginning in 1989 with 13 entries, and held every four years, the start line in 2020 had 33 skippers taking off from Les Sables d'Olonne, France.
The development of the IMOCA Class toward foiling will see these boats hurl themselves around the world, teetering on carbon skates through inhospitable regions, chasing the record set in 2016-17 by Armel le Cléac'h of 74:03:35:46.
2020-21 Attrition
Nov. 16, 2020 – Nicolas TROUSSEL, CORUM L'EPARGNE – dismasted
Nov. 28, 2020 – Alex THOMSON, HUGO BOSS – rudder damage
Nov. 30, 2020 – Kevin ESCOFFIER, PRB – hull damage (sunk)
Dec. 4, 2020 – Sébastien SIMON, ARKEA PAPREC – foil damage
Dec. 5, 2020 – Sam DAVIES, Initiatives-Cœur – keel damage (collision)
Dec. 11, 2020 – Fabrice AMEDEO, NEWREST – ART & FENÊTRES – computer failure
Jan. 9, 2021 – Isabelle JOSCHKE, MACSF – keel ram failure
Participation history:
1989-90: 13 boats at the start
1992-93: 15 boats
1996-97: 15 boats
2000-01: 24 boats
2004-05: 20 boats
2008-2009: 30 boats
2012-2013: 20 boats
2016-2017: 29 boats
2020-2021: 33 boats
2020-21 Entries
Fabrice AMEDEO: NEWREST – ART & FENÊTRES
Romain ATTANASIO: PURE – BEST WESTERN
Alexia BARRIER: TSE – 4MYPLANET
Yannick BESTAVEN: MAÎTRE COQ IV
Jérémie BEYOU: CHARAL
Arnaud BOISSIÈRES: LA MIE CÂLINE – ARTISANS ARTIPÔLE
Louis BURTON: BUREAU VALLÉE 2
Didac COSTA: ONE PLANET ONE OCEAN
Manuel COUSIN: GROUPE SÉTIN
Clarisse CREMER: BANQUE POPULAIRE X
Charlie DALIN: APIVIA
Samantha DAVIES: INITIATIVES-CŒUR
Sébastien DESTREMAU: MERCI
Benjamin DUTREUX: OMIA – WATER FAMILY
Kevin ESCOFFIER: PRB
Clément GIRAUD: COMPAGNIE DU LIT / JILITI
Pip HARE: MEDALLIA
Boris HERRMANN: SEA EXPLORER – YACHT CLUB DE MONACO
Ari HUUSELA: STARK
Isabelle JOSCHKE: MACSF
Jean LE CAM: YES WE CAM !
Stéphane LE DIRAISON: TIME FOR OCEANS
Miranda MERRON: CAMPAGNE DE FRANCE
Giancarlo PEDOTE: PRYSMIAN GROUP
Alan ROURA: LA FABRIQUE
Thomas RUYANT: LINKEDOUT
Damien SEGUIN: GROUPE APICIL
Kojiro SHIRAISHI: DMG MORI
Sébastien SIMON: ARKEA – PAPREC
Maxime SOREL: V AND B – MAYENNE
Alex THOMSON: HUGO BOSS
Armel TRIPON: L'OCCITANE EN PROVENCE
Nicolas TROUSSEL: CORUM L'ÉPARGNE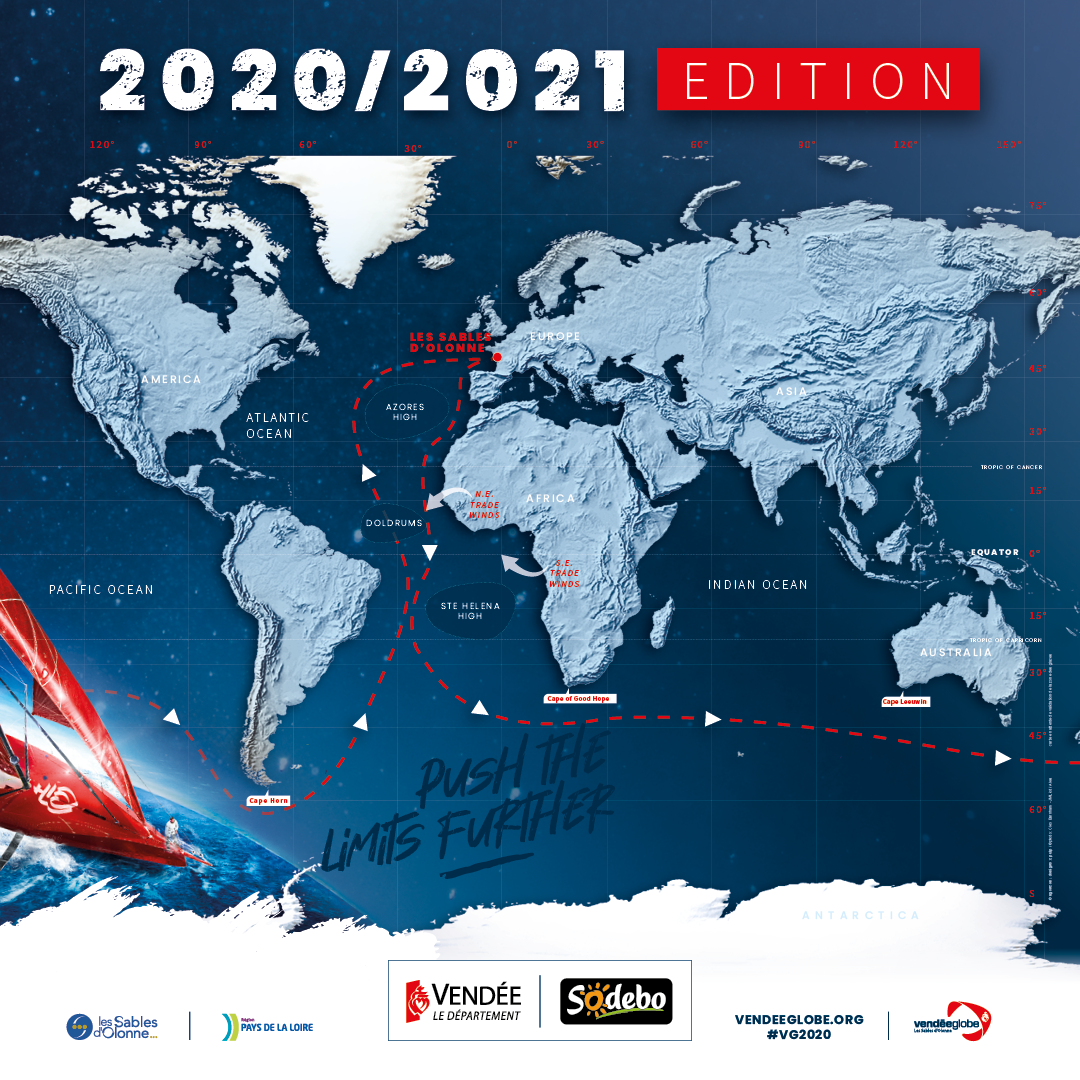 Source: Vendée Globe