News
Vendée Globe: Crossing the equator
Published on January 16th, 2021
(January 16, 2021; Day 70) – Even with all of the tools and assimilated knowledge, no doubt enhanced during last winter and spring's lockdown learning phase in Europe, the passage of the Inter Tropical Convergence Zone's unexpected squalls, prolonged calms under clouds, and variable, shifting winds – is always a time of high tension for Vendée Globe skippers.
But for the tightly matched leading group of six skippers, time micro-analyzing the latest files, data, and images, is every bit as important as keeping the boat fast.
On the latest models the doldrums are more active than expected. The critical convection zones have grown and become more numerous. The skippers need to watch the evolution and the movement of these cells which are not small isolated squalls, They can quickly and unexpectedly grow to be several tens of miles or even several hundred miles.
To monitor these the skippers use real time satellite images which show large clusters of clouds. Forecast models have improved a lot and can model areas with light winds better now, as well as the areas with the risk of heavy rains. Big clouds usually mean heavy rain, wind convection and calms are possible with strong gusts at the edge of the clouds.
They can look to thunderstorm forecasts from the European Prediction Center. This index has only been available for a few years. They can and will look at currents that can bring warmer waters which create more convection and as well convectivity indices provided by the models.
Weather expert Dumard notes, "The models are not all created equal. The finer the mesh the better the forecast. It must also take into account the temperature of the water as well. In this game, the data from the European model (ECMWF) which offers a resolution of 9 km, available to the public on Windy, is often the most efficient."
Charlie Dalin and Louis Burton have a west-east separation of 50 nm which is growing, as Burton digs west and Dalin holds an easterly slant. While Dalin on Apivia holds the lead, Burton on Bureau Vallée is to the north and quicker all the time as the two yellow-hulled IMOCAs reach northwards in an SE'ly trade wind.
Burton did lead across the Equator early this evening, marking something of a triumphant return after the skipper lost miles to the peloton repairing at Macquarie Island and going on to round Cape Horn in ninth more than 550 miles behind Dalin. And it will be the second time in consecutive races that this boat has led the Vendée Globe back into the northern hemisphere after 2016-17 winner led, en route to victory.
Computed to be just a couple of miles apart in terms of distance to the finish line at Les Sables d'Olonne's Nouch Sud buoy, the two leaders saw Germany's third placed Boris Herrmann re-adjust his track to the west overnight and this morning.
Herrmann has picked back up to speed, pacing Burton at just over 20 kts, but still promoting speculation that Herrmann might not, after all, have all his sail inventory intact.
"He is positioning for the doldrums and maybe the scenario afterwards, the doldrums will be a bit less active further west but after that it is harder to say, but we will see who is right in 36 to 48 hours," said Dalin. "We will see.
"We should be out or nearly out. I believe he has a full foil and is a strong contender in to the finish but I don't believe any boat is at 100 per cent of its potential. I don't believe he will be at 100 per cent, everyone will have their problems, sails, electronics, hydraulics. I think everyone has some problem at this stage of the race."

Sébastien Destremau (Merci) forced to retire
Sébastien Destremau, the skipper of the 26th placed IMOCA Merci, has been finally forced to abandon his attempt to complete his second Vendée Globe.
Destremau, the 46 year old skipper from Toulon, has had a succession of problems since he was in the North Atlantic, most recently in the Indian Ocean with his autopilots and his steering system.
Although he was this afternoon less than 60 nautical miles from Dunedin, South Island New Zealand, the skipper of Merci plans to continue to Christchurch where there are better facilities to repair. After his consecutive problems was nearly 7500 miles behind the leader, but more particularly Destremau was nearly 2000 miles behind 25th placed Ari Huusela
Sam Davies checks in
After Sam Davies had to retire into Cape Town, she had restarted and is continuing her circumnavigation outwith the Vendée Globe, sailing close to Alexia Barrier recently.
"It is nothing like being in the Vendée Globe and frustrating to be so far behind but it is amazing to continue the adventure and to continue to be here especially for Initiatives Coeur and all the children I am helping. I have had a lot of feedback and I know we have raised a lot of money since I restarted in Cape Town."
"I have been in touch with Miranda (Merron) we have a little ritual to get together on WhatsApp and we have both a few beers on our boats and choose Friday nights to drink a beer together on WhatsApp. I have been in touch with Alexia as we are in close together and in the same weather systems so it is nice to have people around me. It was lonely having started again from Cape Town but it is better now.
"It is really hard to motivate myself, yes, especially when the group I imagine I would have been with went around Cape Horn and headed off up the Atlantic as I was just then into the Pacific and so there was an ocean between us."
Ranking – 21:00 (GMT)*
1. Charlie DALIN, APIVIA – 3257.27 nm DTF
2. Louis BURTON, BUREAU VALLEE 2 – 6.51nm DTL
3. Boris HERRMANN, SEAEXPLORER – YACHT CLUB DE MONACO – 29.93 nm DTL
4. Thomas RUYANT, LinkedOut – 82.06 nm DTL**
5. Yannick BESTAVEN, Maître CoQ I– 113.29 nm DTL
DTF – Distance to Finish; DTL – Distance to Lead
* Time awards given to Yannick Bestaven, Jean Le Cam, and Boris Herrmann for their participation in the rescue of Kevin Escoffier will be applied when the skippers finish. – Details
** Damaged port foil on Nov. 24 at 02:00.
Race details – Boat types – Tracker – Ranking – YouTube
The Vendée Globe is the only sailing race round the world that's solo, non-stop, and without assistance, and it was all systems go for the 9th edition on November 8. Beginning in 1989 with 13 entries, and held every four years, the start line in 2020 had 33 skippers taking off from Les Sables d'Olonne, France.
The development of the IMOCA Class toward foiling will see these boats hurl themselves around the world, teetering on carbon skates through inhospitable regions, chasing the record set in 2016-17 by Armel le Cléac'h of 74:03:35:46.
2020-21 Attrition
Nov. 16, 2020 – Nicolas TROUSSEL, CORUM L'EPARGNE – dismasted
Nov. 28, 2020 – Alex THOMSON, HUGO BOSS – rudder damage
Nov. 30, 2020 – Kevin ESCOFFIER, PRB – hull damage (sunk)
Dec. 4, 2020 – Sébastien SIMON, ARKEA PAPREC – foil damage
Dec. 5, 2020 – Sam DAVIES, Initiatives-Cœur – keel damage (collision)
Dec. 11, 2020 – Fabrice AMEDEO, NEWREST – ART & FENÊTRES – computer failure
Jan. 9, 2021 – Isabelle JOSCHKE, MACSF – keel ram failure
Jan. 16, 2021 – Sébastien DESTREMAU, MERCI – autopilot failure
Participation history:
1989-90: 13 boats at the start
1992-93: 15 boats
1996-97: 15 boats
2000-01: 24 boats
2004-05: 20 boats
2008-2009: 30 boats
2012-2013: 20 boats
2016-2017: 29 boats
2020-2021: 33 boats
2020-21 Entries
Fabrice AMEDEO: NEWREST – ART & FENÊTRES
Romain ATTANASIO: PURE – BEST WESTERN
Alexia BARRIER: TSE – 4MYPLANET
Yannick BESTAVEN: MAÎTRE COQ IV
Jérémie BEYOU: CHARAL
Arnaud BOISSIÈRES: LA MIE CÂLINE – ARTISANS ARTIPÔLE
Louis BURTON: BUREAU VALLÉE 2
Didac COSTA: ONE PLANET ONE OCEAN
Manuel COUSIN: GROUPE SÉTIN
Clarisse CREMER: BANQUE POPULAIRE X
Charlie DALIN: APIVIA
Samantha DAVIES: INITIATIVES-CŒUR
Sébastien DESTREMAU: MERCI
Benjamin DUTREUX: OMIA – WATER FAMILY
Kevin ESCOFFIER: PRB
Clément GIRAUD: COMPAGNIE DU LIT / JILITI
Pip HARE: MEDALLIA
Boris HERRMANN: SEA EXPLORER – YACHT CLUB DE MONACO
Ari HUUSELA: STARK
Isabelle JOSCHKE: MACSF
Jean LE CAM: YES WE CAM !
Stéphane LE DIRAISON: TIME FOR OCEANS
Miranda MERRON: CAMPAGNE DE FRANCE
Giancarlo PEDOTE: PRYSMIAN GROUP
Alan ROURA: LA FABRIQUE
Thomas RUYANT: LINKEDOUT
Damien SEGUIN: GROUPE APICIL
Kojiro SHIRAISHI: DMG MORI
Sébastien SIMON: ARKEA – PAPREC
Maxime SOREL: V AND B – MAYENNE
Alex THOMSON: HUGO BOSS
Armel TRIPON: L'OCCITANE EN PROVENCE
Nicolas TROUSSEL: CORUM L'ÉPARGNE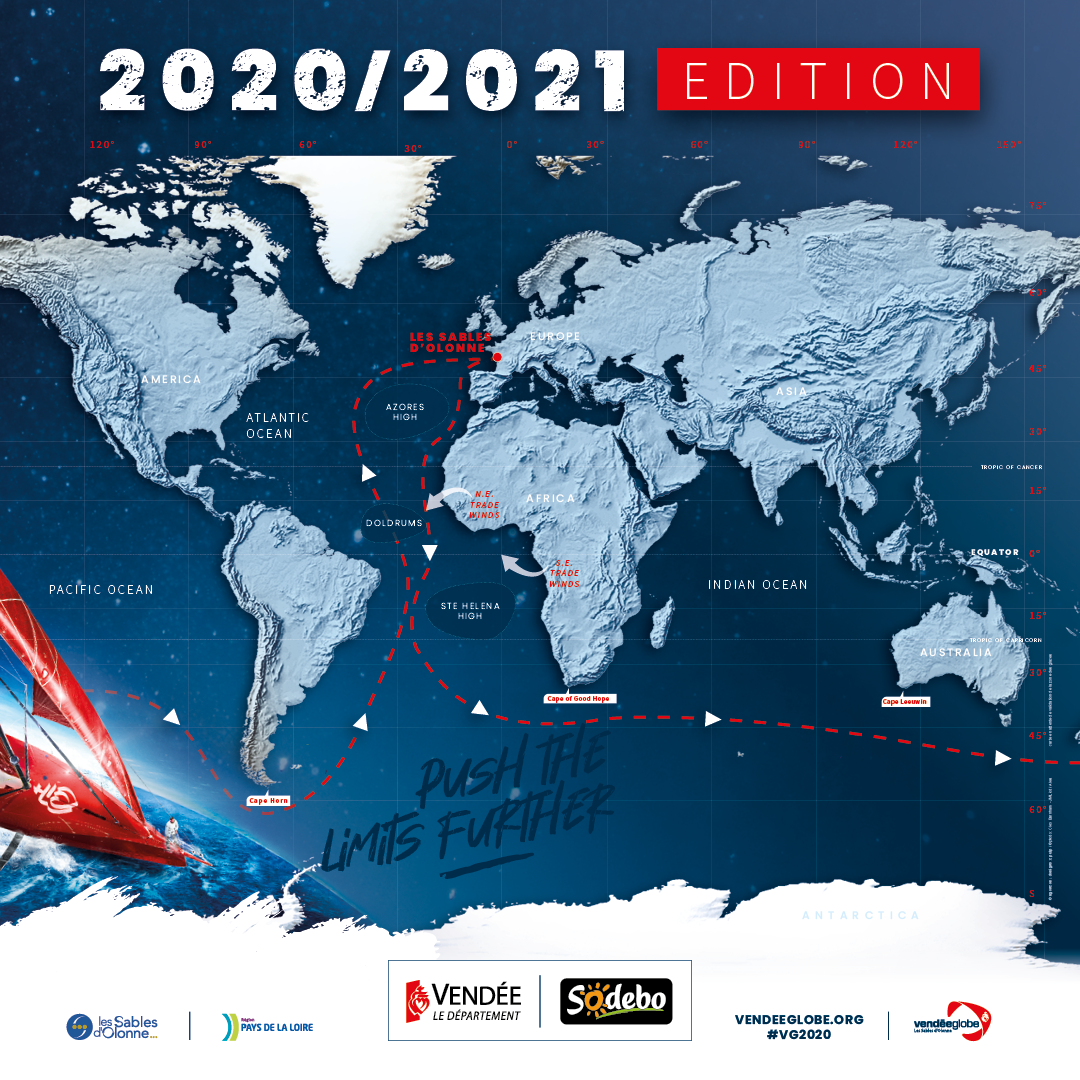 Source: Vendée Globe