Feature
Vendée Globe: Foam the runway
Published on January 25th, 2021
(January 25, 2021; Day 78) – With the first to cross the finish line of this ninth edition of the Vendée Globe expected to be on January 27, the order might go down to the final layline, picking and sailing the perfect compass course from more than 100 miles out from Les Sables d'Olonne's famous Nouche Sud buoy.
More so, with the wind on the Bay of Biscay due to strengthen for those chasing the leaders, the top five ranking could get shuffled as both Boris Herrmann and Yannick Bestaven, upon their finish, will receive a time benefit to compensate them for their role in helping search for Kevin Escoffier after the French skipper had to abandon his boat.
Current leader Charlie Dalin, 37, can do nothing more than sail his best possible race to the finish line, though his IMOCA Apivia is compromised on starboard gybe due to a failed foil bearing.

"It will be such an amazing finish," said Herrmann. "I expect it will be down to the last degree of wind angle on Wednesday afternoon (Jan. 27) and it is so hard to predict, even with the ensemble model (which averages the likelihood of each model). I will play it a bit by ear."
Since yesterday, the leaders have opted for two separate routes. "There are two main options, North or East," sums up Louis Burton (Bureau Vallée 2), who conceded first place to Dalin this morning.
Burton, Herrmann, and Dalin were on the eastern option at the latitude of Portugal and over 300 miles west of the trio at the northern group Ruyant (LinkedOut, 4th), Yannick Bestaven (Maître Coq IV, 5th) and Damien Seguin (Groupe APICIL, 6th),
Between these two options, the choices are almost infinite. More than two hundred routes can still be run.
"The Dalin-Burton-Herrmann trio from the south east will have to deal with a small area of ​​light wind in the Bay of Biscay. This will allow the group from the north to come back with more sustained wind," warned meteo ace Yoann Richomme.
Herrmann spoke of his ever increasing boat speed, now very much into the sweet spot perfect conditions for his VPLP Verdier design onto which he added new, bigger foils last spring,
"We are liking the flatter water for sure. Strategy-wise we are on another page. This race will be to the finish line and maybe a few seconds after that until we make the calculations as to who actually will compose the podium."
Asked how he is dealing with the stress of being in the white heat of the closest ever Vendée Globe finish, Herrmann is balancing the stress with the enjoyment. "All my friends and my wife are telling me 'come on don't let the pressure get to you, this is all good," he shared. "It has been an incredible race, just do your best and enjoy it. And then we will see.
"There is not so much more I can do. I could try tactically to shadow one or the other competitors but then if you do the math it does not make sense. On my calculations today, I have Yannick Bestaven winning on my routing scheme here. He is way too far north now to cover him. If I cover him he has four hours more than me.
"I don't think there is an option for match racing here. As much fun as it would be it is really like now finding your own lane, using the shifts when they come and stuff like that."
Of the big picture options he concluded, "One route goes past Finisterre and the other goes way north and then east, that I thought yesterday would be the one and only option for me. Since then I am playing a bit more in between, I think the last 18 to 20 hours will be really important in terms of the actual wind direction.
"If you come from the NE and you end up being too lifted and you cant lay the finish and you end up having to gybe downwind, someone from Cap Finisterre is beating you big time. But then if the person coming from Cape Finisterre has to gybe downwind then the guys from the north west beat you."
To account for the complicated conditions for the close finishes into Les Sables in the days to come, the race director decided to lengthen the finish line, in accordance with article 9.1 of the Sailing Instructions. The line, which was supposed to be 0.3 miles, will now be 1.9 miles extended south. This will give the fleet enough runway to slow down after this remarkable sprint finish.
NOTE: At 200 miles from the finish line, the race trackers will be updated every 30 minutes and then every 5 minutes from 60 miles from the crossing.
Ranking – 21:00 (GMT)*
1. Charlie DALIN, APIVIA – 595.51 nm DTF
2. Louis BURTON, BUREAU VALLEE 2 – 46.46 nm DTL
3. Boris HERRMANN, SEAEXPLORER – YACHT CLUB DE MONACO – 75.25 nm DTL
4. Thomas RUYANT, LinkedOut – 249.77 nm DTL**
5. Yannick BESTAVEN, Maître CoQ IV – 304.15 nm DTL
DTF – Distance to Finish; DTL – Distance to Lead
* Time awards given to Yannick Bestaven, Jean Le Cam, and Boris Herrmann for their participation in the rescue of Kevin Escoffier will be applied when the skippers finish. – Details
** Damaged port foil on Nov. 24 at 02:00.
Race details – Boat types – Tracker – Ranking – YouTube
The Vendée Globe is the only sailing race round the world that's solo, non-stop, and without assistance, and it was all systems go for the 9th edition on November 8. Beginning in 1989 with 13 entries, and held every four years, the start line in 2020 had 33 skippers taking off from Les Sables d'Olonne, France.
The development of the IMOCA Class toward foiling will see these boats hurl themselves around the world, teetering on carbon skates through inhospitable regions, chasing the record set in 2016-17 by Armel le Cléac'h of 74:03:35:46.
2020-21 Attrition
Nov. 16, 2020 – Nicolas TROUSSEL, CORUM L'EPARGNE – dismasted
Nov. 28, 2020 – Alex THOMSON, HUGO BOSS – rudder damage
Nov. 30, 2020 – Kevin ESCOFFIER, PRB – hull damage (sunk)
Dec. 4, 2020 – Sébastien SIMON, ARKEA PAPREC – foil damage
Dec. 5, 2020 – Sam DAVIES, Initiatives-Cœur – keel damage (collision)
Dec. 11, 2020 – Fabrice AMEDEO, NEWREST – ART & FENÊTRES – computer failure
Jan. 9, 2021 – Isabelle JOSCHKE, MACSF – keel ram failure
Jan. 16, 2021 – Sébastien DESTREMAU, MERCI – autopilot failure
Participation history:
1989-90: 13 boats at the start
1992-93: 15 boats
1996-97: 15 boats
2000-01: 24 boats
2004-05: 20 boats
2008-2009: 30 boats
2012-2013: 20 boats
2016-2017: 29 boats
2020-2021: 33 boats
2020-21 Entries
Fabrice AMEDEO: NEWREST – ART & FENÊTRES
Romain ATTANASIO: PURE – BEST WESTERN
Alexia BARRIER: TSE – 4MYPLANET
Yannick BESTAVEN: MAÎTRE COQ IV
Jérémie BEYOU: CHARAL
Arnaud BOISSIÈRES: LA MIE CÂLINE – ARTISANS ARTIPÔLE
Louis BURTON: BUREAU VALLÉE 2
Didac COSTA: ONE PLANET ONE OCEAN
Manuel COUSIN: GROUPE SÉTIN
Clarisse CREMER: BANQUE POPULAIRE X
Charlie DALIN: APIVIA
Samantha DAVIES: INITIATIVES-CŒUR
Sébastien DESTREMAU: MERCI
Benjamin DUTREUX: OMIA – WATER FAMILY
Kevin ESCOFFIER: PRB
Clément GIRAUD: COMPAGNIE DU LIT / JILITI
Pip HARE: MEDALLIA
Boris HERRMANN: SEA EXPLORER – YACHT CLUB DE MONACO
Ari HUUSELA: STARK
Isabelle JOSCHKE: MACSF
Jean LE CAM: YES WE CAM !
Stéphane LE DIRAISON: TIME FOR OCEANS
Miranda MERRON: CAMPAGNE DE FRANCE
Giancarlo PEDOTE: PRYSMIAN GROUP
Alan ROURA: LA FABRIQUE
Thomas RUYANT: LINKEDOUT
Damien SEGUIN: GROUPE APICIL
Kojiro SHIRAISHI: DMG MORI
Sébastien SIMON: ARKEA – PAPREC
Maxime SOREL: V AND B – MAYENNE
Alex THOMSON: HUGO BOSS
Armel TRIPON: L'OCCITANE EN PROVENCE
Nicolas TROUSSEL: CORUM L'ÉPARGNE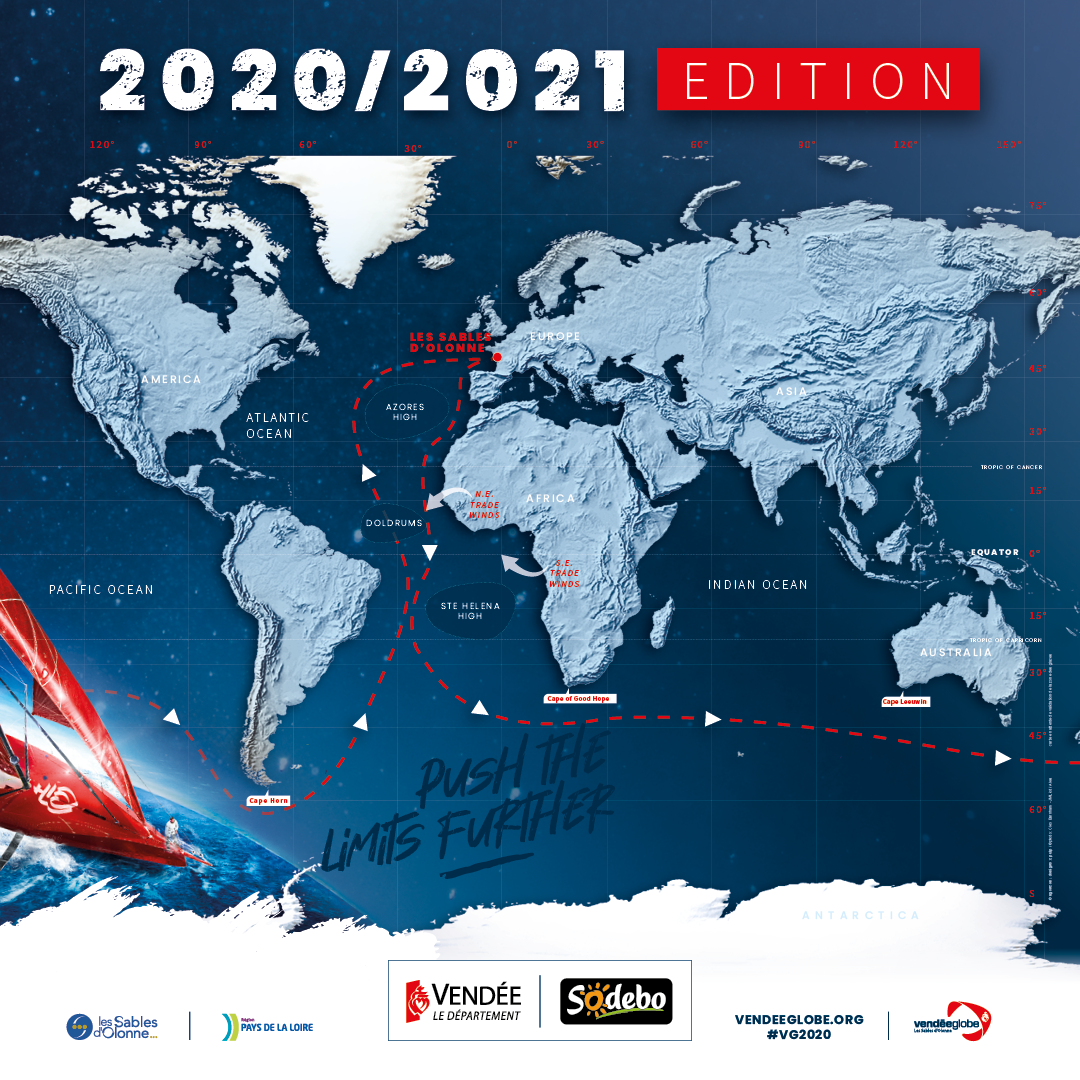 Source: Vendée Globe