Feature
Everyone who finishes is a winner
Published on January 28th, 2021
Sir Robin Knox-Johnston, who became the first person to perform a single-handed non-stop circumnavigation of the globe in 1969, shares his view of the 2020-21 Vendée Globe on January 28, 2021:
---
It was as exciting and dramatic as anything I have ever seen. The sailors, tired at the end of their marathon, probably the toughest sporting event you can ever ask of anyone, fought through right to the end. Huge respect and congratulations to them all.
In the end it came down to the time Redress granted to boats that helped to rescue Kevin Escoffier. For those unfamiliar with the process, it is a standard means to compensate racing yachts for time lost by the need to divert to assist another seafarer in distress. It is the duty of every vessel to do this and in a race it is usual for the Race Director/Committee to select the most appropriate boats, which usually means the closest, and ask them to stop racing to assist.
Race Committees through their juries, an International jury in this case, then have to decide as fairly as they can from information supplied by trackers and reports, exactly how much the rescuer was disadvantaged and calculate the compensation, called redress.
Having had to calculate this on a number of occasions myself it is never easy, but the Vendée Globe Jury seemed to have got it as fair as possible.

Communications have enabled us to follow these sailors around the world, and watch their final efforts. It has provided an enthralling spectacle with changes of lead, drama, and sheer gutsy sailing. Compare that with 52 years ago, when there were no satellites and we were dependent on unreliable radios to report our positions.
Bernard Moitessier had retired for his own reasons, three weeks behind me at Cape Horn but we did not know that at the time. It was rather assumed that I had sunk as no one had heard anything of me for 4 1/2 months owing to no working radio. So for the organizers, the competition was between two multihulls, one sailed by Nigel Tetley and the other by Donald Crowhurst.
But Crowhurst had not sailed around the world. He hung around the South Atlantic sending false messages which came out eventually. (See the film "The Mercy"). And then I managed to get a message through to a merchant ship off the Azores by signal lamp to say I was coming and still afloat and sailing.
Dramatic, yes, it caused chaos to the organizers predictions, but there was no very tight close finish like we have just seen. In fact, it took me 17 days to cover those last 1,100 miles from the Azores to the finish!
What a race this has been. The winner is now declared but let us not forget those still out there still racing and making their way to the finish line. Some will not finish for a month and never had a chance of a podium position, but in this very tough Vendée Globe race, everyone who finishes is a winner.
Final Results (Top 5 of 33)*
1. Yannick BESTAVEN, Maître CoQ IV – Finished Jan. 28 (03:19:46) – 80:03:44:46
2. Charlie DALIN, APIVIA – Finished Jan. 27 (19:35:47) – 80:06:15:47
3. Louis BURTON, BUREAU VALLEE 2 – Finished Jan. 27 (23:45:12) – 80:10:25:12
4. Jean LE CAM, Yes We Cam! – Finished Jan. 28 (19:19:55) – 80:13:44:55
5. Boris HERRMANN, SEAEXPLORER – YACHT CLUB DE MONACO – Finished Jan. 28 (10:19:45) – 80:14:59:45
* Time awards given to Yannick Bestaven, Jean Le Cam, and Boris Herrmann for their participation in the rescue of Kevin Escoffier will be applied when the skippers finish. – Details
Race details – Boat types – Tracker – Ranking – YouTube
The Vendée Globe is the only sailing race round the world that's solo, non-stop, and without assistance, and it was all systems go for the 9th edition on November 8. Beginning in 1989 with 13 entries, and held every four years, the start line in 2020 had 33 skippers taking off from Les Sables d'Olonne, France.
The development of the IMOCA Class toward foiling will see these boats hurl themselves around the world, teetering on carbon skates through inhospitable regions, chasing the record set in 2016-17 by Armel le Cléac'h of 74:03:35:46.
2020-21 Attrition
Nov. 16, 2020 – Nicolas TROUSSEL, CORUM L'EPARGNE – dismasted
Nov. 28, 2020 – Alex THOMSON, HUGO BOSS – rudder damage
Nov. 30, 2020 – Kevin ESCOFFIER, PRB – hull damage (sunk)
Dec. 4, 2020 – Sébastien SIMON, ARKEA PAPREC – foil damage
Dec. 5, 2020 – Sam DAVIES, Initiatives-Cœur – keel damage (collision)
Dec. 11, 2020 – Fabrice AMEDEO, NEWREST – ART & FENÊTRES – computer failure
Jan. 9, 2021 – Isabelle JOSCHKE, MACSF – keel ram failure
Jan. 16, 2021 – Sébastien DESTREMAU, MERCI – autopilot failure
Participation history:
1989-90: 13 boats at the start
1992-93: 15 boats
1996-97: 15 boats
2000-01: 24 boats
2004-05: 20 boats
2008-2009: 30 boats
2012-2013: 20 boats
2016-2017: 29 boats
2020-2021: 33 boats
2020-21 Entries
Fabrice AMEDEO: NEWREST – ART & FENÊTRES
Romain ATTANASIO: PURE – BEST WESTERN
Alexia BARRIER: TSE – 4MYPLANET
Yannick BESTAVEN: MAÎTRE COQ IV
Jérémie BEYOU: CHARAL
Arnaud BOISSIÈRES: LA MIE CÂLINE – ARTISANS ARTIPÔLE
Louis BURTON: BUREAU VALLÉE 2
Didac COSTA: ONE PLANET ONE OCEAN
Manuel COUSIN: GROUPE SÉTIN
Clarisse CREMER: BANQUE POPULAIRE X
Charlie DALIN: APIVIA
Samantha DAVIES: INITIATIVES-CŒUR
Sébastien DESTREMAU: MERCI
Benjamin DUTREUX: OMIA – WATER FAMILY
Kevin ESCOFFIER: PRB
Clément GIRAUD: COMPAGNIE DU LIT / JILITI
Pip HARE: MEDALLIA
Boris HERRMANN: SEA EXPLORER – YACHT CLUB DE MONACO
Ari HUUSELA: STARK
Isabelle JOSCHKE: MACSF
Jean LE CAM: YES WE CAM !
Stéphane LE DIRAISON: TIME FOR OCEANS
Miranda MERRON: CAMPAGNE DE FRANCE
Giancarlo PEDOTE: PRYSMIAN GROUP
Alan ROURA: LA FABRIQUE
Thomas RUYANT: LINKEDOUT
Damien SEGUIN: GROUPE APICIL
Kojiro SHIRAISHI: DMG MORI
Sébastien SIMON: ARKEA – PAPREC
Maxime SOREL: V AND B – MAYENNE
Alex THOMSON: HUGO BOSS
Armel TRIPON: L'OCCITANE EN PROVENCE
Nicolas TROUSSEL: CORUM L'ÉPARGNE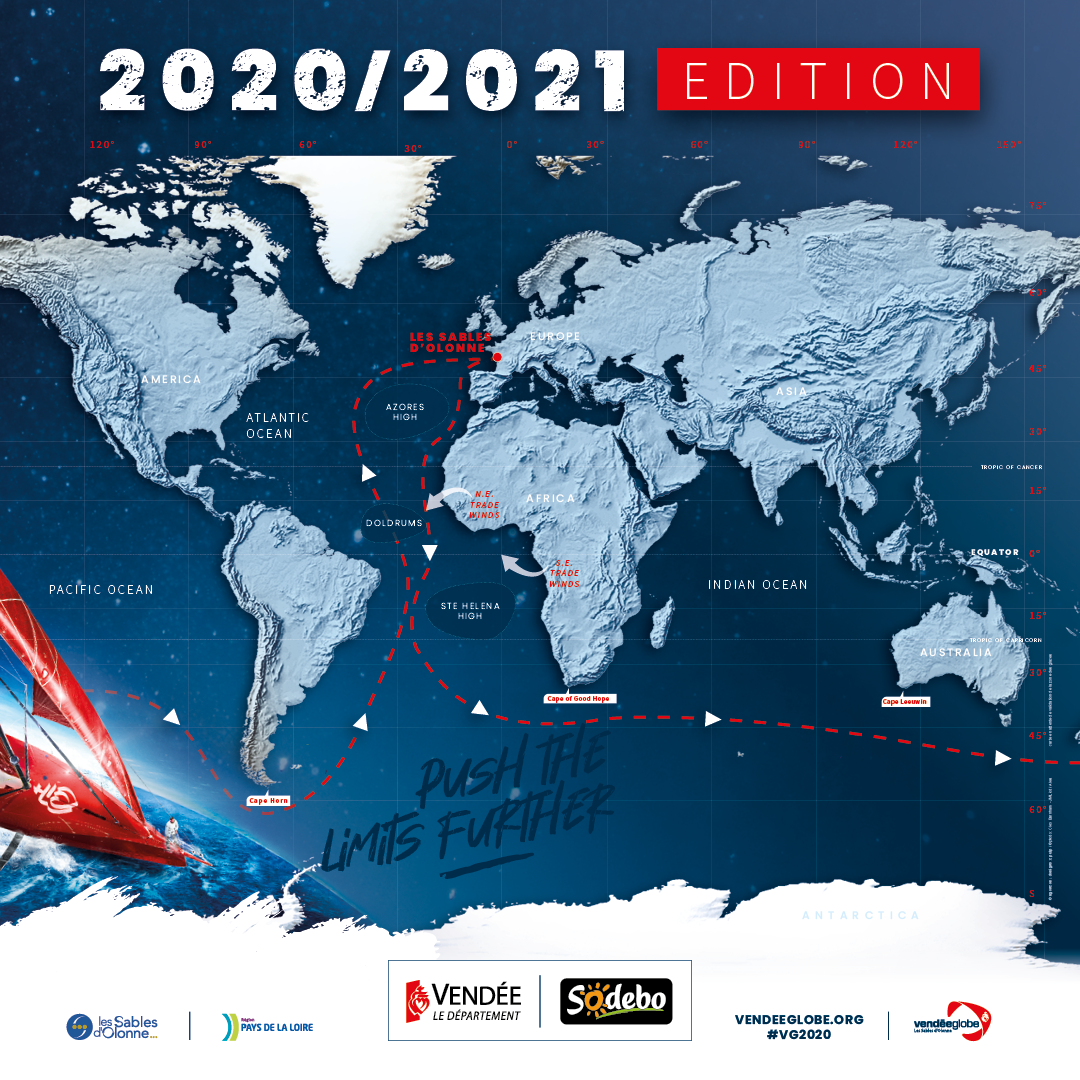 Source: Vendée Globe