Feature
Vendée Globe: Closest win, Oldest winner
Published on January 28th, 2021
Les Sables d'Olonne, France (January 28, 2021) – "There are two winners in this Vendée Globe," smiled Yannick Bestaven, 48, sportingly as he warmly greeted Charlie Dalin, the French skipper who hours earlier had broken the finish line of the solo round the world race in first place.
Granted a 10 hour 15 minute time allowance for his role in the search and rescue of Kevin Escoffier, Bestaven displaced the pre-race favorite Dalin to win the 9th Vendée Globe by 2 hours, 31 minutes, the narrowest margin ever in the history of the race, earned by the oldest ever winner.
"I am happy to have finished the race in the lead. The English talk about Line 'Honours' and I am happy with that," said Dalin, 36. "What I'm going to remember is that I was first over the line – no one can take it away from me. It's normal for boats that stop to help others to have time compensation and that's out of my control. But whatever the outcome I'm here in front of you now and I'm happy that I've done a good job."
To another man, among the top skippers, there was neither a gripe nor a groan about the time allowances made by the international jury.
"For me the matter is closed and I won't be talking about it again. A human life was saved. End of story," said Louis Burton who slipped from second across the finish to third.
And one of the most heartwarming exchanges was on the gangway to the ponton d'honneur when Escoffier greeted and thanked Bestaven. The two sailors embraced for 30 seconds, the unspoken message being that roles might as easily have been reversed.

It was an ending to remember, with much attention given pre-race to the newest boats with very large foils, Bestaven takes the win with a 2015 VPLP-Verdier design, out-lasting and out-sailing the 32 other skippers.
"My objective was always to finish the Vendée Globe," admits Bestaven. "In 2008, I had dismasted, it's a frustration that I could not get over for a long time; it was hard. I set out with the aim of finishing this Vendée Globe, and rather well because I had all the cards stacked in my favour: a great sponsor, a professional team around me, a good boat, experience, maturity.
"Finishing well can mean being in the top five, then when you're in the top five, you say to yourself, 'Why not a podium?' When I was able to take the lead, I really thought that there was something I could do. As the race went on, I got caught up in the game. There were retirements and breakdowns. It's part of the marathon.
"When I was in front off Brazil, losing my 400 mile lead, I could no longer believe it. For all the sailors who are going to cross the finish line, it is already a victory: from first to last, everyone has won. We all experience ups and downs; this race is made up of unexpected events and trials to overcome. As Michel Desjoyeaux used to say, 'The Vendée Globe is a pain in the ass every day'. It was the case for all of us, and all those who could claim victory believed at one point that it would stop.
"The key is perhaps a good preparation beforehand, having a good entourage. I left very calmly. I knew what it meant to go around the world alone, that it was dangerous and risky. I set off without stress in the best conditions. The week before the start, I decompressed well, I was zen. My sponsor never put pressure on me."
It was a team effort
"It's more than a team, it's a family. It's a wonderful story. The planets aligned when I met the boss of Maître CoQ, then I met Bilou. We made made up a team combining people from Brittany and from La Rochelle and it worked well. We put gathered a great team. I hope we will continue together.
"Mental preparation was not my first focus initially. I didn't put it in the work compared to the preparation of the boat. I had to make choice on some sails because I didn't have an extra budget. I understood that the Vendée Globe was not just a race of pure speed, but also a mental race. I did this preparation, and it transformed me (laughs)".
The Escoffier Effect
"The sinking of Kevin (Escoffier) affected me. There was a video the next day, it was even a little too early to talk about it. It took me a long time to get back in the race after that. When the race direction called me, they asked me if I felt prepared to join Jean (Jean Le Cam in the search). The answer was obvious. I had to turn around and sail upwind.
"I called Jean, disappointed because he had lost sight of Kevin. He was very scared at that point. We spent a night in hell, it lasted until dawn. You are on deck looking for a friend in a life raft. There was a big sea, I had three reefs in… I was already cold, and I thought of him in his raft. The more hours passed, the more I thought it was over.
"When we heard the news of his rescue, it really took me a long time to get back on my feet. I was scared for him, for all of us too, because if his boat had broken, why wouldn't ours break too? It was a difficult time. I congratulate Jacques Caraës and the whole team, Christian Dumard too. We had them on the phone, the situation was handled in a very professional way, and emotion was really put aside. They handled it with such composure! It's thanks to them that Kevin was saved."
The road back
"There was the northern option that I took to pass to the west of the Azores. This gave me back my confidence after losing so many miles. I had big sail problems since Cape Horn. On the reaching tack that we were on, I was sailing under J3 instead of J2 and in fact I managed to hold on. And I regained my confidence.
"I had the sails to go into strong winds, so it was the only thing I had to do if I wanted to make a come-back. There were times when I said I had too much sail area up, but I didn't want to reduce. The boat was fine, I could sleep. At times it was enjoyable. Shall I put in a reef? Oh no, I'll wait a little. When you start climbing back, it's enjoyable."
What memories?
"I have a lot of good memories, sorting through them is difficult. The descent into the St. Helena high pressure system with Boris, who filmed me with his drone, we were on the verge of stopping for a drink! The unforgettable moment was being at Cape Horn at the lead. It was a great moment because I was coming out of complicated weather conditions.
"I hesitated to slow down to let the depression pass. I was 200 miles ahead of Charlie, I think, so I told myself I shouldn't slow down. I've never seen seas as big as the 24 hours before Cape Horn. It was almost 10 metres, I think. As I drove into the waves, I blew my bow pushpit off. I was surfing at over 32 knots, and I made slamming stops, ending up in the bulkheads from the bunk.
"Now I feel like having a good beer and partying! We're will need to think about what's next when we've decompressed, everything in its time."
Small foils or big foils?
"I won with small foils, but that's no reason to keep small foils. I know there was a lot of debate. Boats with large foils broke a lot. But others are still in the game: L'Occitane en Provence is doing very well. You have to see it as a turbo, because you can't use them all the time. In the south, you couldn't go faster, but when the conditions are right, it's really an accelerator. You mustn't ignore the reliability of these foils. We'll have to think with the IMOCA class about how to avoid water entry points if we rip a foil off. The boats must remain unsinkable. But it is certain that large foils are the solution."
Charlie Dalin
"I congratulated Charlie for his very good race. He fought to cross the finish line first. I also thanked him for his reaction, he reacted like a real sportsman, despite the polemics we heard. He crossed the finish line first in real time, he is second in compensated time. I told him that in four years' time, it would be him who would win the trophy, and that he is tough!"
Final Results (Top 5 of 33)*
1. Yannick BESTAVEN, Maître CoQ IV – Finished Jan. 28 (03:19:46) – 80:03:44:46
2. Charlie DALIN, APIVIA – Finished Jan. 27 (19:35:47) – 80:06:15:47
3. Louis BURTON, BUREAU VALLEE 2 – Finished Jan. 27 (23:45:12) – 80:10:25:12
4. Jean LE CAM, Yes We Cam! – Finished Jan. 28 (19:19:55) – 80:13:44:55
5. Boris HERRMANN, SEAEXPLORER – YACHT CLUB DE MONACO – Finished Jan. 28 (10:19:45) – 80:14:59:45
* Time awards given to Yannick Bestaven, Jean Le Cam, and Boris Herrmann for their participation in the rescue of Kevin Escoffier will be applied when the skippers finish. – Details
Race details – Boat types – Tracker – Ranking – YouTube
The Vendée Globe is the only sailing race round the world that's solo, non-stop, and without assistance, and it was all systems go for the 9th edition on November 8. Beginning in 1989 with 13 entries, and held every four years, the start line in 2020 had 33 skippers taking off from Les Sables d'Olonne, France.
The development of the IMOCA Class toward foiling will see these boats hurl themselves around the world, teetering on carbon skates through inhospitable regions, chasing the record set in 2016-17 by Armel le Cléac'h of 74:03:35:46.
2020-21 Attrition
Nov. 16, 2020 – Nicolas TROUSSEL, CORUM L'EPARGNE – dismasted
Nov. 28, 2020 – Alex THOMSON, HUGO BOSS – rudder damage
Nov. 30, 2020 – Kevin ESCOFFIER, PRB – hull damage (sunk)
Dec. 4, 2020 – Sébastien SIMON, ARKEA PAPREC – foil damage
Dec. 5, 2020 – Sam DAVIES, Initiatives-Cœur – keel damage (collision)
Dec. 11, 2020 – Fabrice AMEDEO, NEWREST – ART & FENÊTRES – computer failure
Jan. 9, 2021 – Isabelle JOSCHKE, MACSF – keel ram failure
Jan. 16, 2021 – Sébastien DESTREMAU, MERCI – autopilot failure
Participation history:
1989-90: 13 boats at the start
1992-93: 15 boats
1996-97: 15 boats
2000-01: 24 boats
2004-05: 20 boats
2008-2009: 30 boats
2012-2013: 20 boats
2016-2017: 29 boats
2020-2021: 33 boats
2020-21 Entries
Fabrice AMEDEO: NEWREST – ART & FENÊTRES
Romain ATTANASIO: PURE – BEST WESTERN
Alexia BARRIER: TSE – 4MYPLANET
Yannick BESTAVEN: MAÎTRE COQ IV
Jérémie BEYOU: CHARAL
Arnaud BOISSIÈRES: LA MIE CÂLINE – ARTISANS ARTIPÔLE
Louis BURTON: BUREAU VALLÉE 2
Didac COSTA: ONE PLANET ONE OCEAN
Manuel COUSIN: GROUPE SÉTIN
Clarisse CREMER: BANQUE POPULAIRE X
Charlie DALIN: APIVIA
Samantha DAVIES: INITIATIVES-CŒUR
Sébastien DESTREMAU: MERCI
Benjamin DUTREUX: OMIA – WATER FAMILY
Kevin ESCOFFIER: PRB
Clément GIRAUD: COMPAGNIE DU LIT / JILITI
Pip HARE: MEDALLIA
Boris HERRMANN: SEA EXPLORER – YACHT CLUB DE MONACO
Ari HUUSELA: STARK
Isabelle JOSCHKE: MACSF
Jean LE CAM: YES WE CAM !
Stéphane LE DIRAISON: TIME FOR OCEANS
Miranda MERRON: CAMPAGNE DE FRANCE
Giancarlo PEDOTE: PRYSMIAN GROUP
Alan ROURA: LA FABRIQUE
Thomas RUYANT: LINKEDOUT
Damien SEGUIN: GROUPE APICIL
Kojiro SHIRAISHI: DMG MORI
Sébastien SIMON: ARKEA – PAPREC
Maxime SOREL: V AND B – MAYENNE
Alex THOMSON: HUGO BOSS
Armel TRIPON: L'OCCITANE EN PROVENCE
Nicolas TROUSSEL: CORUM L'ÉPARGNE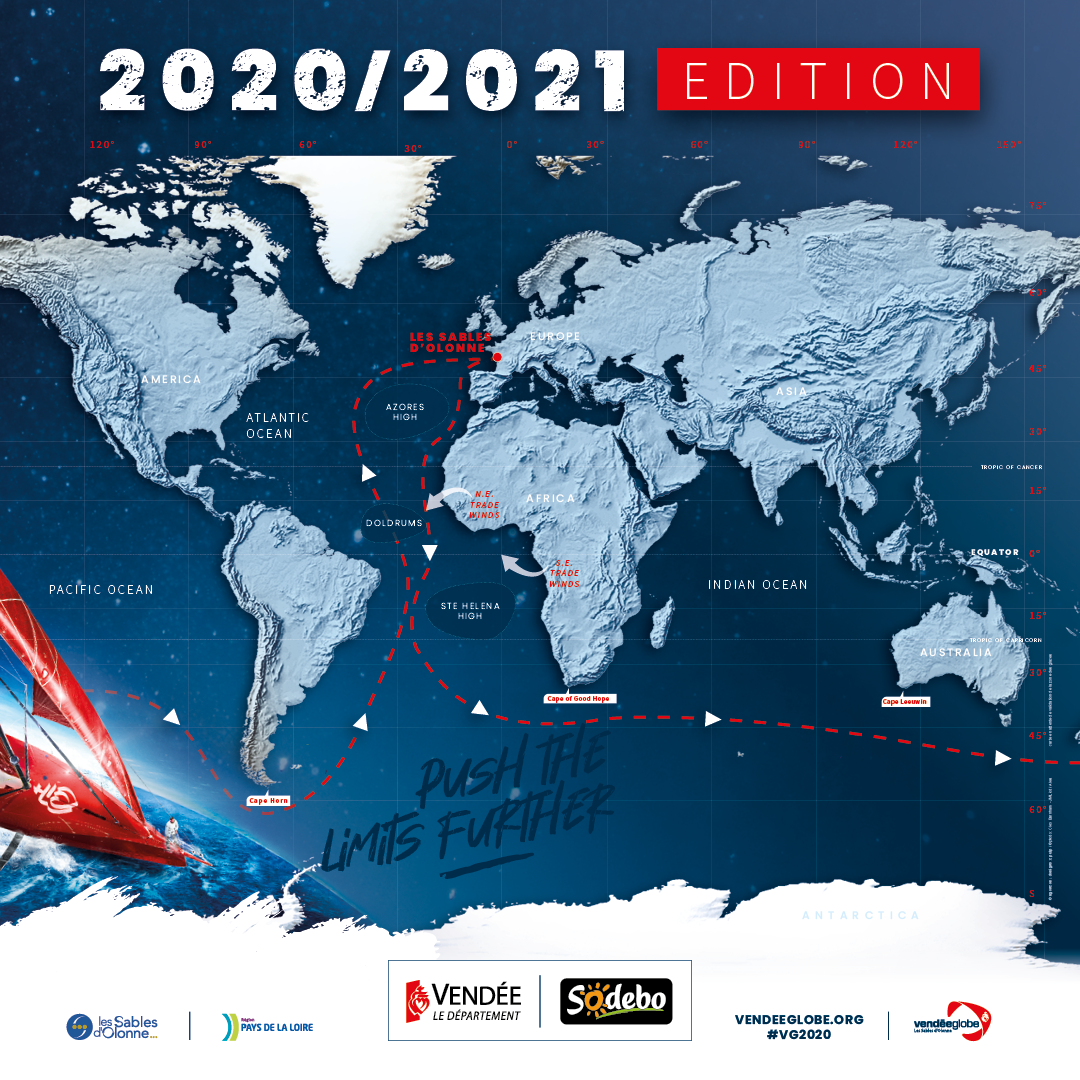 Source: Vendée Globe