Feature
Keeping the Vendée Globe accessible
Published on January 29th, 2021
The escalating costs of the Vendée Globe for solo sailors is an increasing burden, but the pursuit of the adventure is held in such high regard by the French, the 9th edition of the race attracted the largest field ever.
However, it remains a race, and if it seeks to continue attracting an elite field, hope is needed that victory is attainable, and the finishes of three sailors in the top ten may serve the race well going forward.
Individually and together these three swashbuckling musketeers fought a race of incredible intensity, sailing equally smooth, direct course aboard otherwise unfancied, 2008 generation daggerboard IMOCAs, equipped with modest budgets.
From five consecutive starts since 2004, Jean Le Cam (above) at 61 completed his fourth Vendée Globe to finish eighth. With his time redress allocated for his rescue of Kevin Escoffier, Le Cam adds a fourth place to his previous finishes of 2nd, 5th, and 6th.
"I believe that between Benjamin Dutreux, Damien Seguin, and me, we gave young people confidence that the Vendée Globe is still accessible," said Le Cam. "Today this race is becoming financially inaccessible. There are boats at 6-7 million euros, so you wonder if you need to have a multinational sponsor to be able to participate and not be left out on the sidelines.

"I hope that this edition of the Vendée Globe will allow the organizers to look at the future from another perspective. It is important and essential that the Vendée Globe be accessible to SMEs and young people."
Seguin (Groupe Apicil) prepared his boat while benefiting from Le Cam's counsel and his less-is-more philosophy, taking the powerful 2007 Finot Conq design which in 2016-17 raced as Comme Un Seul Homme, through a close contact, boat-for-boat race with Le Cam and Dutreux.
Who can forget Seguin rounding Cape Horn in fourth just 49 miles behind Thomas Ruyant's latest generation LinkedOut and 130 miles ahead of fifth placed Dutreux on the 2007 Farr design which was built in England in 2007 as Estrella Damm before taking third as Hugo Boss in 2012-13.
"This Vendée Globe was exceptional and I am here today because it is thanks to you Jean," said Seguin to Le Cam. "I could thank you every day, but it could never make up for everything you gave me. There hasn't been a day I haven't thought about you. I just want to say THANK YOU.
"When I had this Vendée Globe dream, I dreamed of foiling boats, and you were able to make me look at the essentials. There are some that have spent millions of euros and are sitting at home tonight. We're at the finish line and that's great."
For Le Cam, who has never been more popular or indeed famous, it is the new generation that he wants to see prosper, and specifically to Benjamin Dutreux, the 30 year old affable lad-next-door who was afforded a hero's welcome by the townspeople of Les Sables d'Olonne where he lives and went to school after growing up on the Ile de Ré.
"The first boat I saw at the finish was that of my partners with my brother driving the boat and it was quite incredible to see so many people suddenly all so happy," said Dutreux. "It was a very strong emotional moment. All this on my boat that has brought me all this way with the little Water Family emblem, with "Flagy" next to me, was a special moment.
In the name of his Water Family initiative, Dutreux carried 'Flaggy' – a small flagon of melted ice from the glacier of Chamonix – around the world.
"This is a real mission accomplished for Flaggy, because thanks to Flagy, Water Family have been able to go into around one hundred schools, with video conference lessons in schools. I do not have all the stats, but everyone is really happy, so it is huge. All that is left to do it to take him home to Chamonix so he can become solid again."
And speaking of Le Cam, the young Vendéen skipper was full of praise. "What Jean has done is indescribable, he has done an incredible race and shown and shut up a lot of people. It is pretty mad what he has done. He even told me that I am young and have many ahead of me.
"For him to have finished his race at his age and to have his level of energy is just amazing. I call him the child, because he is like a child and just gives his all and above all he has fun, which is wonderful."
Final Results (Top 10 of 33)*
1. Yannick Bestaven, Maître CoQ IV – Finished Jan. 28 (03:19:46) – 80:03:44:46
2. Charlie Dalin, Apivia – Finished Jan. 27 (19:35:47) – 80:06:15:47
3. Louis Burton, Bureau Vallee 2 – Finished Jan. 27 (23:45:12) – 80:10:25:12
4. Jean Le Cam, Yes We Cam! – Finished Jan. 28 (19:19:55) – 80:13:44:55
5. Boris Herrmann, Seaexplorer-Yacht Club De Monaco – Finished Jan. 28 (10:19:45) – 80:14:59:45
6. Thomas Ruyant, LinkedOut – Finished Jan. 28 (04:42:01) – 80:15:22:01
7. Damien Seguin, Groupe Apicil – Finished Jan. 28 (11:18:20) – 80:21:58:20
8. Giancarlo Pedote, Prysmian Group – Finished Jan. 28 (12:02:20) – 80:22:42:20
9. Benjamin Dutreux, Omia – Water Family – Finished Jan. 29 (09:05:20) – 81:19:45:20
10. Maxime Sorel, V and B-Mayenne – Finished Jan. 30 (03:50:15) – 82:14:30:15
* Time awards given to Yannick Bestaven, Jean Le Cam, and Boris Herrmann for their participation in the rescue of Kevin Escoffier will be applied when the skippers finish. – Details
Race details – Boat types – Tracker – Ranking – YouTube
The Vendée Globe is the only sailing race round the world that's solo, non-stop, and without assistance, and it was all systems go for the 9th edition on November 8. Beginning in 1989 with 13 entries, and held every four years, the start line in 2020 had 33 skippers taking off from Les Sables d'Olonne, France.
The development of the IMOCA Class toward foiling will see these boats hurl themselves around the world, teetering on carbon skates through inhospitable regions, chasing the record set in 2016-17 by Armel le Cléac'h of 74:03:35:46.
2020-21 Attrition
Nov. 16, 2020 – Nicolas TROUSSEL, CORUM L'EPARGNE – dismasted
Nov. 28, 2020 – Alex THOMSON, HUGO BOSS – rudder damage
Nov. 30, 2020 – Kevin ESCOFFIER, PRB – hull damage (sunk)
Dec. 4, 2020 – Sébastien SIMON, ARKEA PAPREC – foil damage
Dec. 5, 2020 – Sam DAVIES, Initiatives-Cœur – keel damage (collision)
Dec. 11, 2020 – Fabrice AMEDEO, NEWREST – ART & FENÊTRES – computer failure
Jan. 9, 2021 – Isabelle JOSCHKE, MACSF – keel ram failure
Jan. 16, 2021 – Sébastien DESTREMAU, MERCI – autopilot failure
Participation history:
1989-90: 13 boats at the start
1992-93: 15 boats
1996-97: 15 boats
2000-01: 24 boats
2004-05: 20 boats
2008-2009: 30 boats
2012-2013: 20 boats
2016-2017: 29 boats
2020-2021: 33 boats
2020-21 Entries
Fabrice AMEDEO: NEWREST – ART & FENÊTRES
Romain ATTANASIO: PURE – BEST WESTERN
Alexia BARRIER: TSE – 4MYPLANET
Yannick BESTAVEN: MAÎTRE COQ IV
Jérémie BEYOU: CHARAL
Arnaud BOISSIÈRES: LA MIE CÂLINE – ARTISANS ARTIPÔLE
Louis BURTON: BUREAU VALLÉE 2
Didac COSTA: ONE PLANET ONE OCEAN
Manuel COUSIN: GROUPE SÉTIN
Clarisse CREMER: BANQUE POPULAIRE X
Charlie DALIN: APIVIA
Samantha DAVIES: INITIATIVES-CŒUR
Sébastien DESTREMAU: MERCI
Benjamin DUTREUX: OMIA – WATER FAMILY
Kevin ESCOFFIER: PRB
Clément GIRAUD: COMPAGNIE DU LIT / JILITI
Pip HARE: MEDALLIA
Boris HERRMANN: SEA EXPLORER – YACHT CLUB DE MONACO
Ari HUUSELA: STARK
Isabelle JOSCHKE: MACSF
Jean LE CAM: YES WE CAM !
Stéphane LE DIRAISON: TIME FOR OCEANS
Miranda MERRON: CAMPAGNE DE FRANCE
Giancarlo PEDOTE: PRYSMIAN GROUP
Alan ROURA: LA FABRIQUE
Thomas RUYANT: LINKEDOUT
Damien SEGUIN: GROUPE APICIL
Kojiro SHIRAISHI: DMG MORI
Sébastien SIMON: ARKEA – PAPREC
Maxime SOREL: V AND B – MAYENNE
Alex THOMSON: HUGO BOSS
Armel TRIPON: L'OCCITANE EN PROVENCE
Nicolas TROUSSEL: CORUM L'ÉPARGNE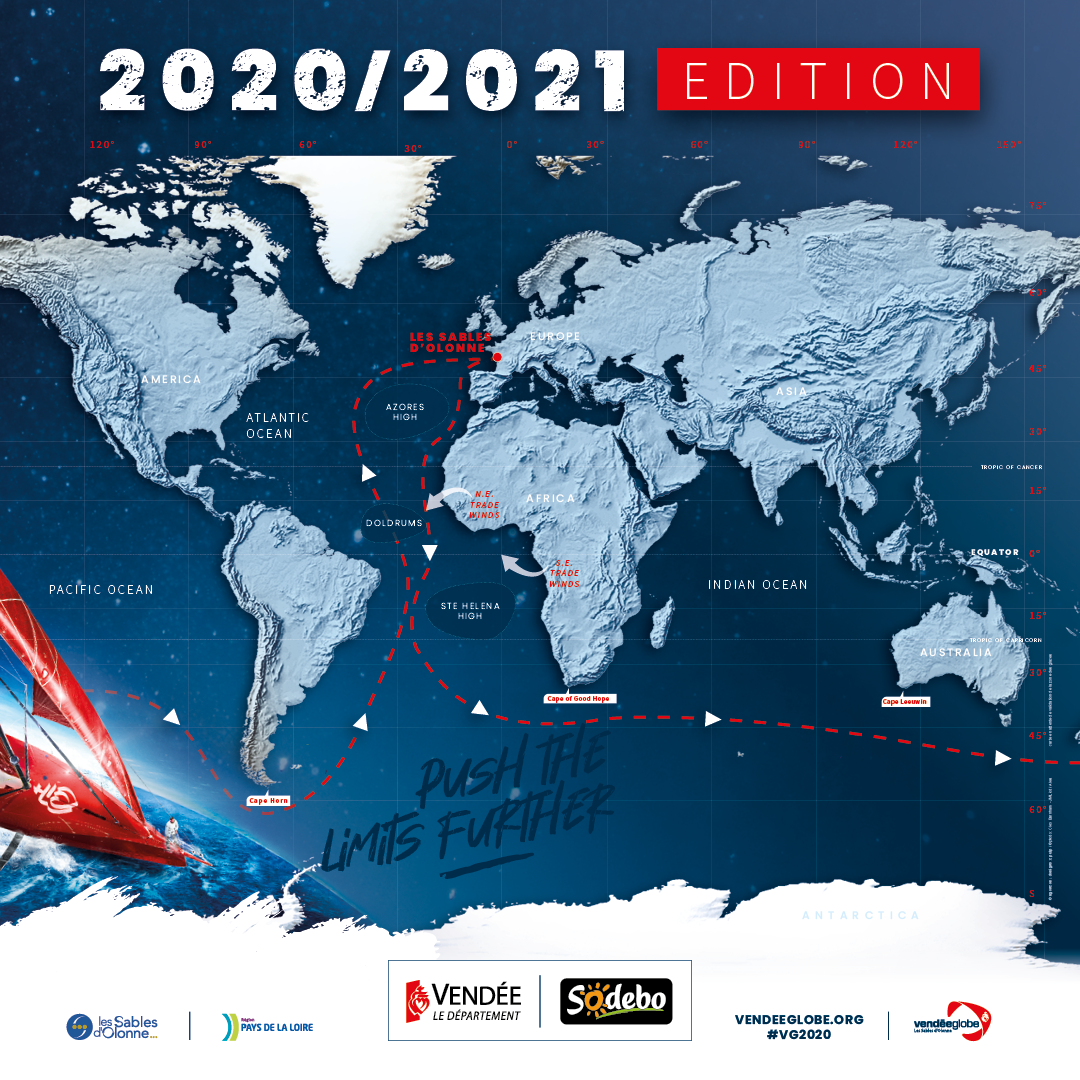 Source: Vendée Globe