Feature
Cremer triumphs in Vendée Globe
Published on February 3rd, 2021
Les Sables d'Olonne, France (February 3, 2021) – After a prudent, careful passage across a boisterous Bay of Biscay, negotiating one last stormy low pressure, a triumphant Clarisse Cremer (FRA) crossed the finish line of the ninth Vendée Globe today as the first female skipper to finish from the field of 33 starters.
Finishing 12th overall, her elapsed time of 87 days 02 hours and 24 minutes breaks Ellen MacArthur's 21-year monohull solo non-stop record for a female skipper of 94 days 4 hours which she set when she took second in the 2000-01 Vendée Globe.
Cremer was one of six women in the 2020-21 race.
"For me, yes we know that being a woman in ocean racing becomes a differentiator on land," she notes. "But this is a mixed race and a mixed sport and it about the breadth of ocean racing together. There is no female classification. At sea, I am a sailor, and I don't tell myself that the sailor in front is a man or a woman, I don't think about that at all."
Cremer, with the 2011 VPLP-Verdier daggerboard design Banque Populaire X, had only sailed her IMOCA 15 months ago for the first time.
"I really learned during this race, it almost makes you want to take the boat away, now that I've learned a lot about it, and go and do it again. I realize that at the start of the Vendée Globe I didn't know how to use the boat so well and I discovered 'the beast' as it went.

"It's nice to be more comfortable on your machine. The preparation time was a bit short, I felt it the first week I was a little intimidated about everything there was to do.
"I think I had less problems in terms of technical issues. I'm lucky to have a great team and a very well-prepared boat. It was my real priority from the start to be very careful with my boat. There were times when I wished I had pushed harder on the machine, but the goal was to finish.
"So I had a hard time, especially from the point of view of fatigue and the feeling of constantly having the sword of Damocles over my head, wondering when the next bad thing was going to happen. The moment I stopped thinking about it, it really got better and better."
A relative latecomer to ocean racing, 31-year-old Cremer's bubbly, charismatic personality and big smile masks a steely resolve and an appetite to learn and consume information that merits comparison with the English skipper. This Vendée Globe is just her second ever solo race in an IMOCA.
While MacArthur dreamed of racing round the world since she was young, Cremer – a graduate of Paris' elite HEC business school with a postgraduate business diploma from Kelley College in the USA – turned her back on a business career to go ocean racing.
After early success in the Mini class in November 2018, before she had sailed an IMOCA in earnest, she was chosen by the Banque Populaire team to skipper their boat. Cremer had in her hands a well-prepared, straight daggerboard version which won the 2012-13 Vendée Globe as MACIF in the hands of Francois Gabart, and more recently as SMA which won the Route du Rhum when sailed by Paul Meilhat.
She gave her business up to join her boyfriend and future husband, Tanguy Le Turquais, moving from Paris to live in Brittany. He was the person who gave her the taste for ocean racing, and she began dreaming of crossing the Atlantic after working with him and supporting him on his Mini programme
She competed solo for the first time on the 2017 Mini Transat, finishing second in the 'series' division and enjoyed herself so much that she moved to the Figaro class. Banque Populaire then offered her the chance to skipper their IMOCA project.
She saw it as a golden opportunity, but realized she had to prove herself. "I know that there were other skippers who could have taken up this role. Having this chance comes with responsibilities."
She set about learning all about IMOCAs firstly alongside Banque Populaire's 2016-17 Vendée Globe race winning skipper Armel Le Cléac'h (finishing sixth in the 2019 Transat Jacques Vabre), then sailing solo on a delivery trip back before her first solo race – June's Vendée Arctique Les Sables (12th).
Next up was the Vendée Globe, which was not kind to her in the early days. A series of fronts and tropical storm Thêta led to the need to carry out repairs, in particular to her hydrogenerator which had snapped off.
It was one thing after another and she felt tired, leading to a lot of self-questioning, openly discussing the times when things were getting her down. "I'm afraid I'm going off my head. I know that each gale seriously affects the condition of my boat."
However, Cremer – who celebrated her 31st birthday in the Pacific Ocean – hung on and fought hard, showing the same resources she had managed to find within herself when racing Minis and Figaro boats.
"I never really felt like giving up," she declared. "I learned to switch off my brain, continue to advance, eat, sleep, and look after myself." In the southern latitudes, she faced a series of low-pressure systems and sailed along the edge of the Ice Exclusion Zone with waves in excess of 20 feet and winds of more than 40 knots in the Pacific.
When Banque Populaire X passed Cape Horn, it was "a fantastic sight" and she believed she had finally "obtained her stripes.". She explained she was "relieved to have got that far without giving up."
She managed to overtake Alan Roura (La Fabrique), racing alongside Romain Attanasio (PURE-Best Western Hotels & Resort) for a long time, before doing battle with Armel Tripon (L'Occcitane en Provence), who only managed to get ahead in the final week.
The climb back up the Atlantic was no joyride, as she had to overcome one of her fears, climbing the mast twice to repair her J2. She also had a tricky time in the Doldrums, before a final battle with big winds and heavy seas in the Bay of Biscay.
She now appears relieved and is determined that this is just the beginning of her round the world racing career. "If I could set off again around the world immediately, I would."
Final Results (Top 10 of 33)*
1. Yannick Bestaven, Maître CoQ IV – Finished Jan. 28 (03:19:46) – 80:03:44:46
2. Charlie Dalin, Apivia – Finished Jan. 27 (19:35:47) – 80:06:15:47
3. Louis Burton, Bureau Vallee 2 – Finished Jan. 27 (23:45:12) – 80:10:25:12
4. Jean Le Cam, Yes We Cam! – Finished Jan. 28 (19:19:55) – 80:13:44:55
5. Boris Herrmann, Seaexplorer-Yacht Club De Monaco – Finished Jan. 28 (10:19:45) – 80:14:59:45
6. Thomas Ruyant, LinkedOut – Finished Jan. 28 (04:42:01) – 80:15:22:01
7. Damien Seguin, Groupe Apicil – Finished Jan. 28 (11:18:20) – 80:21:58:20
8. Giancarlo Pedote, Prysmian Group – Finished Jan. 28 (12:02:20) – 80:22:42:20
9. Benjamin Dutreux, Omia – Water Family – Finished Jan. 29 (09:05:20) – 81:19:45:20
10. Maxime Sorel, V and B-Mayenne – Finished Jan. 30 (03:50:15) – 82:14:30:15
* Time awards given to Yannick Bestaven, Jean Le Cam, and Boris Herrmann for their participation in the rescue of Kevin Escoffier will be applied when the skippers finish. – Details
Race details – Boat types – Tracker – Ranking – YouTube
The Vendée Globe is the only sailing race round the world that's solo, non-stop, and without assistance, and it was all systems go for the 9th edition on November 8. Beginning in 1989 with 13 entries, and held every four years, the start line in 2020 had 33 skippers taking off from Les Sables d'Olonne, France.
The development of the IMOCA Class toward foiling will see these boats hurl themselves around the world, teetering on carbon skates through inhospitable regions, chasing the record set in 2016-17 by Armel le Cléac'h of 74:03:35:46.
2020-21 Attrition
Nov. 16, 2020 – Nicolas TROUSSEL, CORUM L'EPARGNE – dismasted
Nov. 28, 2020 – Alex THOMSON, HUGO BOSS – rudder damage
Nov. 30, 2020 – Kevin ESCOFFIER, PRB – hull damage (sunk)
Dec. 4, 2020 – Sébastien SIMON, ARKEA PAPREC – foil damage
Dec. 5, 2020 – Sam DAVIES, Initiatives-Cœur – keel damage (collision)
Dec. 11, 2020 – Fabrice AMEDEO, NEWREST – ART & FENÊTRES – computer failure
Jan. 9, 2021 – Isabelle JOSCHKE, MACSF – keel ram failure
Jan. 16, 2021 – Sébastien DESTREMAU, MERCI – autopilot failure
Participation history:
1989-90: 13 boats at the start
1992-93: 15 boats
1996-97: 15 boats
2000-01: 24 boats
2004-05: 20 boats
2008-2009: 30 boats
2012-2013: 20 boats
2016-2017: 29 boats
2020-2021: 33 boats
2020-21 Entries
Fabrice AMEDEO: NEWREST – ART & FENÊTRES
Romain ATTANASIO: PURE – BEST WESTERN
Alexia BARRIER: TSE – 4MYPLANET
Yannick BESTAVEN: MAÎTRE COQ IV
Jérémie BEYOU: CHARAL
Arnaud BOISSIÈRES: LA MIE CÂLINE – ARTISANS ARTIPÔLE
Louis BURTON: BUREAU VALLÉE 2
Didac COSTA: ONE PLANET ONE OCEAN
Manuel COUSIN: GROUPE SÉTIN
Clarisse CREMER: BANQUE POPULAIRE X
Charlie DALIN: APIVIA
Samantha DAVIES: INITIATIVES-CŒUR
Sébastien DESTREMAU: MERCI
Benjamin DUTREUX: OMIA – WATER FAMILY
Kevin ESCOFFIER: PRB
Clément GIRAUD: COMPAGNIE DU LIT / JILITI
Pip HARE: MEDALLIA
Boris HERRMANN: SEA EXPLORER – YACHT CLUB DE MONACO
Ari HUUSELA: STARK
Isabelle JOSCHKE: MACSF
Jean LE CAM: YES WE CAM !
Stéphane LE DIRAISON: TIME FOR OCEANS
Miranda MERRON: CAMPAGNE DE FRANCE
Giancarlo PEDOTE: PRYSMIAN GROUP
Alan ROURA: LA FABRIQUE
Thomas RUYANT: LINKEDOUT
Damien SEGUIN: GROUPE APICIL
Kojiro SHIRAISHI: DMG MORI
Sébastien SIMON: ARKEA – PAPREC
Maxime SOREL: V AND B – MAYENNE
Alex THOMSON: HUGO BOSS
Armel TRIPON: L'OCCITANE EN PROVENCE
Nicolas TROUSSEL: CORUM L'ÉPARGNE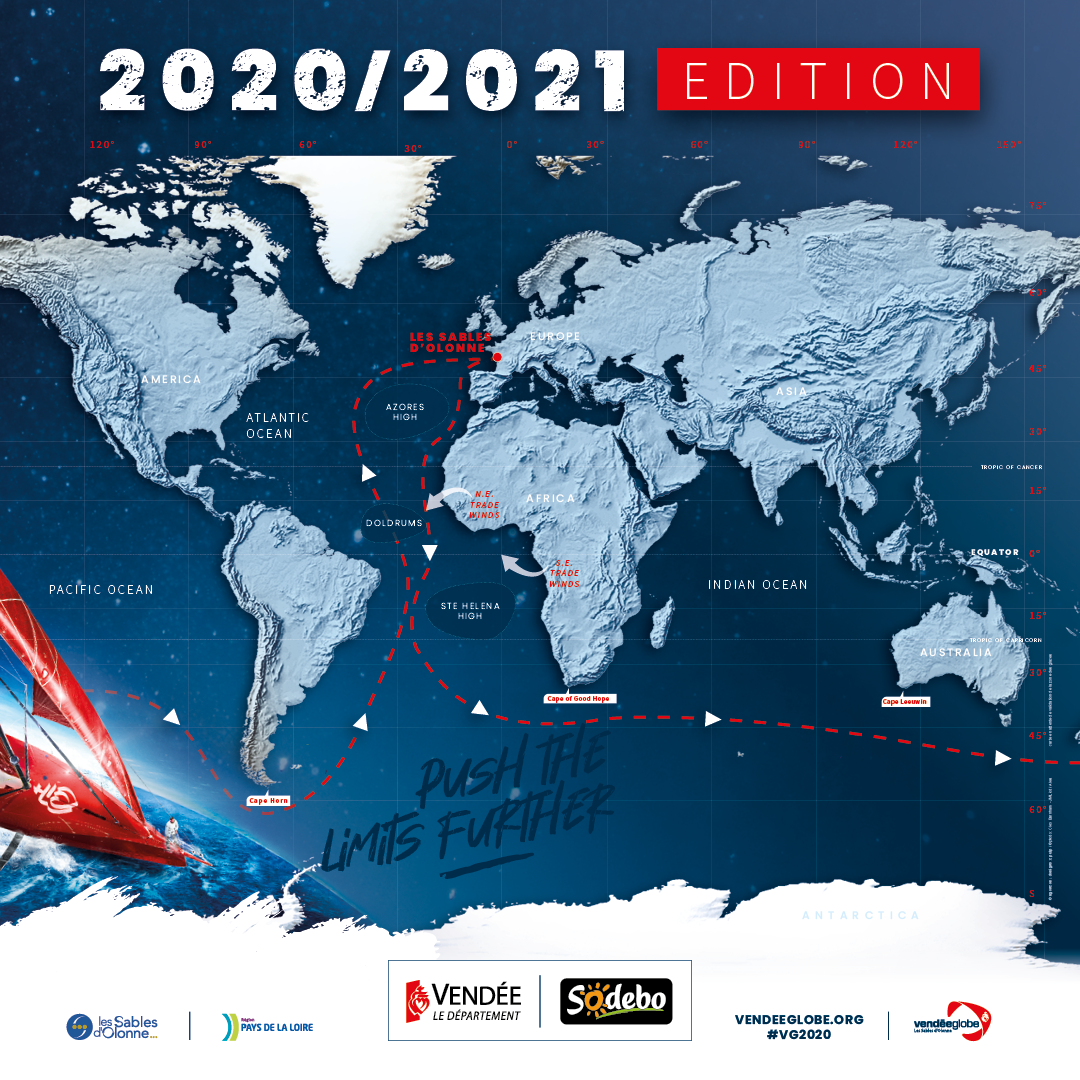 Source: Vendée Globe