Feature
Sam Davies: The meaning of turning left
Published on February 25th, 2021
With just two of the 33 skippers still competing in the 2020-21 Vendée Globe, this edition of the solo, non-stop around the world race is nearly done if not for the remaining stories still at sea, and Sam Davies is a good one.
Following a violent collision on December 2, the British skipper of Initiatives-Cœur sustained significant damage to the framework supporting the keel of her IMOCA, requiring her to retire for repairs in Cape Town, South Africa.
While this was the end of her race, some 12 days after the collision, and with repairs in place, she dropped dock lines to complete her adventure, seeking to finish the course. With a hope of a good finish set aside, she still had a job to do for her sponsor.
For each new fan or share on Initiatives-Cœur's Facebook and Instagram accounts, the boat's sponsoring partners (Initiatives, K-Line and VINCI Énergies) pay € 1 to the Mécénat Chirurgie Cardiaque association, which brings children from disadvantaged countries with severe heart defects to France to operate on them.
Since the start of the Vendée Globe, 37 children have already been saved thanks to this initiative called 1 click = 1 heart and to the generosity of the public, whose donations are significant. The goal is to save 60 children knowing that each operation costs € 12,000.
Now in her final miles to the French finish port of Les Sables d'Olonne, the IMOCA class catches up with Davies for her story:
---
For her experience on this Vendée Globe, Sam Davies reminds us that whether you win, come last or abandon the race under the rules, sailing alone around the world is still an extraordinary adventure that demands mental toughness that few individuals possess.

With Davies, the skipper of Initiatives-Coeur, the moment of truth was the day she set sail again from Cape Town where her boat had undergone two weeks of repairs following a violent, boat-stopping crash in the southern ocean that damaged her keel. She was presented with a simple choice, turn right and head back to France the short and relatively easy way…or turn left.
And turn left is what she did – a course of action that thrust her immediately into weeks of relentless southern ocean sailing, as she re-joined the course over 900 miles behind the last competitors in the fleet. It was easy to overlook the bravery and commitment that this decision required as Initiatives-Coeur re-appeared on the tracker, but in that half shaded-out form that denotes a sailor no longer taking part in the race.
In fact, from the very start, Davies and her team had always imagined that if she had to stop at any point, she would complete the lap of the planet, even if it meant shipping a spare rig out to her, wherever she had stopped.
This was to ensure they fully leveraged the sponsorship opportunity for the charity that underpins her sailing campaign and that raises money for life-saving surgery for children with heart defects in the Third World. Coming home early would not be a recipe for success when it came to paying for the cost of heart surgery at €12,000-a-go.
So the truth of it was that Davies, 46, was ready to turn left, but the reality of what she was doing still came as a shock.
She struggled with loneliness, battled the pain from broken ribs inflicted in a crash in which Initiatives-Coeur stopped dead from 20 knots, and struggled with the psychological trauma left over from that terrifying moment when her race came to an end – an accident, she says, that was similar to the one experienced by Alex Thomson and Neil McDonald when they lost the keel on Hugo Boss in the 2019 Transat Jacques Vabre.
"I scared myself sh#tless in that crash," she told the IMOCA class. "First of all, whenever I started going faster than about 15 knots, all I could think about was that crash and I was worried about the boat because we had just done a major repair on it and then I had just sailed straight out into the southern ocean with no testing time or anything.
"There were always doubts – did we miss something? Is everything OK? Are there any consequences from the crash that might emerge?"
Then came the chill of being alone in the wildest and most remote seas on the surface of the earth, something Davies could not have prepared for.
"I thought it would be fun," she said, looking back and speaking on the phone as Initiatives-Coeur approached Cape Finisterre, just a few hundred miles from the finish. "I love sailing and I love my boat and I thought it would be cool to just cruise around the world. But actually it was really lonely.
"Over the past few years I've got more and more competitive and I've been lucky to have an amazing boat with an amazing team and had really close racing with Boris (Herrmann), Kevin (Escoffier), Isa (Joschke) and all that group who I was with until I had my crash.
"Then, when I left Cape Town, I was behind everybody and I got so lonely and all those guys were just so far away and there was no way I was going to catch them. I was worried about something else breaking on the boat, so I didn't want to push and so it wasn't the same sailing sensation that I am used to when I am racing.
"I felt lonely and it was a little bit scary as well being out there and being the last one. If something happened, I was there to help others but there was no one behind me…"
It takes real courage to do what she did and Davies was eventually rewarded as she caught up with the backmarkers, sailors like Ari Huusela and Alexia Barrier who have yet to finish the race. The long journey home was not easy because Initiatives-Coeur continued to suffer hardware failures, with a keel ram issue that forced Davies to lock the keel off in the Atlantic.
She also almost lost the rig when the pin holding up the J2 stay sheered, forcing her to climb the mast to cut the stay down and she lost all her wind instruments. In the end this competitive British racer was left limping home to Les Sables d'Olonne already dreaming of getting her boat repaired and race-ready for the Transat Jacques Vabre this autumn.
We asked Davis about the home front on this protracted voyage.
Before she set off, she and her partner and fellow Vendée Globe skipper, Romain Attanasio, imagined that – based on the superior boatspeed of Initiatives-Coeur as against his boat, Pure-Best Western – she would be back home first.
That meant Davies would be the first to hug their nine-year-old son, Ruben, who stayed in the family home during the race with Davies's parents looking after him. But in the event it was Attanasio who got back first in 14th place, leaving Davies to share his joy from afar, during a bittersweet time as she continued north off Recife.
"That was one of the hard moments when Romain finished," she recalled. "We kind of imagined it would be the other way round and I was really sad not to be there at his finish…but I think that is all part of the adventure and I think Ruben was so proud to be there on his own to welcome papa.
"I saw pictures of them and they looked so proud and happy. In a way it was kind of a relief once Romain got there because I knew that our son had least one of his parents with him."
Naturally Davies has been counting down the hours until she can see both Romain and Ruben at the finish.
"Seeing them again is one of my motivations and it has been one of my motivations to keep sailing around the world because I know that Ruben understands the whole adventure," she said. "I remember speaking to him on the phone in Cape Town and he said to me 'mummy, you aren't going to come home are you?'
"And it was cool because it was almost his way of saying 'it's OK to carry on and I will be so proud of you if you carry on. I am so looking forward to seeing them and catching up – it has been so intense for all of us, there is so much to catch up on and share once we are all back together."
One of the unique and outstanding facets of this voyage – has been the impact it has had on the Initiatives Coeur programme. By Finisterre, where Davies tackled 40-knot winds and big breaking seas, the "likes" on her Facebook and Instagram pages had generated enough money to pay for heart operations on 84 children whose lives would otherwise be blighted and cut short. It is an extraordinary achievement and one that Davies is rightly proud of.
"I think it's incredible to have a high level sports project that also has another reason to be there," said the British skipper. "And in a way it's thanks to the charity that I could actually say yes I am going to finish my lap of the planet, because that was the real reason to go out there and continue sailing around the world, even though I am not racing – raising as much money as possible.
"If I had just turned round and sailed back to France, that wouldn't have raised nearly as much as we have through sharing this crazy adventure outside of the rankings."
Davies is looking forward to seeing some of the children as she put it, "who have been saved by this Vendée Globe" on the dockside at Les Sables D'Olonne. Also there will be Isabelle Autissier who knows what it is like to complete a circumnavigation outside the rules of a race. And alongside her will be Joschke who got in on MACSF just ahead of Davies, but with whom Davies shared the final few thousand miles up the Atlantic.
The two skippers are great friends and rivals and they loved being alongside each other on the ocean, although they never actually got close enough to see each other's boats.
"It was nice to have someone around, not too far away if anything happened and also to share routing discussions and talk about lots of stuff," said Davies. She said both she and Joschke were proud to have finished their voyages and to be part of the group of six female sailors who started the race, all of whom are on course to complete it.
"We were enjoying a bit of girl power," joked Davies, "and trying to show a bit of resilience and commitment and motivation and honouring what we set out to do for our teams and our sponsors."
UPDATE: British skipper Sam Davies sailed back into Les Sables d'Olonne in beautiful spring sunshine to a rapturous welcome on the afternoon of February 26. Thousands of well wishers turned out to line the quaysides of the famous Les Sables d'Olonne channel to pay tribute to an inspirational, courageous solo round the world passage fulfilling her pledge to complete the Vendée Globe route outside of the race rankings.
---
2020-21 Vendée Globe Final Results (Top 10 of 33)*
1. Yannick Bestaven, Maître CoQ IV – Finished Jan. 28 (03:19:46) – 80:03:44:46
2. Charlie Dalin, Apivia – Finished Jan. 27 (19:35:47) – 80:06:15:47
3. Louis Burton, Bureau Vallee 2 – Finished Jan. 27 (23:45:12) – 80:10:25:12
4. Jean Le Cam, Yes We Cam! – Finished Jan. 28 (19:19:55) – 80:13:44:55
5. Boris Herrmann, Seaexplorer-Yacht Club De Monaco – Finished Jan. 28 (10:19:45) – 80:14:59:45
6. Thomas Ruyant, LinkedOut – Finished Jan. 28 (04:42:01) – 80:15:22:01
7. Damien Seguin, Groupe Apicil – Finished Jan. 28 (11:18:20) – 80:21:58:20
8. Giancarlo Pedote, Prysmian Group – Finished Jan. 28 (12:02:20) – 80:22:42:20
9. Benjamin Dutreux, Omia – Water Family – Finished Jan. 29 (09:05:20) – 81:19:45:20
10. Maxime Sorel, V and B-Mayenne – Finished Jan. 30 (03:50:15) – 82:14:30:15
* Time awards given to Yannick Bestaven, Jean Le Cam, and Boris Herrmann for their participation in the rescue of Kevin Escoffier will be applied when the skippers finish. – Details
Race details – Boat types – Tracker – Ranking – YouTube
The Vendée Globe is the only sailing race round the world that's solo, non-stop, and without assistance, and it was all systems go for the 9th edition on November 8. Beginning in 1989 with 13 entries, and held every four years, the start line in 2020 had 33 skippers taking off from Les Sables d'Olonne, France.
The development of the IMOCA Class toward foiling will see these boats hurl themselves around the world, teetering on carbon skates through inhospitable regions, chasing the record set in 2016-17 by Armel le Cléac'h of 74:03:35:46.
2020-21 Attrition
Nov. 16, 2020 – Nicolas TROUSSEL, CORUM L'EPARGNE – dismasted
Nov. 28, 2020 – Alex THOMSON, HUGO BOSS – rudder damage
Nov. 30, 2020 – Kevin ESCOFFIER, PRB – hull damage (sunk)
Dec. 4, 2020 – Sébastien SIMON, ARKEA PAPREC – foil damage
Dec. 5, 2020 – Sam DAVIES, Initiatives-Cœur – keel damage (collision)
Dec. 11, 2020 – Fabrice AMEDEO, NEWREST – ART & FENÊTRES – computer failure
Jan. 9, 2021 – Isabelle JOSCHKE, MACSF – keel ram failure
Jan. 16, 2021 – Sébastien DESTREMAU, MERCI – autopilot failure
Participation history:
1989-90: 13 boats at the start
1992-93: 15 boats
1996-97: 15 boats
2000-01: 24 boats
2004-05: 20 boats
2008-2009: 30 boats
2012-2013: 20 boats
2016-2017: 29 boats
2020-2021: 33 boats
2020-21 Entries
Fabrice AMEDEO: NEWREST – ART & FENÊTRES
Romain ATTANASIO: PURE – BEST WESTERN
Alexia BARRIER: TSE – 4MYPLANET
Yannick BESTAVEN: MAÎTRE COQ IV
Jérémie BEYOU: CHARAL
Arnaud BOISSIÈRES: LA MIE CÂLINE – ARTISANS ARTIPÔLE
Louis BURTON: BUREAU VALLÉE 2
Didac COSTA: ONE PLANET ONE OCEAN
Manuel COUSIN: GROUPE SÉTIN
Clarisse CREMER: BANQUE POPULAIRE X
Charlie DALIN: APIVIA
Samantha DAVIES: INITIATIVES-CŒUR
Sébastien DESTREMAU: MERCI
Benjamin DUTREUX: OMIA – WATER FAMILY
Kevin ESCOFFIER: PRB
Clément GIRAUD: COMPAGNIE DU LIT / JILITI
Pip HARE: MEDALLIA
Boris HERRMANN: SEA EXPLORER – YACHT CLUB DE MONACO
Ari HUUSELA: STARK
Isabelle JOSCHKE: MACSF
Jean LE CAM: YES WE CAM !
Stéphane LE DIRAISON: TIME FOR OCEANS
Miranda MERRON: CAMPAGNE DE FRANCE
Giancarlo PEDOTE: PRYSMIAN GROUP
Alan ROURA: LA FABRIQUE
Thomas RUYANT: LINKEDOUT
Damien SEGUIN: GROUPE APICIL
Kojiro SHIRAISHI: DMG MORI
Sébastien SIMON: ARKEA – PAPREC
Maxime SOREL: V AND B – MAYENNE
Alex THOMSON: HUGO BOSS
Armel TRIPON: L'OCCITANE EN PROVENCE
Nicolas TROUSSEL: CORUM L'ÉPARGNE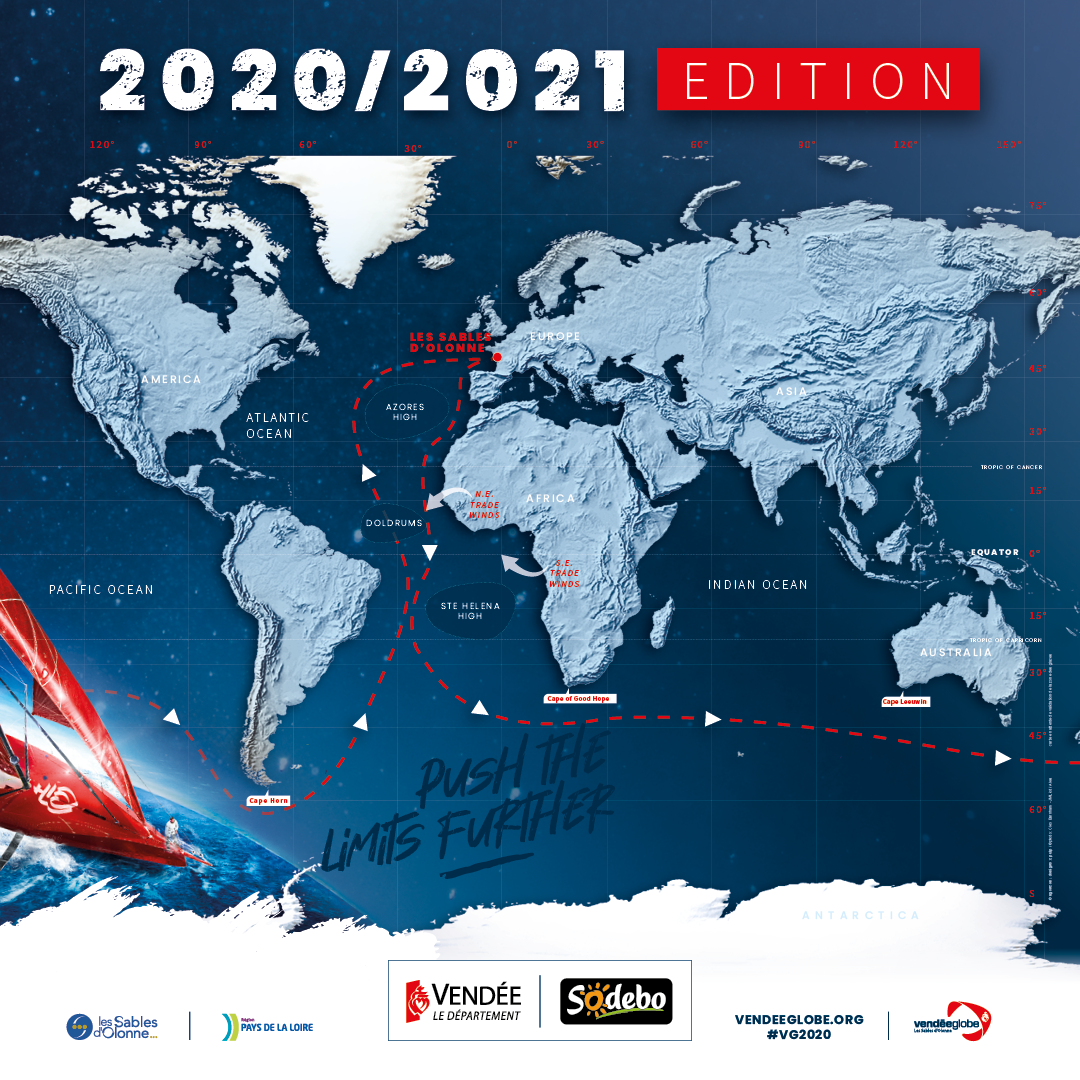 Source: IMOCA, Vendée Globe