News
Another stunning day at RC44 Virgin Gorda Cup
Published on February 15th, 2014
Virgin Gorda, BVI (February 15, 2014) – The penultimate day of racing at the RC44 Virgin Gorda Cup didn't see a change at the top of the overall leaderboard, Team Aqua were the most consistent performer of the day, moving them up from fourth to second, putting them in touch with leaders Peninsula Petroleum. Four races produced four different winners, in what was another stunning day of Caribbean racing for the RC44 fleet.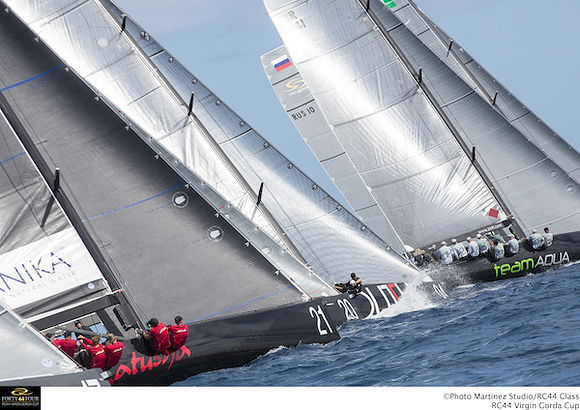 Racing got underway to the south of Neckar Island in 14 knots. Katusha emerged as the leader at the windward mark, an early gybe by Synergy down the first run paid, giving Valentin Zavadnikov's Russian team the lead. A double tack by Synergy to make the top mark put Katusha back at the top, only for Synergy's tactician Ed Baird to again call for the early gybe – a move that gave Synergy the first win of the day.
Katusha's new helmsman Vladimir Sokolov may be new to sailing, but has proved to be a quick learner in the RC44 fleet, finishing the day with a consistent 2,5,5,6 scoreline. Tactician Andy Horton is pleased with the team's progress this week. "Vladimir is doing a great job; he drives race cars and plays tennis so he's a good sportsman. As we come into corners we have little tricks like, Iain (Jensen) our trimmer will point where to go whilst I count down, but it's been pretty cool because you have to rethink all of the things that we take for granted as sailors."
Team Nika led the fleet round the first lap of the second race, only to trawl their spinnaker after a messy drop at the leeward gate. Overall leaders, Peninsula Petroleum seized the initiative and took control of the race, Artemis Racing finishing second, and Team Aqua starting their charge up the leaderboard in third. As the wind started to drop, Team Aqua was next to take the gun, before Team Nika's day ended on a high, winning the final race.
Team Aqua's 5,3,1,3 scoreline moved them up into second overall, 11-points off Peninsula Petroleum, who has led the fleet from day one in Virgin Gorda. Owner John Bassadone speaking on the dock after racing said the team's strategy for the final day was simple: "Just try to stay calm and keep sailing how we've been sailing to see where we end up" 
The final day of racing at the RC44 Virgin Gorda Cup is Sunday 16th February. Follow the racing on the live blog at www.rc44.com.
Jo Grindley, RC44 Communication
RC44 Virgin Gorda Cup Overall Fleet Race Ranking

(After nine races)

1. Peninsula Petroleum Sailing Team
2 6 1 3 1 6 1 3 2 – 25

2. Team Aqua 
9 4 5 2 4 5 3 1 3 – 36

3. Synergy Russian Sailing Team 
6 2 6 4 2 1 4 8 7 – 40

4. Bombarda Racing
1 3 3 6 5 4 7 2 9 – 40

5.  Lunajets Aleph Racing
5 5 8 5 3 3 6 4 8 – 47

6. Artemis Racing 
4 8 7 1 6 9 2 7 4 – 48

7. Katusha 
7 9 2 9 8 2 5 5 6 – 53

8. Gazprom Youth Sailing Challenge 
8 1 4 8 9 7 8 6 5 – 56

9. Team Nika
3 7 9 7 7 8 9 9 1 – 60

RC44 Championship Tour Overall Match Race Ranking

(After one event)

1. Team Aqua
7 wins – 1 loss = 7

2. Synergy Russian Sailing Team
5 wins – 3 loss = 5

3. Katusha
5 wins – 3 loss = 5

4. Lunajets Aleph Racing
5 wins – 3 loss = 5

5. Peninsula Petroleum Sailing Team
4 wins – 4 loss (1*) = 3

6. Team Nika
3 wins – 5 loss = 3

7. Artemis Racing
4 wins – 4 loss (3*) = 1

8. Bombarda Racing
1 win – 7 loss = 1

9. Gazprom Youth Sailing Challenge
2 win – 6 loss (1*) = 1

*Penalty points