News
R2AK: Pardon the interruption
Published on June 16th, 2019
The 5th edition of the 750 mile Race to Alaska began June 3 with a 40-mile "proving stage" from Port Townsend, WA to Victoria, BC. For those that survived, they started the remaining 710 miles on June 6 to Ketchikan, AK. Here's the June 16 update:
---
We could enjoy today's big stories fresh off the press, but we're going to cellar them next to the Zinfandels. Today, we're drinking in Boldly Went's amuse bouche for R2AK insiders.
In the evening/night of Day 10, four of the teams of the R2AK fired in to the finish line target and hit the mark in a tight scatter pattern⁠—all within an hour of the 9:40 pm bullseye we just invented to make the math work. Teams Seaforth Expeditions, WIP (Water Tight Instant Paradise), Razzle Dazzle, and Yankee Peddlers.
These teams don't just have stories to tell, but are some of the more colorful set of yayhoos we've seen in a while: the first of two aluminum sharpies, Belgians who drank beer all the way, then ate pizza on the dock, Katy Stewart from Razzle Dazzle⁠—head of R2AK's newly formed Department of Brunch, and the first Craigslist special to cross the line.
With that pile of stories in the loading bay, you'd think we'd start shoveling, but in a move that seemingly defines R2AK, we gave the typing monkeys the day off. Why, you might ask? Two potential reasons:
1. They are down for routinely scheduled maintenance.
2. Suspense. Do you know how to keep an R2AK fan in suspense?
(We're just going to let that one hang there for a bit)
In a total accidental ego buffet, while you might want to know about the racers who finished today, not only are we not going to write about it, but the Boldly Went podcast below is going to tell you about us⁠—a behind the scenes look at the crew who bring you the stories of the R2AK (well, at least usually). It's a story in itself: boats, film makers, internet mavens, and motivational speakers⁠—they even get as close as anyone to understanding how the "anonymous collective" of writers got our mojo hand.
You're going to love it, and we're so sure of it that we're backing it with a 30 day money back guarantee. Enjoy!
Race details – Team list – Tracker – Results – Facebook – Instagram
Good News/Bad News
• Team Yankee Peddlers on their Santana 20 have won the Small Craft Advisor 20 Foot and Under Award! Yankee Peddlers will be awarded $1000 bucks at our Blazer Party in September.
• We heard from Team Wingnuts (Alberg 23) and they have done and redone the math and are not going to make Ketchikan before the Grim Sweeper and so have decided to bow out of the race.
For the second year in a row, a monohull has taken line honors. Here's the history:
2015 – 5 days 1 hour 55 min – Elsie Piddock
2016 – 3 days 20 hour 13 minutes – Mad Dog
2017 – 4 days 3 hour 5 minutes – Freeburd
2018 – 6 days 13 hour 17 minutes – First Federal's Sail Like a Girl
2019 – 4 days 3 hours 56 minutes – Angry Beaver – Sailing Skiff Foundation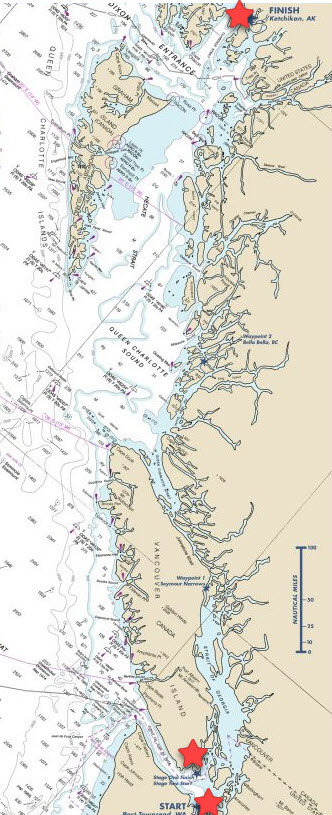 Background:
Race to Alaska, now in its 5th year, follows the same rules which launched this madness. No motor, no support, through wild frontier, navigating by sail or peddle/paddle (but at some point both) the 750 cold water miles from Port Townsend, Washington to Ketchikan, Alaska.
To save people from themselves, and possibly fulfill event insurance coverage requirements, the distance is divided into two stages. Anyone that completes the 40-mile crossing from Port Townsend to Victoria, BC can pass Go and proceed. Those that fail Stage 1 go to R2AK Jail. Their race is done.
Stage 1 Race start: 0500 June 3rd, Port Townsend, Washington
Stage 2 Race start: 1200 June 6th, Victoria, BC
There is $10,000 if you finish first, a set of steak knives if you're second. Cathartic elation if you can simply complete the course. R2AK is a self-supported race with no supply drops and no safety net. Any boat without an engine can enter.
Last year 37 teams were accepted and 21 finished.
Source: Race to Alaska