Feature
R2AK 2020: Real just got realer
Published on September 6th, 2019
We can theorize why stuff happens, but the real fun is being the guy that swung the bat, not the dude wearing somebody else's jersey, spilling pricey spuds while hoping the home run ball finds his glove.
And while the Seattle Mariners might be 30+ games out of first place, their neighboring Pacific Northwest team behind the Race to Alaska continue to launch the long ball.
After five editions of their unkind, unsupported 750 mile course, in which the only solace were two waypoints along the way, Seymour Narrows and Bella Bella, they decided to raise the stakes. Here's their announcement for R2AK 2020:
---
We like to say around here that simpler is harder, and we've made R2AK 2020 even more simple/hard than it already was by removing Seymour Narrows as a mandatory waypoint on the way to Ketchikan.
There's still a qualifying stage from Port Townsend to Victoria, but when you leave from Victoria your next thing is to make it enginless to Bella Bella by any means necessary.
You can still go via Seymour Narrows, you just don't have to. Consider it an open relationship.
• Are you a tidal Jedi who's found a current hack to shoot through some back channel like it was a log ride? Have at it.
• Feel like bashing into the full force of the Pacific Ocean and clawing off 200 miles of a rocky lee shore? Be our guest.
• Are you going to skip the complicated part and just portage your kayak the length of Vancouver Island before heading north? You'll find your reservation under 'Crazy person, party of one.'
If Seymour Narrows hasn't been on your Google Maps, it is the legendary passage that is spoken in hushed tones that are equal parts frightened and reverential. Midway up the inside of Vancouver Island, Seymour Narrows is more or less the battleground where rising tides from the northern Queen Charlotte Sound collide with the waters of the Strait of Georgia.
While offering a seemingly sheltered route along the east of Van Isle, the tidal gate is such that when you arrive determines your fate. You either ride through on rose petals and butterflies or feel the door slamming on your thumb. Eliminating it offers the option of turning right after the Stage 2 start instead of turning left.
But regardless of your turn signal, there is still one race, still one prize (plus steak knives), and we still finish in Ketchikan. Now you can get there by going outside, inside, or inside-er; just make sure to pass through Bella Bella at some point and you're good.
The Fine Print
With open ocean wave trains that start building strength in Japan, a rocky coast, and absolutely no people or rescue personnel, the west coast of Vancouver Island is even less of a joke than the bear-infested cold waters of the Inside Passage.
While we like audacity, we also consider ourselves Darwin's bouncers and try not to encourage bad judgement. Teams wishing to have the option for an outside route will be vetted under an additional layer of scrutiny, and will need to comply with US Sailing's crew and equipment requirements for a Category 1 Offshore race.
In other words, a hard no for SUPs, Hobie Ocean Islands, and the rest of the rowboat navy. If you are applying and want to be considered for an outside route, you'll need to indicate that on your application.
The other thing is that now all teams, even the ones on the inside routes, are required to have a PLB or an EPIRB onboard. Because Canada said so.
Read to apply? Click here.
Race details – 2019 Results – Facebook – Instagram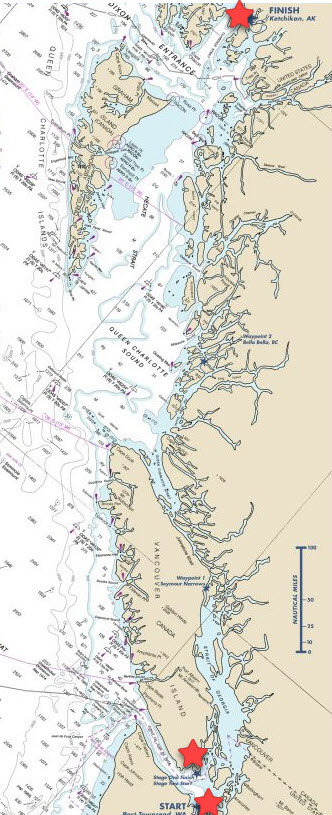 Background:
Race to Alaska, now in its 6th year, follows the same general rules which launched this madness. No motor, no support, through wild frontier, navigating by sail or peddle/paddle (but at some point both) the 750 cold water miles from Port Townsend, Washington to Ketchikan, Alaska.
To save people from themselves, and possibly fulfill event insurance coverage requirements, the distance is divided into two stages. Anyone that completes the 40-mile crossing from Port Townsend to Victoria, BC can pass Go and proceed. Those that fail Stage 1 go to R2AK Jail. Their race is done. Here is the 2020 plan:
Stage 1 Race start: June 8 – Port Townsend, Washington
Stage 2 Race start: June 11 – Victoria, BC
There is $10,000 if you finish first, a set of steak knives if you're second. Cathartic elation if you can simply complete the course. R2AK is a self-supported race with no supply drops and no safety net. Any boat without an engine can enter.
In 2019, there were 48 starters for Stage 1 and 37 finishers. Of those finishers, 35 took on Stage 2 of which 10 were tagged as DNF.
Source: Race to Alaska