Feature
R2AK Time Machine Day 9/25
Published on June 24th, 2020
For five years, the Race to Alaska, a 750-mile course from Port Townsend, Washington to Ketchikan, Alaska, proved that journey trumps destination, and while COVID-19 cancelled the 2020 edition, the Organizing Authority is, for 25 days, sharing their fondest memories from the previous races. Enjoy!
---
What does winning mean? In the case of Matt Pruis, two-time paddler of R2AK (2017 & 2018) and record holder for fastest kayak, it means re-imagining a kayak journey to Alaska. During the 2018 race, Matt folded up his kayak and tried to cut down his time by going overland, getting horribly stuck in the middle of nowhere and achieving another world record by beating out Team Superfriends for…Most Miles in the Wrong Direction.
He never lost his cool, though, and simply never stopped moving. No solo kayaker has come close to matching his finish time. Well, only one other has ever finished…but his time is still amazing; you try and beat it!
READ:
Boats trailing in to Race to Alaska finish line
(originally published by Peninsula Daily News on June 18, 2017)
Ketchikan, Alaska — Three teams have completed the third annual Race to Alaska, but 27 more are still making their way up the coast after five days of sailing, paddling, rowing, and pedaling.
Team Pure & Wild arrived in a trimaran at Ketchikan, Alaska, at 3:05 p.m. Thursday, only six minutes before Team Big Broderna, to claim the grand prize of $10,000 in the third annual Race to Alaska, hosted by the Northwest Maritime Center of Port Townsend and sponsored by UnCruise Adventures.
Team Big Broderna, also in a trimaran, won a set of steak knives.

For its third-place status, Team Bad Kitty — a bivy sack catamaran — won only bragging rights, as will the other motorless boats competing in the 750-mile race from Port Townsend.
On Saturday afternoon, two teams, Ketch Me If U Can and West Coast Wild Ones, had a substantial lead over the other 25 teams. They were sailing through the cluster of islands just south of Prince Rupert, B.C., likely still a day's sail from the finish line in Ketchikan.
Ketch Me If U Can, a two-person team from San Francisco, was just ahead of Team West Coast Wild Ones, a four-person team from Whistler, B.C. just after noon Saturday.
Team West Coast Wild Ones is the first monohull boat in the race to make it past Bella Bella, B.C.
"We're in, like, a 1970s cruising boat with all the amenities," said Becky McCleery of Team West Coast Wild Ones in a livestream posted on Facebook on Thursday.
"When we got to the dock in Port Townsend, we were looking around at all the boats, and they were all pretty racy," said Keanna Coral in the Thursday livestream. "We're definitely the fattest, chubbiest little boat here."
The team fell behind Ketch Me If U Can on Saturday morning but is still the fastest monohull in the race.
"This is, like, pretty crazy that we're doing so well," Coral said. "We do have all pretty good sailors aboard and all the sails, like we've talked about before, but we're doing really good. We all just signed up to do this for fun."
Team Heart of Gold was still holding on to his lead as the fastest man-powered team.
Karl Kruger of Orcas Island is one of three paddleboarders in the race.
Kruger set out from Alert Bay at 5:30 a.m. Saturday. According to a Facebook post from his wife, Jessica Kruger, Team Heart of Gold capitalized on a weather window Saturday in an attempt to get around Cape Caution, an area known for big ocean swells.
As of 1 p.m. Saturday, Kruger had crossed the channel between Vancouver Island and the mainland and was paddling at just over 4 knots along Bramham Island, just south of Cape Caution.
Kruger celebrated his 45th birthday Wednesday with a cup of coffee at his camp on the beach near Comox, B.C., and Daphne Stuart, an R2AK photographer, grabbed a livestream interview.
Kruger packs light, sleeping in a sleeping bag and bivy sack rather than using a tent, and eats power gels and protein shakes.
"I can't paddle on a full stomach," Kruger said in the livestream.
Kruger did grab a burger Friday night, according to his wife.
Kruger is leading the paddlers with a substantial lead. Behind him are Team Rod Price Adventure and Team Viz Reporter.
The two were paddling almost side by side Saturday afternoon just across the channel from Port Neville, B.C.
Viz Reporter is a solo kayaker and Rod Price (above) is canoeing with the help of some inflatable outriggers and a small sail.
Price was missing for about 30 hours Thursday after race officials couldn't reach him on his cellphone and his tracker hadn't moved in almost 24 hours.
Matt Pruis of Team Viz Reporter is credited with finding Price on Friday morning. According to race officials, Price has decided to wait out the weather at his Maud Island campsite after attempting to battle through Seymour Narrows.
"R2AK is unsupported, but not unsupervised," race officials posted on their Facebook on Thursday asking any racers or race fans in the area to keep an eye out.
The Joint Rescue Forces Canada were also called out to check Price's route.
He was found safe and sound and livestreamed from the beach Friday with R2AK photographer Stuart and Pruis. Price and Pruis plan to paddle together for the remainder of the race.
WATCH:
Race details – Previous races – Facebook – Instagram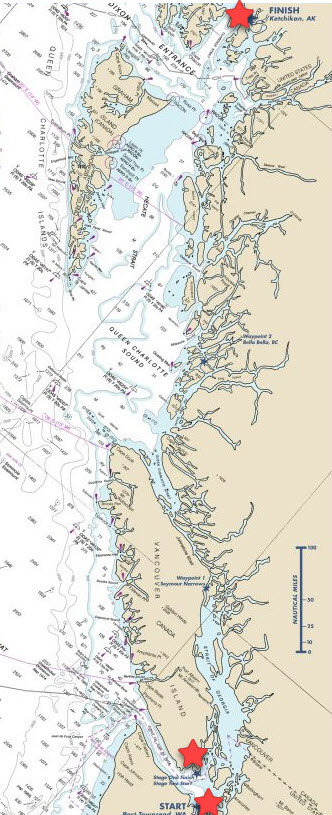 What was to be in 2020:
Race to Alaska, now in its 6th year, follows the same general rules which launched this madness. No motor, no support, through wild frontier, navigating by sail or peddle/paddle (but at some point both) the 750 cold water miles from Port Townsend, Washington to Ketchikan, Alaska.
To save people from themselves, and possibly fulfill event insurance coverage requirements, the distance is divided into two stages. Anyone that completes the 40-mile crossing from Port Townsend to Victoria, BC can pass Go and proceed. Those that fail Stage 1 go to R2AK Jail. Their race is done. Here is the 2020 plan:
Stage 1 Race start: June 8 – Port Townsend, Washington
Stage 2 Race start: June 11 – Victoria, BC
There is $10,000 if you finish first, a set of steak knives if you're second. Cathartic elation if you can simply complete the course. R2AK is a self-supported race with no supply drops and no safety net. Any boat without an engine can enter.
In 2019, there were 48 starters for Stage 1 and 37 finishers. Of those finishers, 35 took on Stage 2 of which 10 were tagged as DNF.
Source: Race to Alaska