Feature
Finding fellowship in the experience
Published on July 5th, 2020
We've been enamored with the Race to Alaska since its inception in 2015. No motor, no support, through wild frontier, navigating by sail or peddle/paddle (but at some point both) the 750 cold water miles from Port Townsend, Washington to Ketchikan, Alaska.
Attracting both trophy hunters and explorers, with each finisher claiming victory, its brilliance is led by Jake Beattie, Executive Director of the Northwest Maritime Center, who shares this report from race headquarters:
---
When we started the Race to Alaska we thought that it would unleash adventure and ingenuity as people stepped up to the challenge. It has, but what we never could have anticipated is the community of people up and down the coast and across the internet that find fellowship in the experience.
This story is from one of the participants of year one, Mike Higgins from Team Mike's Kayak.
Also, we're spreading the word about a kickstarter fundraiser for R2AK Film Boss, Zach Carver's feature length R2AK documentary (I saw a preview, it's stellar.) This isn't a Maritime Center project, but it is cool, and another way our community is coming together.
Enjoy Mike's story:
When I first heard about the R2AK, I said NO WAY! (When I finished it I said NEVER AGAIN!) This was a race, there were no divisions, and I would be competing in a kayak against competitive racing sailboats! I figured a sailboat would finish the course in a week, then two weeks later, I would show up, and nobody would notice. I was wrong about that last point.
Of course, a few of my friends, which included the 600 members of BASK (Bay Area Sea Kayakers), were avidly following my journey. I heard reports that productivity in the entire San Francisco Bay Area was noticeably low because all these people were using up the bandwidth of the Internet pressing refresh on the tracker while they were supposed to be working.
As I approached Hornby Island on June 10th, 2015, someone reported on social media that I was making a "pizza run." My float plan called for getting a pizza for dinner at the store there. My hopes were dashed when the wind rose, slowed me down, and I landed after the posted closing time.

But the store manager Roberto saw me and asked "Are you Mike Higgins?" How did you know? "Because three of your friends are calling me on the phone, ordering you a pizza and arguing over who GETS to pay for it!" Roberto kept the store open late for me, cooked one more pizza and I had a wonderful evening, all expenses paid.
While the sailboats were tacking far offshore for most of the race, I was hugging the shore trying to get out of the wind, and this brought me past many public places, and the tracker gave a few people a chance to come down and wave at me on the way past!
On my last day (June 30th), as I paddled the last few long hours after a long day with the wind in my face, I crept past the town of Saxman. (Just SE of Ketchican). I was slow and tired, but then cars slowed down and honked their horns. Could they be honking at me?
A group of people came down to a bluff to shout "R2AK" and blow noisemakers! Someone did notice me arriving two weeks late! My spirits soared and my paddling speed jumped up from 2 knots to 3, even with the wind in my face!
The blog of my 2015 R2AK is available at www.kayaker.net, but the maps have been messed up for several years. Reading the R2AK Time Machine articles inspired me to find out why and fix the problem. Now when you zoom into the maps on my site, camera icons and red GPS tracks appear! Scroll along the tracks to see my route, click on them to bring up the journal entries, and click on the camera icons for pictures taken on that day.
Race details – Previous races – Facebook – Instagram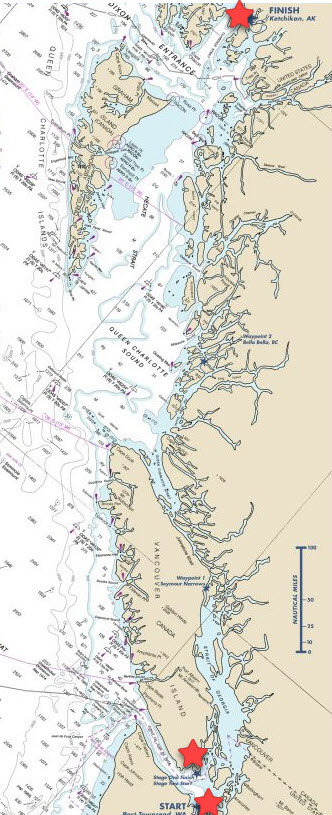 Race to Alaska, launched in 2015, maintains today the same general rules which launched this madness. No motor, no support, through wild frontier, navigating by sail or peddle/paddle (but at some point both) the 750 cold water miles from Port Townsend, Washington to Ketchikan, Alaska.
To save people from themselves, and possibly fulfill event insurance coverage requirements, the distance is divided into two stages. Anyone that completes the 40-mile crossing from Port Townsend to Victoria, BC can pass Go and proceed. Those that fail Stage 1 go to R2AK Jail. Their race is done.
While COVID-19 cancelled the 2020 edition, here was the plan:
Stage 1 Race start: June 8 – Port Townsend, Washington
Stage 2 Race start: June 11 – Victoria, BC
There is $10,000 if you finish first, a set of steak knives if you're second. Cathartic elation if you can simply complete the course. R2AK is a self-supported race with no supply drops and no safety net. Any boat without an engine can enter.
In 2019, there were 48 starters for Stage 1 and 37 finishers. Of those finishers, 35 took on Stage 2 of which 10 were tagged as DNF.
Source: Race to Alaska