Feature
R2AK Time Machine Day 7/25
Published on June 22nd, 2020
For five years, the Race to Alaska, a 750-mile course from Port Townsend, Washington to Ketchikan, Alaska, proved that journey trumps destination, and while COVID-19 cancelled the 2020 edition, the Organizing Authority is, for 25 days, sharing their fondest memories from the previous races. Enjoy!
---
This is the last day we look at boats gaining fame because they go fast. Into the speed recipe we mix a team from 2016 called Jungle Kitty (above). Team Jungle Kitty is a super light 44-foot monohull with a keel that reaches a long 12' underwater.
Their application contained selfies of each crew member, rather than the typical pictures of boat on trailer, boat on dock, boat in shop. And most crew members were maimed and bloody. Bloody selfies. That began a long and casually irreverent relationship to sailing decorum and a team that catapulted the monohull into the category of serious threat.
Only the 2019 Team Angry Beaver has brought a monohull up the coast faster, and I'm pretty sure they were carrying way less beer.
Our written Daily Update today is a round-up of eight teams from 2016 and a cautionary tale of the terrors teams encountered up the coast, much like Reefer Madness, without the ensuing jail time.
READ:
2016 Day 5: Eight Teams In
A long legged and sleepless day after Team MAD Dog on their M32 catamaran screeched to a halt and smashed R2AK's fastest passage by a 24 hours and change, the seven teams in the follow pack howled into Ketchikan in quick succession on the leading edge, trailing edge, and meaty middle of a piping southerly.
The wind drove rain sideways and soaked the back side of sails and the front half of fans who rallied dockside late, early, and then late again on the R2AK's fourth and then fifth days delineated by little other than the sun's seemingly arbitrary progression. This was a long haul of awesome for racer and fan alike.
These teams were the vanguard of the race's competitive aspirations, and their crews were a veritable rogues gallery and a fantasy league of the PNW's sailing heavies. All of them talented and known to each other, which seem to make them push all the harder—whipping themselves across the line in competitive delirium.

This was a race, regardless of their place on the podium. The finish line was a reunion of legends who had sometimes only met by reputation. Young turks and blue bloods, up and comers, and already been theres—all of them united in a stretched version of a calendar day that will never be repeated. At least in this lifetime.
Teams hit the dock with exhausted and righteous completion that gave way to the regret of a good run ending before they were really ready. They could go further. They could do better. A willing foe and sea room is what they live for—all eight of them finishing within hours of a plus or minus reach of Elsie Piddock's fabled $10k run a just a year ago.
Impressive and noteworthy, as they transitioned from competitor to compatriot, these sailing gladiators reveled in their collective success as much as their own. At least mostly—it still felt pretty good to revel in whatever level of win they could claim. This is racing, after all, despite the paradoxically edgy cumbia spirit of the R2AK, old habits die hard.
Eight teams, a tight fleet who reveled in some of the fiercest competition we have ever seen, the best racing they have ever experienced, and the most aggressive collegiality we have ever had the privilege of celebrating from the barely sidelines.
Starting with the sleep starved MAD Dogs who turned out to cheer in the Jungle Kittens, and ending with the United Nations of finishers that noticeably sank the docks on Team Turn Point Designs' culmination so they could ogle the boat and applaud their efforts.
Some of them came in faster, some just fast, but the talk on the docks was that of celebration, mutual respect, and the unguarded critical analysis of everyone getting better. It was an informed love fest of sailing minutia and a deep dive into the questions the Tracker Nation was hotly debating too.
Not comfortable in their drysuits but too exhausted and used to the sog and to find their shore togs, teams shared cold beers, hot coffee, and the octane boost from other bottled sources in the sporadic yawp of done that spanned from late night through early afternoon.
Each team lingered in the four day funk inside their drysuits to compare the essentials: hot meal ratios, driftwood strikes, top speeds, and to hear the other side of their own R2AK stories. What were (they) doing when they crossed tacks in Johnstone Straits? Why did they choose that side of Hunter Island? Wasn't that the best?
Since the Victoria calamity, these crews have swapped tacks and followed each other's progress with intense curiosity and desire to complete their own understanding of what happened out there. In the reverse chronology of the finish line, an abstract:
Team Turn Point- Finish: July 1, 5:15 p.m., light rain
Team Turn Point made it to Ketchikan, but a year later then they would have liked. They entered the 2015 R2AK race with a crew of two and a hot off the presses boat that was rushed to market and eventually succumbed to the inevitable issues of a new design not quite ready to go to Alaska. A year of testing and training later they finished strong and in great spirits:
• Electronics doused and battery spent, they sailed without nav lights into the impossible uninhabited darkness using paper charts and a dying iPad worth of navigation.
• "We called it 'The great Scott', and laughed how it uncannily resembled the Cliff bars that caused it. I'm never eating another Cliff Bar."
• "I kept thinking we had a fourth crew. Really. I thought of all those hallucination stories from long distance racers were a little weird but…I was thinking about our fourth crew member."
• "Those lifting foils are incredible, just when it felt like we were going to stuff it into the backside of the steep waves we rose. It was like floating on a cushion of marshmallows…"
Team UnCruise, July 1, 11:03 a.m., wind and rain
The mighty "Unscrewed" joined the forces of R2AK veteran Dan Blanchard, reigning champ Greame Esarey, and Dave Nifflin—a crew assembled by swiping right on an online contest to find a crew who wanted it bad enough to compete through an online video.
• "We were nervous about our rudder.."
• "We were debating whether it was time to douse the spinnaker and then the tack parted, ballooned up and we took it down." Decision made.
Team Pure and Wild: July 1, 7:34 a.m., wind and rain
Hot stuff sailors, Bill IV bought the boat after the inspiration of following the 2015 race, then added two great sailors in Conor and Colin. When judged against their name, they excel in the latter and seem well beyond the former, but good dudes who swear like sailors, and have the skill and the heart to own their few mistakes:
• Went over 17 knots over the ground (and against the current) with just a storm jib in Hecate Strait, and a few nose dives into the 10 footers in winds that gusted over 30 but the bow resisted a pitchpole and rode out of it.
• "We rowed our asses off for the first couple of days." It was glassed and were parked off of Texada, and with the choice for sleep or row "We f—ing romped it." Rowed for 6–7 hours and then found the breeze and got it up to 15 knots, flying the center hull to make the gate at Seymour to stay in the race.
• They arrived in Ketchikan wearing fuzzy stuffed animal hats that soaked and matted in the rain looked like they dumpster dove a second tier plushy convention gone terribly wrong.
Team Mail Order Bride, July 1, 5:41 a.m., steady rain
Wayne Gorrie won the 2015 steak knives, and describes trading tacks in Johnstone Strait with Team Pure and Wild as "The greatest day of racing I have ever had."
• Portaged their boat through Higgins Pass—PORTAGED! In a channel so narrow that the oars would not extend, and so shallow to it was knee deep at high tide, Wayne hopped off and waded the boat through, pulling on its bow sprit.
• Chuck Slagle, owner of the Fish House restaurant after looking at the drenched state of the team: "When you're ready to go up, we got a fire going in the restaurant. There's breakfast and it's like 80 degrees in there." Wayne: "80 degrees is not hot enough."
Team Madrona- July 1, 5:06 a.m., light rain
In order to participate in the race the House of Buchan hauled the engine out of a boat they designed and built for the VanIsle 360 but were willing to give a try in the R2AK. To the surprise/complete predictability of everyone, they did really well.
• Their sternlight was blinding due to on the reflection off of the upturned rowing station.
• They rowed more than they thought they would
• In the least indulgent celebration we can think of, Carl went up the mast right away to restring a line that had come loose.
Team Big Broderna, July 1, 3:30 a.m., "Steak knives runner up"
Big Broderna hit the dock at 0330-something in the morning with the nonchalance of someone who had been there, done that, then pedaled their tail off. Finishing in sight of the workboat he would drive in a few months. "Huh" Nothing seems to flap him. Rather than a list, here is a conversation we just had:
R2AK: So where's Nels?
Big Brodena: Oh, he's in the emergency room.
R2AK: What!?
(It was true, and he'll be fine—he's on IV antibiotics for an infection and in the good hands of Peace Health.)
Big Broderna: Yes.
R2AK: Sounds tough.
Big Broderna: Yep.
Nels is fine, someone drove him to the ER and will release him most likely on Sunday morning.
Team Skiff Foundation Jungle Kitty, Second place, June 30, 11:59 p.m.
Their steakknife finish exploded all eight crewmembers out of their boat, and into a joyful cheer from the folks at Vigor Shipyards, the Ketchikan Yacht Club, stalwart Ketchikanders, and the rallied masses from the Sourdough Bar who traded the proximity of tap handles for the proximity of greatness (or they were just in it for the free beer, hard to say.)
Team Jungle Kitty hosted a 12 a.m. below decks gathering for the few fans and their own wide eyed impression of Team MAD Dog Racing. They couldn't believe the food they ate, let alone the bacon they had left over. Bacon, left over. Paddle boarder had dehydrated pellets, these guys had bacon, wrapped around gummy bears. In the eyes of MAD Dog it made sense too. The highlights:
• 20 sail changes in the last 24 hours
• How is your pedaling setup? "Works great, four people can pedal in two shifts" Any time they went below 4 knots they'd hit the pedals.
• How did the bicycle hardware stand up to the salt water splashing? "Oh it's done. Rusted to shit." They designed it to last the race and in that it was successful, but dockside they had to scramble up an outboard to shift berths.
• They flew downwind in Dixon Entrance at 17 knots. Did the rudder work at that speed? "We had a party in the stern just to help it dig in."
Over the day customs agents kept breaking their stern faced typecast and posing for pictures with the teams, who then trundled off to the breakfast mug up/dry out, the weathered sleep that followed, to the Ketchikan Yacht Club's weekly Burger Night that mingled the KYC faithful with the newly minted R2AK legends who had gone from two dimensional tracker icons to real live humans.
In each iteration the racer's countenances came back to the heroes at the back of the pack, or even those who had long since gone home.
"That paddle boarder…he kept beating us on the tacks. We'd tack and there he was, we'd tack back, and there he was again. How was he doing that?"
"Colin Angus was mid-pack for a while—how's he doing?."
"What about those ladies in the rowboat?"
"How do we keep this motivating to the small guys?"
The day lumbered on, and lumbers still as we wait for the oh-my-god o'clock arrival of Team It Ain't Brain Surgery, at present time potentially in before dawn. Still raining, still soggy, but ready to celebrate the accomplishment of finishing. Go team!
WATCH:
Race details – Previous races – Facebook – Instagram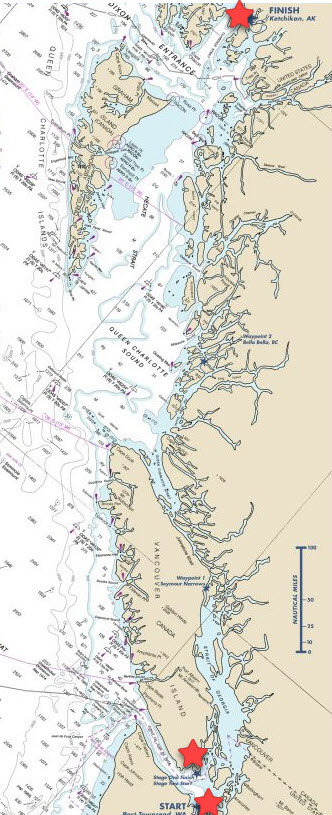 What was to be in 2020:
Race to Alaska, now in its 6th year, follows the same general rules which launched this madness. No motor, no support, through wild frontier, navigating by sail or peddle/paddle (but at some point both) the 750 cold water miles from Port Townsend, Washington to Ketchikan, Alaska.

To save people from themselves, and possibly fulfill event insurance coverage requirements, the distance is divided into two stages. Anyone that completes the 40-mile crossing from Port Townsend to Victoria, BC can pass Go and proceed. Those that fail Stage 1 go to R2AK Jail. Their race is done. Here is the 2020 plan:
Stage 1 Race start: June 8 – Port Townsend, Washington
Stage 2 Race start: June 11 – Victoria, BC
There is $10,000 if you finish first, a set of steak knives if you're second. Cathartic elation if you can simply complete the course. R2AK is a self-supported race with no supply drops and no safety net. Any boat without an engine can enter.
In 2019, there were 48 starters for Stage 1 and 37 finishers. Of those finishers, 35 took on Stage 2 of which 10 were tagged as DNF.
Source: Race to Alaska