Feature
R2AK Time Machine Day 13/25
Published on June 28th, 2020
For five years, the Race to Alaska, a 750-mile course from Port Townsend, Washington to Ketchikan, Alaska, proved that journey trumps destination, and while COVID-19 cancelled the 2020 edition, the Organizing Authority is, for 25 days, sharing their fondest memories from the previous races. Enjoy!
---
A tale of two solo strategies. Roger Mann of Team Discovery (above) and Russell Brown of Team PT Watercraft have both raced twice, finished both times, and have always done it solo. You're not asking me, but there are many reasons to sail solo.
The obvious reasons include: you are an insufferable sailor who won't stop telling people to move around the boat for better sail trim, you have this deep desire to be like Brad Pitt in A River Runs Through It and cling to the rigging during a violent storm while deeply staring with potent, angsty eyes into the sky (or is it your future?), or your boat is too damn small for two people.
The not so obvious reasons are two given by Roger Mann and Russell Brown: one needs peace and quiet to enter into a protracted hallucinogenic state, and the other kinda hates people and wants to be left alone. You decide to whom they apply. (Hint: it's not that hard.)
READ:
Roger Mann on his R2AK Experience
(originally published by Small Craft Advisor on June 24, 2015)
Below is an excerpt from our interview with the indomitable Roger Mann—the first place solo Race to Alaska finisher who completed the adverse 750 mile course pedaling and sailing his Hobie Adventure Island sailing kayak.
Roger on transiting Seymour Narrows: "Heard that Team Un-Cruise did it at night, so took one last quick nap and headed out after midnight. Took much longer than I expected to get into the Narrows, so I hit it late and when I did it there was at least 20 knots on the nose, which caused severe conditions—worst that I had seen yet.

"I didn't carry much sail into it, but used the current, staying in the middle and just rafting along, but the waves were so close together I ended up missing getting lined up for one big one with the pedal drive and ended up getting washed off the boat.
"I had my surfboard leash on and quickly got back aboard, climbing over and bending my tiller steering rods. I looked for a place to hide out but nothing came up until early in the morning about the time the tide was changing. I found a nice island to get behind and tied up to bull kelp."
On pithchpoling at Cape Caution: "As I reached the Cape it was around 10 pm, dark, and swells were around 20 feet—I was not making progress very well. I reefed, lined up for a beach landing and went for the middle which I knew was clear.
"But the surf was just too big for the 16-foot boat and I planted the nose and the boat flipped over forward with the right ama hitting the ground, sheering the breakaway bolt and then folding back as the mast hit the sand and the wave crashed everything onto the beach. Everything that I had Johnstone had taken away.
"My feet were working the pedals trying to keep the speed, so when we hit, one leg of the drive system broke off as I got thrown from the boat. I stood up in chest deep water and grabbed the mast and pulled it up and the boat popped back upright with the right ama folded as another wave crashed down.
"I had a large bag on the back storage area and many things attached to the hiking benches. The bag and right bench had gotten washed off and waves continued to crash and push us in. I noticed I had trouble moving and thought that it was undertow. Instead it was that I had left my fly zipper open on my drysuit and my legs had filled with water.
"I was pinned to the beach and couldn't pull myself up and out of the water, so I got my knife and slit open the feet which let the water out and I was able to get up and drag the boat out of the surf…
"I took care of getting out of the wet clothes and warmed myself and felt like I was now out of danger, and then started seeing how bad it was going to end up being. I was thinking the worst, and that the akas may be bent and I may need to call for rescue.
"But as I assessed the boat I did not find any major damage. I had replacement breakaway bolts so that was going to be okay, but I was missing a lot of stuff—mainly the Hobie seat. It was just plain gone. Plus the anchor and many other items."
On one of many trip highlights: "My last night on the water. I had pushed very hard, was hallucinating bad, was pretty much lost although I knew about where I was, and just plain beat down, so I tied up to some kelp around 2 am to get some sleep.
"I was awakened by the snort of a huge whale only about 50 feet away. As I awoke his back slid slowly through the water with his tail coming way up and out of the water. It was huge—had to be as wide as an airplane's wing—maybe 30 feet or so. It was foggy, misty, very calm and very cool and pretty magical. Just amazing."
On surviving the straits: "Everything that I had Johnstone had taken away…I had a major personal moment with myself. I was very proud that I had made it in those conditions and having had so many things taken from me.
"I felt like I was broken down and reborn as a new stronger person that had confidence to take on big challenges and overcome them. It was a life changing moment for me. I am not ashamed to say that I shed a few tears of joy. It was very tough and challenging and I am very glad that it was, because it allowed me to learn a lot about myself."

WATCH:
Race details – Previous races – Facebook – Instagram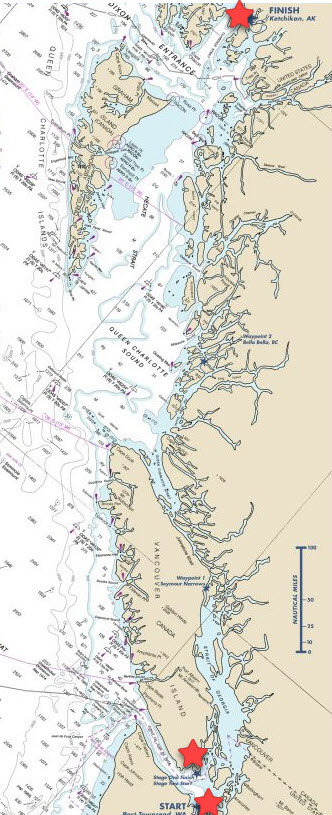 What was to be in 2020:
Race to Alaska, now in its 6th year, follows the same general rules which launched this madness. No motor, no support, through wild frontier, navigating by sail or peddle/paddle (but at some point both) the 750 cold water miles from Port Townsend, Washington to Ketchikan, Alaska.
To save people from themselves, and possibly fulfill event insurance coverage requirements, the distance is divided into two stages. Anyone that completes the 40-mile crossing from Port Townsend to Victoria, BC can pass Go and proceed. Those that fail Stage 1 go to R2AK Jail. Their race is done. Here is the 2020 plan:
Stage 1 Race start: June 8 – Port Townsend, Washington
Stage 2 Race start: June 11 – Victoria, BC
There is $10,000 if you finish first, a set of steak knives if you're second. Cathartic elation if you can simply complete the course. R2AK is a self-supported race with no supply drops and no safety net. Any boat without an engine can enter.
In 2019, there were 48 starters for Stage 1 and 37 finishers. Of those finishers, 35 took on Stage 2 of which 10 were tagged as DNF.
Source: Race to Alaska