Feature
R2AK Time Machine Day 0/25
Published on June 15th, 2020
The Race to Alaska came along in 2015 when the sport was double-scooping vanilla ice cream, no sprinkles. Every weekend was more of the same – perfect windward-leewards with perfect wind that was perfect for fewer and fewer people.
The sport needed some adventure and who better to provide it than the Pacific Northwest, masters of doing things differently, and this 750-mile race from Port Townsend, Washington to Ketchikan, Alaska was unanimously different.
But with COVID-19 aborting the 2020 edition, the Race to Alaska High Command will, for the next 25 days, be sharing their fondest memories from the past five races, and Scuttlebutt has come aboard for the ride. Enjoy!
---
2015 Day 0: Stage 1
We've seen what the starting line would look like in our heads for months and the actual start was every bit as improbable, stirring, celebratory, and bad ass as we imagined. Hundreds of onlookers waded through a R2AK related traffic jam to cheer the 53 teams across the starting line in inky darkness.
There were spectator boats, wind on the beam at 20 knots, a guy on a paddleboard serving oatmeal, a bonfire, and loudspeakers booming the Red Army Choir singing the Soviet National Anthem. The weather was ominous and beautiful, the crowd was dauntless, the boats were rockstars, the scene was epic, cinematic, and over almost as soon as it began.
Calamity fell soon after the horn as teams bashed headfirst into the wall of wind and waves advancing around Point Wilson.
Some Teams took the bravest route – assessing the condition of the weather and their boat, they stared down their year-long desire to be in the race and exercised the better part of their valor, reconsidering the launch or returning to shore shortly after experiencing the first cycle of the washing machine that was occurring just down the beach.
There is triumph in the retreat. It takes resolution and a special kind of courage to back away when everyone is watching, and our hats are off to everyone who chose to fight another day. On behalf of Race Central and your loved ones, thank you.

Over the day there were teams that faired less well, affirming the phrase that "the sea finds out what you did wrong." Masts came off, boats were swamped, boats were capsized, crews disintegrated under pressure and parted company when they hit the beach, exhausted their physical capabilities or got themselves in harm's way that they couldn't get out of.
By design, this 40-mile crossing from Port Townsend to Victoria, BC was to ascertain ability. Those that fail Stage 1 go to R2AK Jail. Their race is done, and in all 13 teams exited the course before Victoria, some of our favorites, but other than bumps, bruises and disappointment all arrived intact of body and soul.
The teams that finished in Victoria spanned the allowable 36 hours. Wind conditions favored the large sailing vessels, the first of which rang the bell in just under 4 hours. The last competitor to finish came in with 30 minutes to spare and won the award for maximizing the value of his entry fee – setting the record at right around $2 an hour.
Each of the teams had a story to tell.
Our favorites: high performance multihulls rowing in Victoria Harbor, Team St Brendan's persevered for 25 hours after being swept by current 20 or so miles in the wrong direction, that at one point a windsurfer looked like it might beat a 38 foot catamaran, that one guy gave himself stitches on his thumb, twice, that Team Soggy Beavers took time out of paddling to change into dresses for a dramatic photo op at the finish, that a team of gold medal rowers got beaten by an amateur crew on a nearly identical boat because they read the current wrong; any given Sunday…
There were more, of course there were more. Things broke, tempers flew, mistakes were made at least once, but all were over come enough. It was the appropriate amount of chaos and on the day before they'll depart for Alaska the race crews are checking things off lists, talking to the public, basking in the accolades and attention of the media (did you read the NY Times?) and eyeing the horizon.
What will happen?
Race details – Previous races – Facebook – Instagram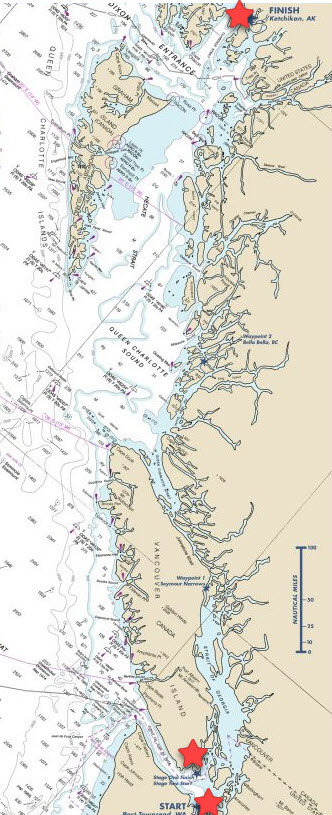 What was to be in 2020:
Race to Alaska, now in its 6th year, follows the same general rules which launched this madness. No motor, no support, through wild frontier, navigating by sail or peddle/paddle (but at some point both) the 750 cold water miles from Port Townsend, Washington to Ketchikan, Alaska.
To save people from themselves, and possibly fulfill event insurance coverage requirements, the distance is divided into two stages. Anyone that completes the 40-mile crossing from Port Townsend to Victoria, BC can pass Go and proceed. Those that fail Stage 1 go to R2AK Jail. Their race is done. Here is the 2020 plan:
Stage 1 Race start: June 8 – Port Townsend, Washington
Stage 2 Race start: June 11 – Victoria, BC
There is $10,000 if you finish first, a set of steak knives if you're second. Cathartic elation if you can simply complete the course. R2AK is a self-supported race with no supply drops and no safety net. Any boat without an engine can enter.
In 2019, there were 48 starters for Stage 1 and 37 finishers. Of those finishers, 35 took on Stage 2 of which 10 were tagged as DNF.
Source: Race to Alaska