Feature
R2AK Time Machine Day 8/25
Published on June 23rd, 2020
For five years, the Race to Alaska, a 750-mile course from Port Townsend, Washington to Ketchikan, Alaska, proved that journey trumps destination, and while COVID-19 cancelled the 2020 edition, the Organizing Authority is, for 25 days, sharing their fondest memories from the previous races. Enjoy!
---
We can't get enough of Team North2Alaska (above). Racing in both 2017 and 2019, North2Alaska is four young guns and a brave father barreling north in a 25-foot open boat they built out of aluminum…by themselves…in their backyard. For the 2017 race, Henry (then 16 years old) made the building of the boat his senior project and found friends who knew how to sail.
What is success for a 17-year-old and pride for a father in Race to Alaska? Listen to the podcast as they reflect on the genesis of Team North2Alaska and their challenges up the coast. Oftentimes during this long race the challenges are not always outside the boat, but between the friends who call themselves Team.
READ:
Youngsters dominate the Race to Alaska (R2AK)
(originally published by Waterborne Mag on April 12, 2017)
Affectionately termed the America's Cup for Dirtbags, the R2AK (Race to Alaska) requires participants to navigate 750 miles of cold, whirlpool ridden, rock infested water from Port Townsend, WA to Ketchikan, AK, under human power alone. No engines. No support.
It attracts a certain type of person to do something like this. Adventurous and perhaps half-mad; over half the fleet is under the age of 40! Below are some of the crazy peeps you might want to follow and cheer on as they R2AK…

North 2 Alaska
Four highschool students who built their own aluminum rowing scow as a part of their graduation project. They are the only row boat entered in the race. I wish I was this cool in highschool!
Team Chum
Father/daughter entry boasting the youngest participant. They're sailing a 17 foot Siren all the way from Washington to Alaska.
Team Kelp
Two ladies sailing a Santana 20 named Holdfast. If just making it weren't enough these cool girls will be collecting water samples along the route in partnership with the University of Washington and the Center for Urban Waters. And if that wasn't enough, they're also going to be tracking marine mammals for the Centre for Whale Research. AND IF THAT WASN'T ENOUGH…no just kidding, that's enough. Congratulations you two.
West Coast Wild Ones
Keanna, 20, and Ben, 33, hail from the Vancouver and Whistler, respectively. Sailing instructors for Simply Sail, there ages belie their sailing experience. Originally buying their O'Day 27 as a cheap boat to explore the coast, they've been pimping it for the last few years and now it's race ready. Stoked to get the chance to explore the West Coast and challenge themselves along the way…it'll be a wild ride.
Global Diving
Three women and one man, all 40 and under. A two-year veteran of the race, they say they're attracted to the incredible adventure and pushing their limits. Last year's adventure wasn't enough, this time they're going with more people and fewer hulls.
WATCH:

LISTEN:
"The children now love luxury. They have bad manners, contempt for authority; they show disrespect for elders and love chatter in place of exercise." If it was true when Socrates said it back in whenever, it's been the running theme of cane shaking disapproval of whatever generation's coming next.
Kids these days with their fidget spinners and their Garbage Pail Kids, their obsession with Howdy Doody, always rolling that hoop down the street and watching the steamboats go up river. Lazy headed dreamers, when we were their age we were twice their age…and their music is just noise.
Today Race Boss Daniel Evans talks to Team North2Alaska, the Port Townsend area team of four young men between 17 and 21 (and a brave, proud father) who built an aluminum boat along traditional lines then sailed it to Alaska.
Beyond the obvious impressive of that, the interview cracks the door on the dynamics of assembling a crew- none of them had all of the skills so they found the people who did. Our favorite: while they built a sailboat, neither Henry nor his dad knew how to sail so they relied on an 18 year old to show them.
North2Alaska, this generation's clap back and today's Daily Fix:
Race details – Previous races – Facebook – Instagram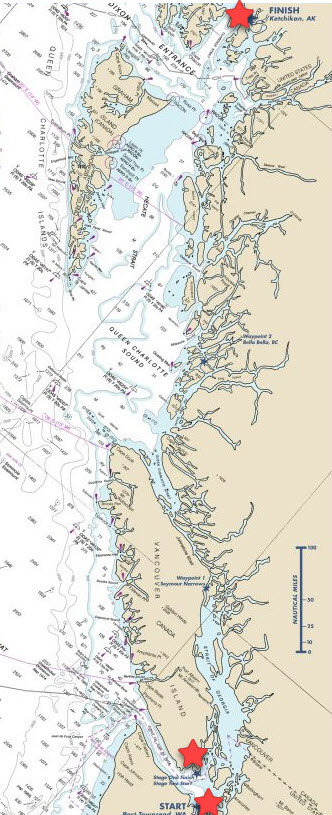 What was to be in 2020:
Race to Alaska, now in its 6th year, follows the same general rules which launched this madness. No motor, no support, through wild frontier, navigating by sail or peddle/paddle (but at some point both) the 750 cold water miles from Port Townsend, Washington to Ketchikan, Alaska.

To save people from themselves, and possibly fulfill event insurance coverage requirements, the distance is divided into two stages. Anyone that completes the 40-mile crossing from Port Townsend to Victoria, BC can pass Go and proceed. Those that fail Stage 1 go to R2AK Jail. Their race is done. Here is the 2020 plan:
Stage 1 Race start: June 8 – Port Townsend, Washington
Stage 2 Race start: June 11 – Victoria, BC
There is $10,000 if you finish first, a set of steak knives if you're second. Cathartic elation if you can simply complete the course. R2AK is a self-supported race with no supply drops and no safety net. Any boat without an engine can enter.
In 2019, there were 48 starters for Stage 1 and 37 finishers. Of those finishers, 35 took on Stage 2 of which 10 were tagged as DNF.
Source: Race to Alaska